GOP Candidates Wobble on Trump (Again)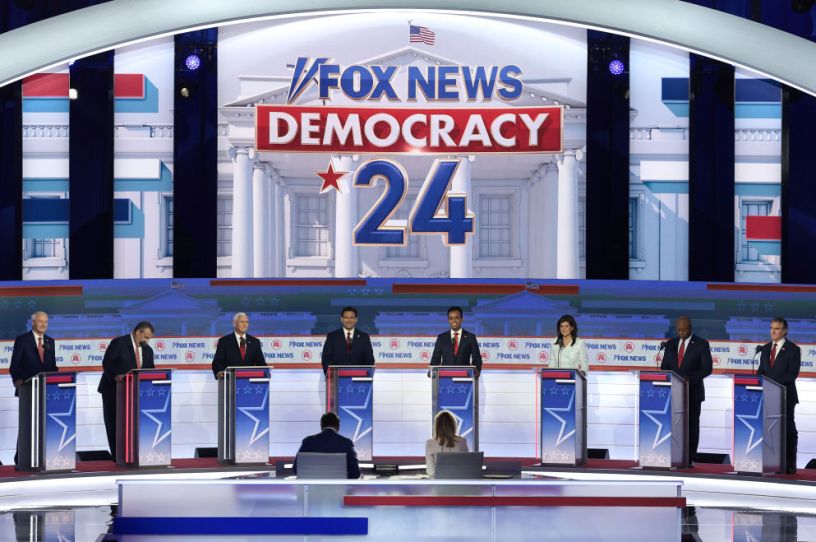 Republican presidential candidates take the stage for the first debate of the GOP primary season hosted by FOX News at the Fiserv Forum on August 23, 2023. (Photo by Win McNamee/Getty Images)
MILWAUKEE—Confronted during last week's debate with some of the most obvious questions about Donald Trump they could have faced, most Republicans challenging the former president for the 2024 nomination managed to fumble the ball—despite having months to prepare.
Did former Vice President Mike Pence do the right thing on January 6 when he refused Trump's demands to block certification of President Joe Biden's 2020 election victory? When pressed by Fox News moderators Bret Baier and Martha MacCallum, some candidates responded only cryptically; others refused to answer entirely.
When the candidates were instructed to raise their hand if they planned to support Trump as the GOP nominee even if he is found guilty "in a court of law," Florida Gov. Ron DeSantis, who was center-stage, looked first to his left, then right, before sheepishly lifting his arm halfway. He was followed by Pence, who, like the Florida governor, only jumped in after seeing Vivek Ramaswamy, Nikki Haley, Tim Scott, and Doug Burgum with their hands in the air.
Sen. John Thune, in Milwaukee to lend a hand to the Scott campaign, said the candidates are "all trying to grapple" with the fact that Trump's prospects in the GOP primary seems to improve every time he is indicted on one alleged misdeed or another. But the South Dakota Republican conceded that, if they have any chance of taking the frontrunner down, they are going to have to do a better job of addressing Trump's legal woes in the future.