White House Ducks Questions About Hunter Biden Revelations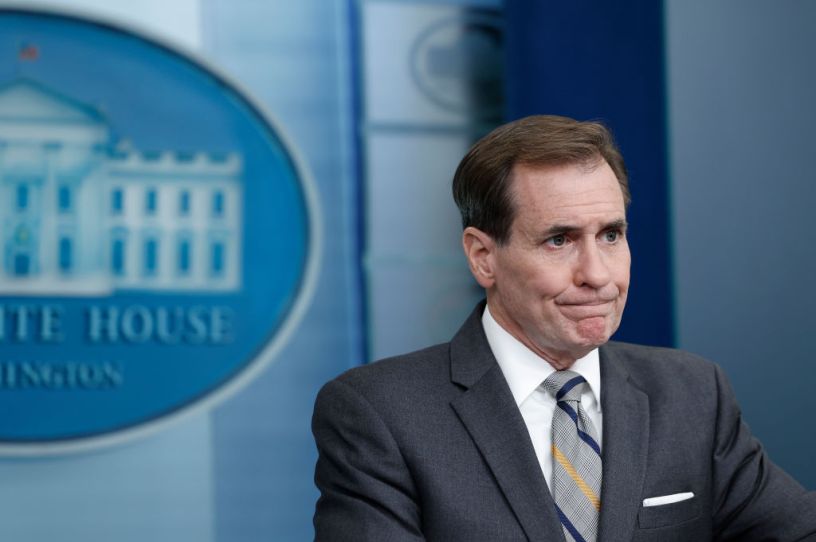 National Security Council coordinator for strategic communications John Kirby during a daily news briefing in the White House on June 23, 2023. (Photo by Anna Moneymaker/Getty Images)
Happy Monday! We hope you're starting your week with the confidence and optimism of the Biden campaign aides who told Axios they "aren't overly concerned about his low poll numbers, in part because the team faced dismal numbers before the 2022 midterms, when Democrats performed better than expected."
Up to Speed
A short-lived Russian military mutiny fizzled over the weekend after Wagner Group mercenary leader Yevgeny Prigozhin abandoned his troops' shocking march toward Moscow in a deal reportedly brokered by Belarusian President Aleksandr Lukashenko. U.S. Secretary of State Antony Blinken said Sunday that the attempted mutiny demonstrated a "direct challenge" to Russian President Vladimir Putin's authority and that we still "don't have finality in terms of what was actually agreed between Prigozhin and Putin."
Abortion took center stage at this weekend's Faith and Freedom Coalition conference in Washington, where a slate of Republican presidential candidates trumpeted their pro-life bona fides before an audience of friendly conservative evangelical activists. Florida Gov. Ron DeSantis talked up his state's 6-week abortion ban and former Vice President Mike Pence called for a nationwide 15-week abortion ban. Former President Donald Trump, who has waffled on abortion policy questions in recent months, said the federal government has a "vital role" in protecting life and declared he will "fight against the demented late-term abortionists in the Democrat party."
Donald Trump has increasingly steered campaign donations to a PAC that pays his legal fees, the New York Times reported Sunday. A few months after the Trump campaign launched in November, the proportion of online donations diverted to the PAC quietly increased tenfold—from 1 cent per dollar to 10 cents per dollar.
Arizona Gov. Katie Hobbs on Friday signed an executive order making it more difficult for the state to prosecute people who seek or provide abortions under the state's 15-week ban. "I will not allow extreme and out of touch politicians to get in the way of the fundamental right Arizonans have to make decisions about their own bodies and futures," the Democratic governor said in a statement.
White House Deflects on Latest Hunter Biden Revelations
Many Democrats hoped Hunter Biden's misdemeanor plea deal last week would help Democrats get out from under the weight of the heap of scandals involving President Joe Biden's son. But those hopes looked overly optimistic on Friday, as the White House offered only evasive responses to new questions about the president's involvement with Hunter's foreign business dealings.
Those questions came after Republicans on the House Ways and Means Committee voted Thursday to release whistleblower testimony from two IRS agents that had been involved with the Hunter Biden investigation. In their testimony, the agents alleged that the Department of Justice had slow-walked and stymied crucial parts of the investigation into Hunter Biden. But they also shared a 2017 WhatsApp message in which Hunter Biden appeared to berate a Chinese business partner with threats invoking his father's political influence.
"I am sitting here with my father and we would like to understand why the commitment made has not been fulfilled," Hunter said in the message to Henry Zhao, a Chinese hedge fund manager and energy executive. If his request was not satisfied, Hunter warned, "I will make certain that between the man sitting next to me and every person he knows and my ability to forever hold a grudge that you will regret not following my direction. I am sitting here waiting for the call with my father."