Is the Gender Gap Overtaking Race as a Predictor of Voting Behavior?
We could be looking at a new great sort.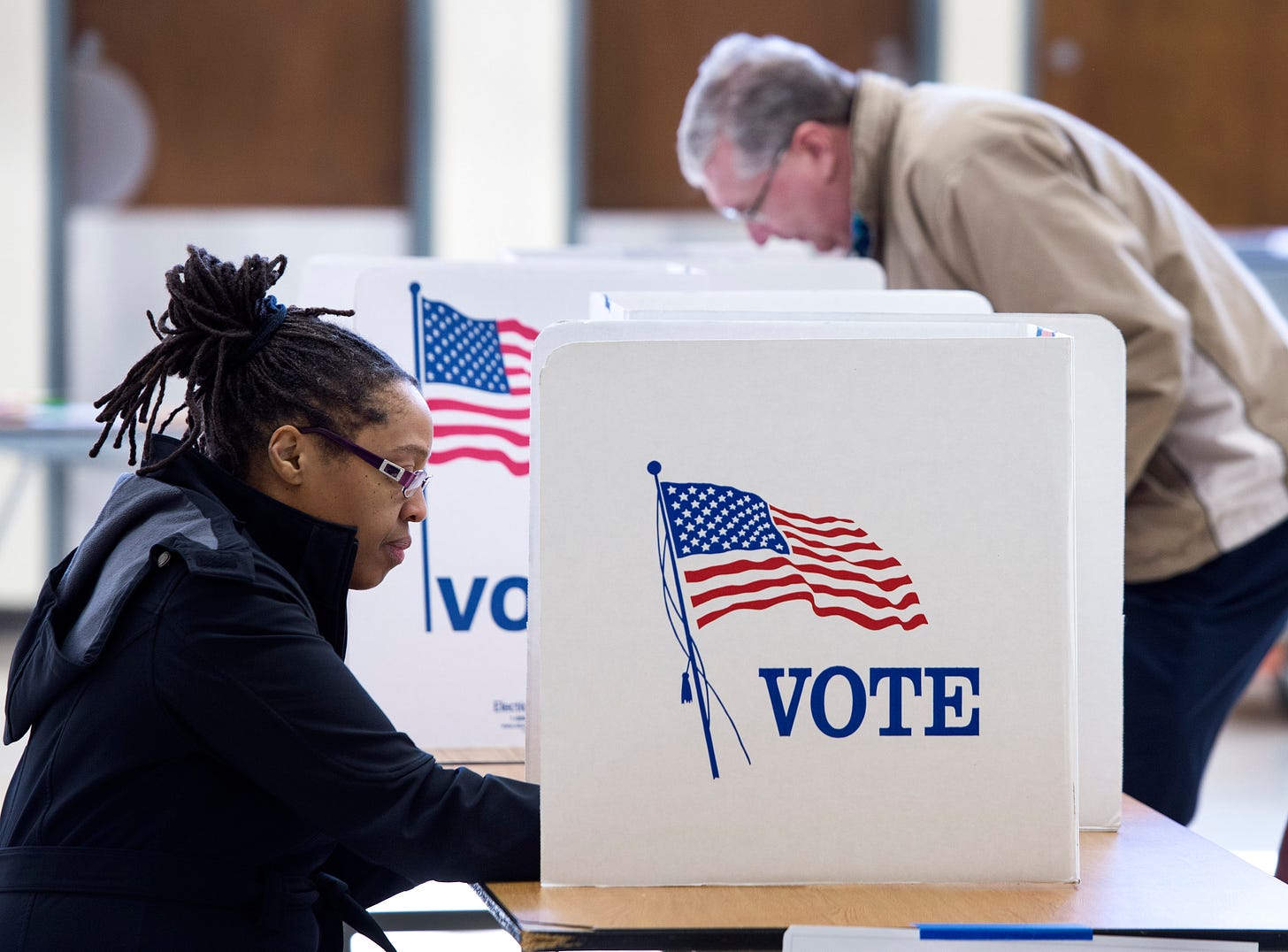 Both Republicans and Democrats are being forced to rethink their campaign strategies and messaging in the era of COVID-19. There are the obvious changes—no more door knocking, voter registration drives in the parking lot, black tie fundraisers, or stadium rallies. 
And then there's how to talk to voters in the wake of a virus that isn't affecting everyone equally. 
Deaths aren't equal. One study showed that counties with disproportionately African American populations accounted for 52 percent of COVID-19 diagnoses and 58 percent of deaths nationally. Another found that nearly a third of those who have died of COVID-19 are African American—even though black people represented only 14 percent of the population in the areas it analyzed. When asked whether respondents in New York state personally knew anyone who had died of COVID-19, an Associated Press/NORC poll found that only 27 percent of white New Yorkers did, but almost twice as many—47 percent—of black respondents did.  
The economic impact isn't equal, either. One poll found that fewer than half of all Americans said they had "experienced some kind of household income loss as a result of the outbreak, including job losses, unpaid leave, pay cuts and fewer scheduled hours." But that number jumped to 61 percent for Hispanic Americans. In another survey, 45 percent of black workers reported losing their jobs or having their hours cut compared with 31 percent of white workers.
And while only 17 percent of white Americans reported being unable to pay at least one type of bill as a result of the pandemic, 37 percent of Latinos and 27 percent of black Americans said the same.  
This comes at a particularly bad time for the Trump campaign, which had been touting its efforts with people of color. According to a report by National Public Radio, there were "plans for field offices in predominantly black neighborhoods in 15 cities in swing states, and volunteers going door to door … to boost support among black voters from the 8% of that vote Trump attracted in 2016." 
But the real target may have been more specific: black men. 
Until about 1980, men and women voted for the two political parties at about the same rate in modern American presidential elections. Since then, a gender gap has grown steadily. In 2016, Trump lost women by 25 points—the largest gender gap in history. And now, there's a double digit gender gap in Trump's approval rating. In head-to-head matchups with Biden, things only get worse. Before coronavirus, there was a 34-point gender gap: Biden had a 24-point lead among women, while Trump led by 10 points among men. 
The gender gap is becoming more notable across racial lines, and recent polls show why the Trump campaign had planned to open field offices in black neighborhoods. He has improved his standing among minority men.
Trump won 8 percent of all black voters in 2016, but exit polls at the time "showed him getting 13 percent among black men, more than three times the support he got from black women." And that support from men has only increased in the last three years. The most recent NBC/Wall Street Journal poll found that 24 percent of black men approved of Trump's job performance—four times as many as the 6 percent of black women who said the same. 
Harvard's Institute of Politics, which regularly polls young voters, found a staggering 51-point difference in Trump's approval among rural Latino men and women across eight battleground states and that "many young and male minorities belong to a group it called the 'multicultural middle,' where approval of Trump ran far higher than most other young voters."
Democrats are seeing the same trends. Priorities USA, the largest Democratic super PAC, has seen enough in its own "online surveys over the past several months that indicate a larger share of young black men view Trump favorably than do African American women and older black male voters." And while these incremental gains may not seem like much, it has been enough to cause at least one "Democratic super PAC supporting Mr. Biden [to] soon launch a $3 million digital advertising campaign designed to dissuade younger African-American men from backing the president in the election."
The obvious question is why. Vox recently surveyed many analysts and social scientists who persuasively pointed to things about Trump that appeal to black men specifically. One argued that "Trump is a genuinely 'aspirational' figure for some African American men" and another said that "Trump's business success, his 'gangsta' personal style, and his close association with black male celebrities ... [have] created a real affinity."  
But perhaps the growing overall gender gap signals that gender itself is simply becoming more of a defining feature in the current political climate of the last several decades. 
"The conservative ethos of pulling yourself up by your bootstraps, asserting patriarchy and male dominance, all of these kinds of traditional gender values, some black men find [them] very appealing," Nadia E. Brown, an associate professor of political science at Purdue University, told Vox's Jane Coaston. Or it's the "machismo, portraying Trump as a tough guy, which may resonate more with some black men and not black women who may worry more about the divisiveness," said Karen Finney, a Democratic political consultant.
And how will the lopsided racial effects of coronavirus affect the gender gap? Will more black men still vote to re-elect a president who has overseen a pandemic with such a disproportionate impact on their communities?
Even a small increase in Trump's share of the black male vote could have enormous ramifications in states like Michigan and North Carolina. But even short of voting for him, minority men could just stay home, which could have nearly the same effect. 
In her new documentary, Becoming, former first lady Michelle Obama vents her frustration over the outcome of the 2016. "A lot of our folks didn't vote. It was almost like a slap in the face," she said. "The people who didn't vote at all, the young people, the women, that's when you think, man, people think this is a game. It wasn't just in this election. Every midterm. Every time Barack didn't get the Congress he needed, that was because our folks didn't show up. After all that work, they just couldn't be bothered to vote at all. That's my trauma."
Photograph by Paul J. Richards/AFP via Getty Images.