Remembering the Crimes of Roger Stone
President Trump commuted his longtime confidant's sentence on Friday. A look back at what led to Stone's conviction and prison term.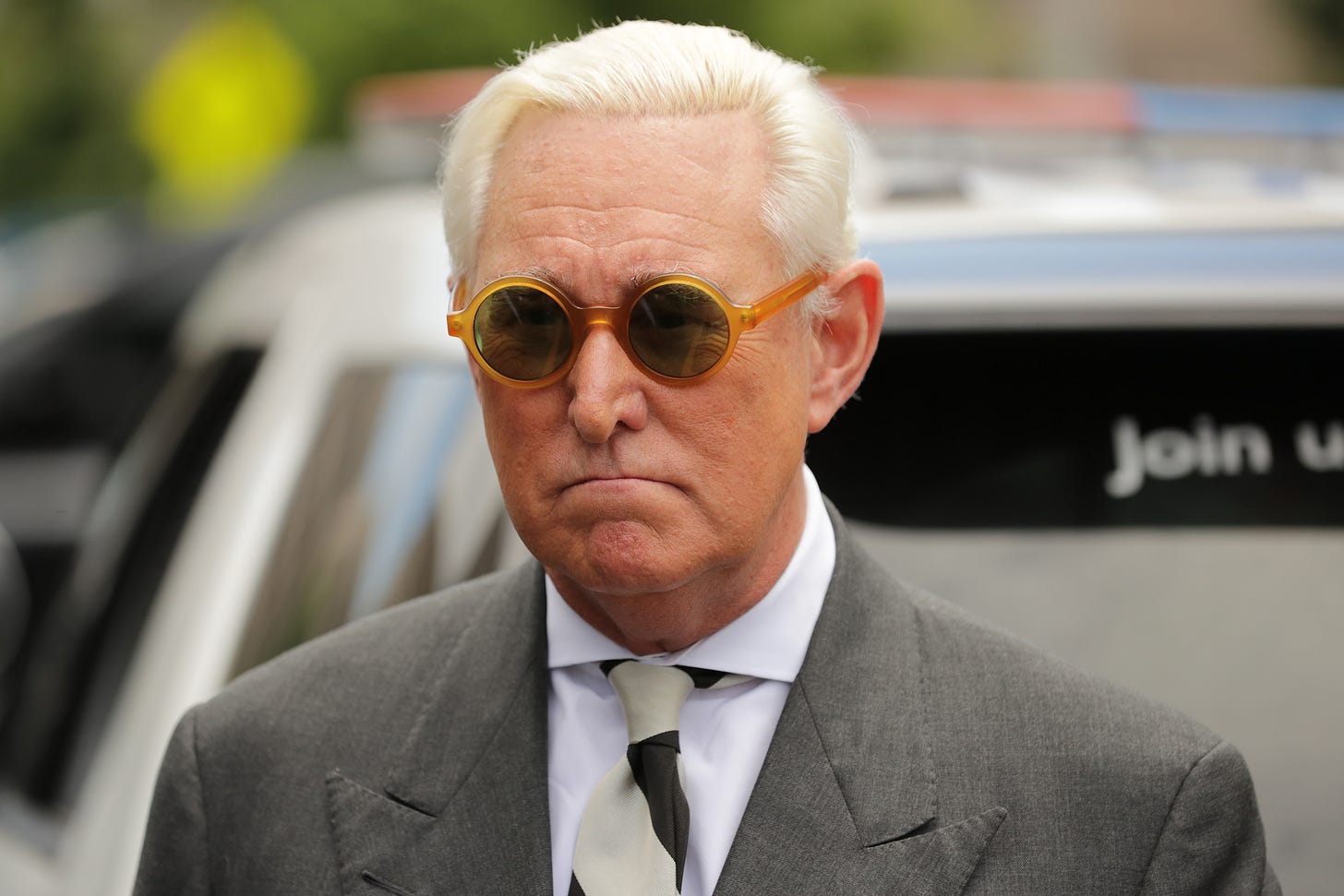 President Trump commuted the sentence of longtime confidant Roger Stone on Friday. Stone had been expected to report to prison next week to serve out his sentence for witness tampering, obstruction, and lying to Congress under oath, charges that came out of Robert Mueller's Russia probe. Given his age (67) and underlying medical conditions, Stone and his defense attorneys had described his potential incarceration amid the pandemic as akin to a death sentence, appealing to the president for a pardon or commutation.
The commuted sentence is the culmination of a lengthy process that began when Mueller's investigation revealed Stone's contacts with WikiLeaks founder Julian Assange and hacker Guccifer 2.0 during the 2016 campaign. As the congressional probe began to lay bare the extent of Stone's attempt to undermine Trump's political rivals, he denied several of Mueller's key discoveries in his testimony. Stone was tried and convicted in November 2019 and in February 2020 sentenced to 40 months in prison.
Guccifer 2.0—a persona created by Russian military intelligence—was responsible for a series of cyberattacks on the Democratic National Committee (DNC) and subsequent leaks to Julian Assange. Stone reached out to the hacker over Twitter, requesting that he retweet a Breitbart article in which Stone predicted a 2016 election rigged against Trump. Stone reportedly remembered those interactions as "banal" and "meaningless," according to Business Insider. 
Stone reached out to Salon in March 2017 to deny rumors—in the most eccentric of ways—that he or Trump had intentionally benefited from Russian interference in the 2016 election. "I myself had no contacts or communications with the Russian State, Russian Intelligence or anyone fronting for them or acting as intermediaries for them. None. Nada. Zilch. I am not in touch with any Russians, don't have a Russian girlfriend, don't like Russian dressing and have stopped drinking Russian Vodka," he wrote in an email.
Stone's conviction for lying under oath was a result of his connection with WikiLeaks—an organization that uncovers and publishes classified information. In the fall of 2016, Stone sent a series of Twitter messages revealing his insider knowledge of the group's recent discoveries. On October 3, he tweeted: "I have total confidence that @wikileaks and my hero Julian Assange will educate the American people soon #LockHerUp." A few days later, WikiLeaks released emails lifted from Hilary Clinton's head political consultant John Podesta. 
An investigation by The Atlantic revealed extensive communication between Stone and WikiLeads in October and November 2016, contradicting his testimony that he had only communicated with the organization through an intermediary. After Trump's election to the presidency, WikiLeaks wrote to Stone, "Happy? Now we are free to communicate." Moreover, Stone allegedly encouraged the president to preemptively pardon Assange in exchange for WikiLeaks' release of more classified emails.
Transcripts recently made public by the FBI reveal that Stone's contact with WikiLeaks persisted into 2017. Julian Assange and Stone exchanged several Twitter direct messages at the outset of Mueller's investigation. In one, Stone writes to Assange, "If the US government moves on you I will bring down the entire house of cards." Stone then testified before the House Intelligence Committee in 2019 that he did not have any direct contact with the WikiLeaks founder—perjuring himself. 
After being denied a retrial and unsuccessfully requesting an appellate court delay his 40-month prison sentence, Stone's last hope was an intervention by the president. Trump had previously promised to rectify Stone's trial if he deemed the outcome unfair, saying, "I'm going to let the media know that I'm going to watch the process. I'm going to watch it very closely, and at some point I'll make a determination, but Roger Stone and everybody has to be treated fairly. And this has not been a fair process, OK?"
In a statement on Friday, the White House characterized Stone as another the political casualty of Mueller's Russia probe, which it referred to as the "collusion delusion." Trump's team leveled accusations of "overzealous prosecutors" and juror misconduct against Stone's trial, referencing the forewoman of the jury—Tomeka Hart—who allegedly concealed her animus toward Trump to join the panel.
Even before his involvement in Trump's 2016 campaign, Stone's reputation preceded him. He began his career in the 1970s as a staunch supporter of Richard Nixon and ends it with a shrewd appreciation for the calculated and thick-skinned approach to politics that the former president instilled in him. "The reason I'm a Nixonite is because of his indestructibility and resilience," Stone told The New Yorker back in 2008, "He never quit."
Before the commutation came down, members of the administration recommended that Trump let justice run its course. U.S. Attorney General William Barr has said that Stone's trial was impartial. "I think the prosecution was righteous and I think the sentence the judge ultimately gave was fair," Barr said Wednesday in an interview with ABC News.
At Stone's sentencing, U.S. District Judge Amy Berman Jackson rejected his various explanations and excuses and offered a succinct and pointed summary of the case. "He was not prosecuted, as some have complained, for standing up for the president. He was prosecuted for covering up for the president."
Photograph of Roger Stone by Chip Somodevilla/Getty Images.