The End of 'Strategic Ambiguity' Regarding Taiwan
Here are the steps the U.S. can take, and why we should take them.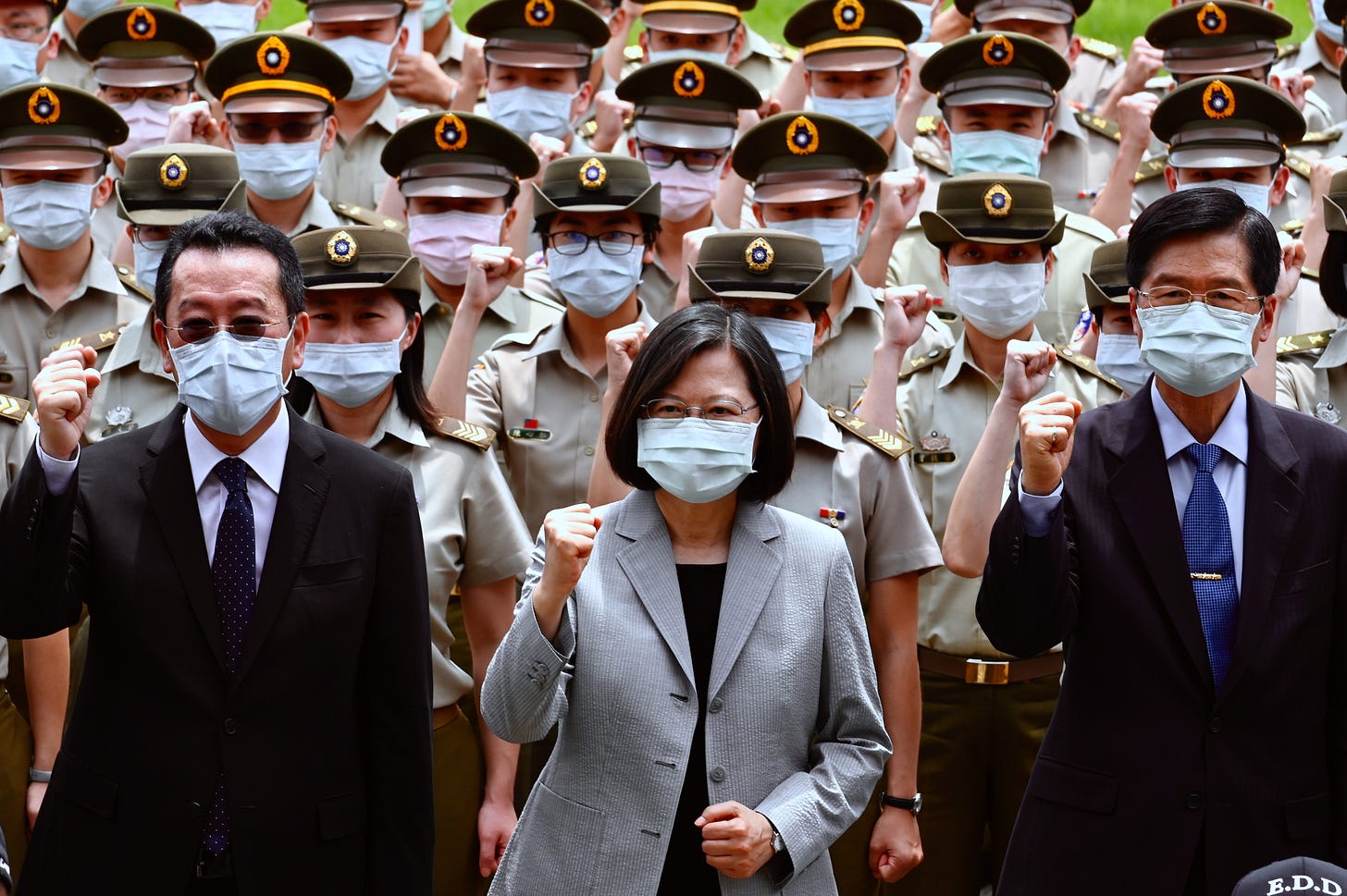 Questioning the ambiguous nature of America's commitment to Taiwan's defense has gone mainstream. Members of Congress have issued statements and drafted legislation calling into question the longstanding policy of strategic ambiguity—in which Taipei could not be sure the United States would come to its defense, and Beijing could not be sure the United States wouldn't. Even the president of the Council on Foreign Relations, Richard Haass, a high priest of the so-called foreign policy establishment, has co-authored a recent piece—titled "American Support for Taiwan Must be Unambiguous" and subtitled "To Keep the Peace, Make Clear to China That Force Won't Stand"—making the case for strategic clarity. More seriously, the Financial Times recently reported "there were discussions within the administration on the future of 'strategic ambiguity.'" Clearly, for the first time in decades, American security policy toward Taiwan is under serious rethinking.
The need for a reassessment is clear. China's president and Communist Party chairman, Xi Jinping, is driven by challenges and opportunities that may well point toward greater risk for a possible cross-strait conflict. On the domestic front, with a Party Congress just over the horizon, Xi is pushing to extend his rule beyond the two terms that each of his two predecessors served—and do so, perhaps, indefinitely. With an economy that has not continued its swift upswing as in years past and—for structural reasons—unlikely to do so, Xi's program of consolidating Beijing's hold on territories that China argues it lost to imperial powers of the past potentially gives greater legitimacy to his case for staying in charge. Put another way, in taking Taiwan, Xi would achieve what neither Mao Zedong nor Deng Xiaoping could.
And, indeed, for all the opprobrium coming from the United States and other democracies about China's decision to stamp out freedom in Hong Kong, Xi may wonder if it is just bluster. From his point of view, Taiwan, part of "one China," may well be seen by the outside world as little different from Crimea after the Russian invasion and occupation—few accepted Moscow's claims to the peninsula, but even fewer were willing to do anything meaningful to reverse Russian gains. Although war in Ukraine's Donbass drags on, and is seen as a serious irritant in Washington and European capitals, few in the halls of government believe that returning Crimea to Ukraine is in the cards or that it's a deal breaker when it comes to resetting relations with Moscow. Disabusing Xi Jinping of such an appraisal should be a central element of America's approach to security in Asia.
Losing Taiwan would cost the U.S. in numerous ways: its credibility as a defender of democracy and as the primary guarantor of the security in the Asia-Pacific region. It would also mean losing access to Taiwan's high-end, microchip manufacturing and giving China a strategic gateway to pressure allies immediately north and south of Taiwan, while opening up the wider Pacific to its military. A posture of strategic ambiguity is increasingly less defensible.
But getting rid of strategic ambiguity in favor of strategic clarity is dangerous if American capabilities do not align with American intentions and commitments. Indeed, if Beijing assesses that Washington is afflicted with "strategic insolvency," overwhelmed with post-pandemic fiscal and domestic problems and lacking the means to achieve its ends, Xi might be tempted to act sooner than he otherwise might. The opportunity to solve its Taiwan "problem," while at the same time showing the United States to be a has-been great power, might be difficult to pass up.
It doesn't help that many public accounts of the balance of power find that it favors China. As one recent article noted, when it comes to war game simulations over Taiwan, the U.S. has had "its ass handed to it for years," as David A. Ochmanek, a RAND analyst and former defense department official, told RealClearInvestigations. "For years the Blue Team has been in shock because they didn't realize how badly off they were in a confrontation with China." A recent article in the U.S. Naval Institute's Proceedings, authored by a retired admiral and former acting director of the CIA, described a hypothetical scenario in which the war was over even before the U.S. had made a decision about whether to come to Taiwan's aid.
So what to do? If strategic ambiguity has outlived its usefulness, but the United States might soon be unable to fulfill a new commitment to defend Taiwan, how should Washington proceed?
First off, it's important to note that China's emerging dominance in the Taiwan Strait is arguably not yet manifest. Taiwan and the United States maintain key advantages. Taiwan's enduring advantage, of course, is its island geography and mountainous terrain.
It also benefits by having spent decades preparing for one—and essentially only one—defensive challenge. The U.S. military, meanwhile, remains the world's best trained and most experienced; its submarine force, in particular, would give the Chinese Navy fits in any East Asian conflict. While the Pentagon is always reluctant to make its capabilities more public than absolutely necessary, in the "competition of perception," it will be useful to reveal more to Xi and the Chinese military about what the American military could do in a conflict. Despots have a bad habit historically in overestimating their own strength and the weakness of their democratic adversaries.
Second, the United States needs to reframe its approach to deterring China from cross-strait aggression. Given Chinese capabilities in the area, namely those with which the People's Liberation Army (PLA) can deny U.S. forces access to East Asian waters and skies, the cost of coming to the rescue will be high. Instead of thinking principally about demonstrating it can enter the fray after a conflict has started, Washington should seek to convince Beijing that the PLA will face grave challenges even before the United States can mount a full-scale intervention. In short, the United States should invest time and resources in both Taiwan's warfighting potential and its own regional force posture to convey a simple message to Beijing: If you try to take Taiwan, you will fail and fail early. In other words, the U.S. needs to move its deterrent posture forward.
Doing so will take time. The Indo-Pacific Command (INDOPACOM) has in mind a buildup that is dependent on a consistent, annual commitment by both the executive and legislative branches. There are steps, however, to be taken in the near- and medium-term that would advance this deterrent strategy.
One major change in policy would be to rethink the Pentagon's security assistance program for Taiwan. Right now, unlike some U.S. security partners, Taiwan pays for every defense article the United States transfers to it. It may be time to reconsider security assistance for Taiwan. A novel approach would use the prospect of military aid as a means to encourage Taiwan to invest more in its own defense. Possible examples might include the U.S. providing gratis rifles and ammunition if Taiwan expands training and exercises for its reserve forces; if Taiwan commits resources to further harden key military elements—such as ports, runways, etc—the U.S. will contribute material and resources to match; if Taiwan expands its munitions stockpiles by some percentage, the U.S. will provide an additional percentage. High-end capabilities matter but so does the capacity to maintain the fight over an extended period.
A second change would be to establish (or expand) bilateral training across the services, with an emphasis on air combat and air defense; surface warfare; anti-submarine warfare; mine warfare; and coastal defense. The U.S. military assists and had helped train Ukraine's military in the face of Russian aggression. There is no reason to be any less helpful when it comes to Taiwan facing constant Chinese military threats.
Third, the United States can work to ensure Taiwan poses a potent missile threat to the PLA. The U.S. Army and the Marine Corps have begun to emphasize missions designed to deny the Chinese navy the freedom to deploy its ships in the near seas without substantial losses by small U.S. units armed with anti-ship missiles deployed to the islands, land features, and rocks in East Asian littoral waters. If nothing else, Taiwan is the biggest and nearest of such rocks and, hence, is a potential strategic asset. Arguably, Taiwan is capable of fielding a substantial number of its own indigenously built missiles. The question is whether those capabilities can be augmented by fielding additional American missiles on the island—with perhaps dual-key authorization systems in place that would require U.S. permission before the Taiwanese could fire—or enhanced by sharing information from U.S. enablers, such as sensors and surveillance assets, to enhance Taiwan's own targeting capabilities. The upshot: China could not degrade Taiwan's ability to find, track, and target without also striking U.S. systems, which could significantly complicate decision-making in Beijing.
Fourth, control of the skies over Taiwan is essential if Taiwan is to defend itself. Upgrading and adding to its fleet of F-16s is an important improvement in capabilities. But it still leaves the island outgunned in the sky. Selling F-35s to Taiwan would even out the disparity in capabilities, but that appears unlikely. The Pentagon, however, should conduct exercises in which Taiwan pilots train with American F-35 pilots—both in the United States and Asia, with F-35s flying from Japan or off American aircraft carriers or Marine amphibious ships . Taiwan's airmen should have an opportunity to train against F-35s, better preparing Taiwan's Air Force to face off against China's most modern fighter jets. Other exercises should demonstrate the F-35's ability to conduct battle management in a combined operation—to gather intelligence for, share it with, and communicate with Taiwan's own fighter fleet. The goal here would be to convince Chinese military planners that a successful air campaign against Taiwan is no sure thing.
Finally, the American military presence around Taiwan's air and sea space has increased in recent years but still largely consists of the occasional naval ship or air asset moving through the Taiwan Strait for purposes of collecting intelligence and/or exercising freedom of navigation rights. More can be done more frequently, such as with small surface ships or submarines, to enhance military presence in and around the Taiwan Strait. In making sure that China knows there is a near-constant surface, air, or submarine presence, INDOPACOM can encourage China to view the U.S. military as an immediate problem rather than a potential one.
China's increasingly threatening posture vis-à-vis Taiwan has elicited a growing view among Americans and American politicians that "strategic ambiguity" has outlived its usefulness. But that sentiment, if it is to be anything more than a sentiment, has to be squared with a strategy in the near term that lessens the possibility of conflict. It's better to prevent a conflict than hope that, once a conflict begins, the United States and Taiwan can resolve it on their terms.
Photograph by Sam Yeh/AFP/Getty Images.