While Hogan Leads on COVID Testing, Trump Stews
The White House had said it's a 'backup' for coronavirus supplies, but the president called out Maryland's governor for getting tests on his own.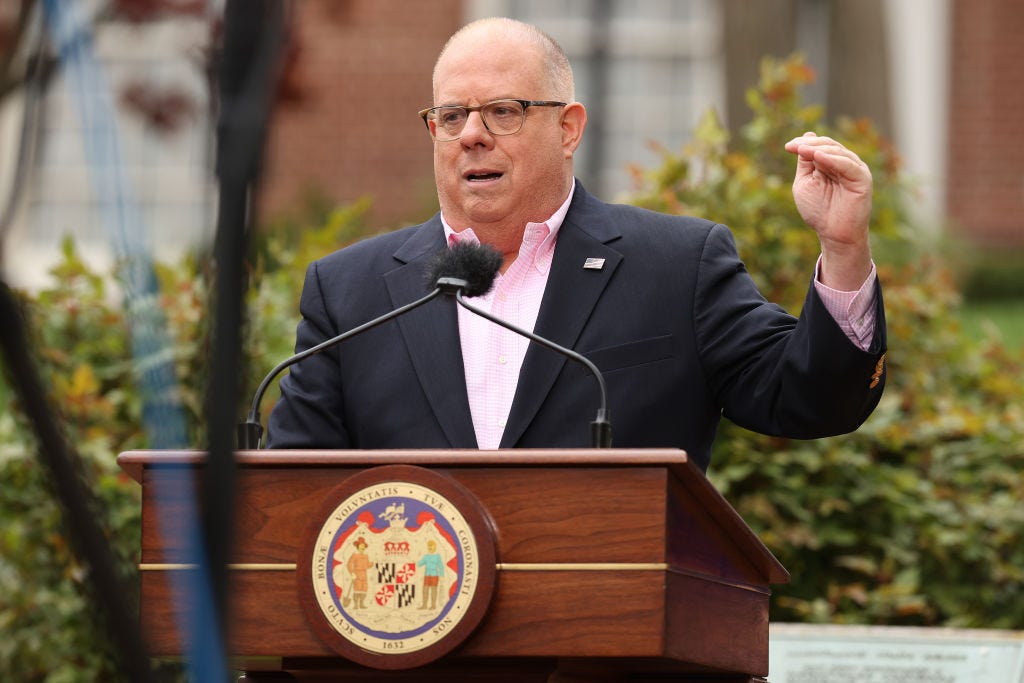 Annapolis, Maryland—
Gov. Larry Hogan began his remarks precisely as the bells of St. Anne's Parish in downtown Annapolis rang in the 2 p.m. hour. Facing a small gaggle of socially distanced reporters and flanked by advisers and dignitaries wearing a variety of face masks—from home-sewn patterns and standard-issue medical covers to a Western-style bandit look—Hogan shared big news. After 22 days of emergency diplomacy between his state and the government of South Korea, Maryland had obtained enough kits for the state to quickly produce 500,000 much-coveted coronavirus tests. 
Hogan's wife, Yumi, a Korean-American, had kicked off the discussions—in Korean—on March 28. With a 13-hour difference between Annapolis and Seoul, the negotiations took place at all hours of the day and night. But on Saturday, a Korean Air passenger jet landed at Baltimore-Washington International Airport with the goods and Hogan and his wife were there to greet it.
The governor's press conference was a crisp 20 minutes. A brief statement, some quick thank yous, a few questions—and out. He described the challenge, laid out the steps he'd taken to address it, and previewed next steps. When he took questions, his answers were short and direct, but efficient. He avoided discussions of his poll numbers, his political enemies, and his television ratings. And he managed to engage reporters without name-calling or self-pitying histrionics.
"The administration made it clear—over and over again—that they want the states to take the lead, and we have to go out and do it ourselves, and so that's exactly what we did," said Hogan. 
Hogan is right. 
"Don't forget, we're a secondary source," President Donald Trump said on April 2, discussing efforts to obtain personal protective equipment. "The states are doing it and we're backing them up." He added: "The states should have been building their stockpile. …We're a backup. We're not an ordering clerk. We're a backup." 
He continued the next day. "We have a federal stockpile and they have state stockpiles. And, frankly, they were—many of the states were totally unprepared for this. So, we had to go into the federal stockpile. But we're not an ordering clerk. They have to have for themselves."
And just Sunday, Trump shrugged off federal responsibility for testing: "Testing is a local thing. It's very important. It's great, but it's a local thing."
There's a strong case to be made that testing ought to be a national thing. The federal government is in a unique position to build capacity, to expedite resources, to establish standards, to coordinate a vigorous testing regime and to share information that'd help control the spread of the virus. Instead, the Trump administration instructed states to be resourceful and to fend for themselves. 
So, Hogan did as he was told. You'd be forgiven for thinking that Hogan's ability to procure coronavirus tests on a massive scale would win him praise from the president and his team. Maryland is now the example of resourcefulness that the Trump administration has long pushed states to be. That didn't happen. At Monday's briefing, after Adm. Brett Giroir boasted about expanding testing capacity across the country, CNN's Kaitlin Collins asked why Hogan had to go overseas for tests if they were so readily available in the U.S. Giroir seemed amused by the question. "I don't know what the governor of Maryland is doing in South Korea," he said, smirking. 
Trump, who had said 24 hours earlier that "testing is a local thing," joined in the fun. The president mocked Hogan for his efforts and chastised the Maryland governor for not seeking help from the Trump administration. "The governor of Maryland could have called Mike Pence. Could have saved a lot of money. ... No, I don't think he needed to go to South Korea. I think he needed to get a little knowledge—would have been helpful."
What explains Trump's incoherence? Why would a president who has complained endlessly about governors seeking help from the Trump administration suddenly criticize a governor who didn't seek help from the Trump administration? Moments earlier, Trump had once again lectured governors to "not simply ask the federal government to supply unlimited support" and yet here he was taking shots at a governor who'd avoided begging for federal handouts.
The answer isn't complicated: Hogan hasn't been shy about pointing out when Trump is wrong. While Hogan doesn't seem eager to pick fights with the president, his matter-of-fact style requires him, when asked, to challenge the steady stream of self-aggrandizing silliness that comes from Trump's mouth. So, in an interview with CNN's Jake Tapper on Sunday, Hogan disputed Trump's bizarre contention that there are already enough tests to allow governors to begin loosening restrictions on their states. The claim, Hogan said, "is just absolutely false." He added: "It's not accurate to say there's plenty of testing out there and the governors should just get it done. That's just not being straightforward."
Maryland has conducted 71,000 tests so far, and Hogan said Monday he wanted to use the 500,000 additional tests to double the state's already aggressive goal of ten thousands tests a day.
In his press conference Monday, Hogan offered a biting assessment of the information the White House coronavirus task force had offered to governors in a call earlier in the day. Hogan said the meeting was "productive overall," but he was plainly unimpressed by the administration's distribution of a list of labs in each state. "They gave us detail on all of the—a list of all the labs that are in our state and in each of the states," he recalled. "We already knew where the labs were—most of the ones on that list were actually federal labs and they said, 'these are labs in your state.' But they were the NIH, and FDA and Fort Dietrich and things like that. I pointed that out to the vice president. We've been pushing to get NIH to help us with testing for more than a month now."
Hogan seemed particularly annoyed by the obstacles the federal government put in his way as he's attempted to do what the administration has left to the states. In his attempts to bring the coronavirus tests back to Maryland, Hogan found the federal government more hindrance than help. "I was frosted because my team was saying that the FDA approval was going to hold it up," Hogan told the New York Times, which added that the FDA approval didn't come until shortly before the plane landed. "I didn't care and was going to get the tests anyway."
Even after he'd reached agreement with his Korean counterparts, Hogan wasn't certain that he'd be able to get the tests. His "big" concern wasn't a mixup with his foreign partners, logistical confusion with the travel or budgetary problems back home. Instead, Hogan was worried that the federal government would intercept the delivery. "It was a concern for us," he said in response to the final question at his news conference. A reporter had asked about the possibility that the federal government would interfere with the delivery of the tests. Other governors have taken extra precautions to ensure that the materials they've obtained for their states actually make it as planned, even resorting to secret trips to get the goods. The chief physician executive at Baystate Health described his experience being harassed by federal officials as he sought to obtain PPE for his hospital, making it through questioning by two FBI agents only "to learn that the Department of Homeland Security was still considering redirecting our PPE." He was saved after intervention from a member of Congress.
Hogan was understandably relieved to get the stuff he'd procured. "We were just happy to have successfully landed that plane at BWI," he said. "Don't want to get into all the details of how that came about but that was a big part of our concern."
Reasonable people can differ, perhaps, on whether the Trump administration should have taken the lead role in securing equipment and testing supplies for the states during a deadly global pandemic or merely served as a backup. But if the federal government isn't going to run that operation, it should at least allow the governors to perform unmolested the function the president has assigned to them.
Photograph by Chip Somodevilla/Getty Images.