A 'Generic Democrat' Can Win. Can Dean Phillips?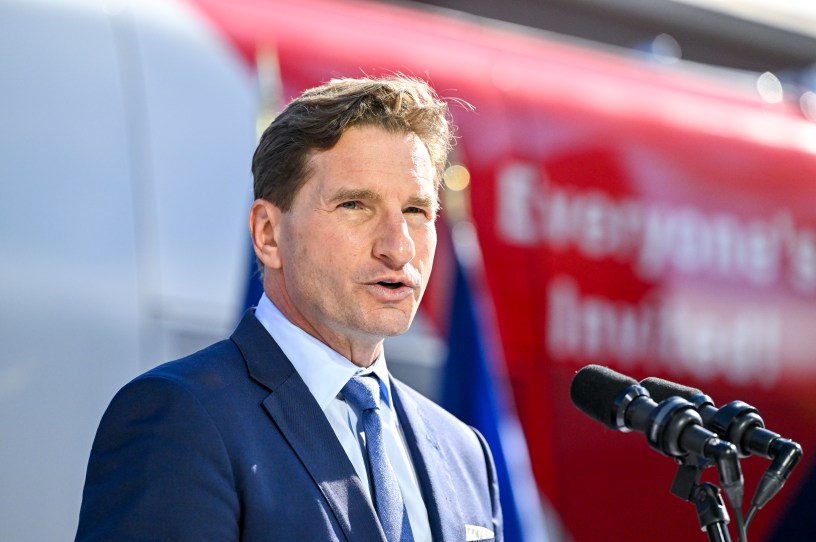 U.S. Rep. Dean Phillips holds a rally outside of the New Hampshire Statehouse after handing over his declaration of candidacy form for President to the New Hampshire Secretary of State David Scanlan, on October 27, 2023 in Concord, New Hampshire. (Photo by Gaelen Morse/Getty Images)
HANOVER, N.H.—As a general rule, politicians want to stand out. But early on in his slapdash, insurgent presidential candidacy, Rep. Dean Phillips wants you to know he's happy blending in with the crowd.
"I've never aspired to be generic," the Minnesota Democrat tells the hundred-odd bright and polite Ivy League kids who piled into a small auditorium at Dartmouth College on Monday night. "But I'll be your generic Democrat if that means I can defeat Donald Trump much more ably than President Biden can."
It's no secret: Democrats are worried Joe Biden is in trouble. His approval rating is mired in the mid-30s, the lowest mark at this point in a presidential term since Jimmy Carter. His party is deeply divided over his staunch support for Israel in its war against Hamas, and he has no real way of assuaging voters' biggest concern about his reelection: He's just too old. One New York Times poll this month found Biden trailing Donald Trump across six battleground states by an average of 4 points—even as Trump trailed an unnamed "Democratic candidate" by 8 points.
And yet there's been little organized effort—or even public conversation—about the possibility of replacing Biden atop the Democratic ticket. He's the incumbent, and modern political parties consider it their job to re-elect incumbents. And who would replace him, anyway? California Gov. Gavin Newsom, who has presided over a homelessness crisis and the breakdown of social order in his cities? Biden's vice president, Kamala Harris, who flamed out of the 2020 primary and is just as unpopular as he is? Better to stick with the devil you know.
You're out of free articles
Create an account to unlock 1 more articles