Did an Iron Dome Missile Fail and Fall on Tel Aviv?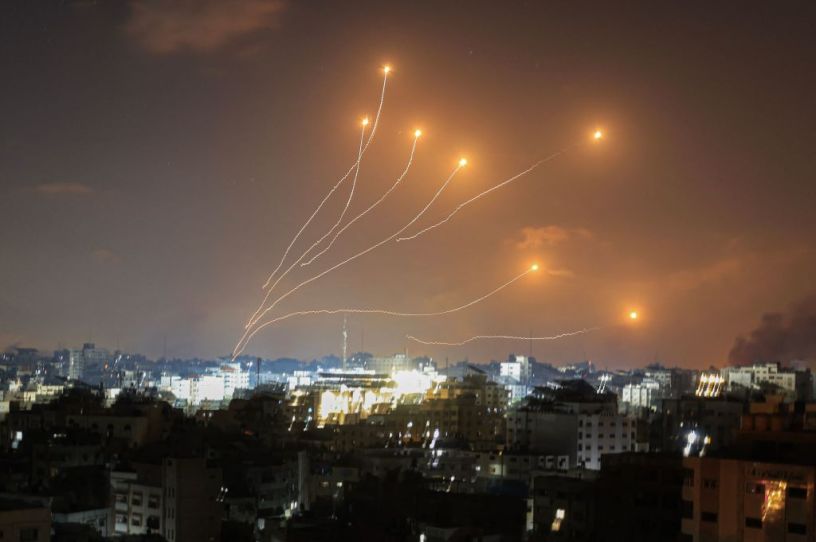 An archival photo srael's Iron Dome air defense system as it intercepts rockets launched from Gaza on October 11, 2023. (Photo by Mahmud Hams/AFP/Getty Images)
A number of Arab English-language media organizations have reported this week that an Israeli Iron Dome interceptor missile stuck close to Tel Aviv after malfunctioning in the air. Videos of the supposed failure are circulating widely on social media platforms such as Twitter, Instagram, and Reddit. "ISRAEL RAINS ROCKETS DOWN ON ITSELF. Major malfunction redirects defense system," reads one Facebook post with more than 4,000 likes. "Israel's Iron Dome Interceptor has malfunctioned tonight and it's rockets have misfired and slammed into homes, businesses and a Hospital in Tel Aviv."
There has been little to no reporting of the incident in English-language Israeli media, leading commenters on many social media posts to ask whether the videos are legitimate or simply misinformation. While The Dispatch Fact Check could not confirm whether the projectile damaged any buildings when it fell, the incident did in fact occur.
"Yes, it happened," an IDF reservist based in Tel Aviv told The Dispatch Fact Check. A number of Hebrew-language outlets in Israel have also reported the malfunctions, including Ynet and Walla!. According to the reports, a barrage of Hamas rockets was launched at the Tel Aviv area on the night of November 5, resulting in a response from local Iron Dome systems. One interceptor fell near Rishon LeTsiyon, a city just south of Tel Aviv.
"During a barrage of rockets from the Gaza Strip toward central Israel, parts of an interceptor that was launched fell in Israeli territory due to a technical malfunction," an IDF spokesperson told The Dispatch Fact Check. "All of the rockets were intercepted according to protocol. No injuries were reported and the incident is under review."
The Israeli Air Force first deployed Iron Dome in 2011 to counter rocket attacks originating in Lebanon and Gaza. The system responds to incoming projectiles through a three-step process of detection, analysis, and interception. Its battlefield radar system first locates and monitors incoming projectiles, after which a battlefield management and weapon control system calculates a point of impact. Should the projected impact point pose a threat, the system's missile firing unit launches an interceptor designed to detonate in close proximity to—and destroy—the incoming projectile. There are at least 10 Iron Dome systems currently deployed across Israel, and the IDF has claimed that the system has an 85 to 90 percent success rate against a range of threats.
If you have a claim you would like to see us fact check, please send us an email at factcheck@thedispatch.com. If you would like to suggest a correction to this piece or any other Dispatch article, please email corrections@thedispatch.com.