False Claims About the 9/11 Pentagon Attack Continue to Circulate Online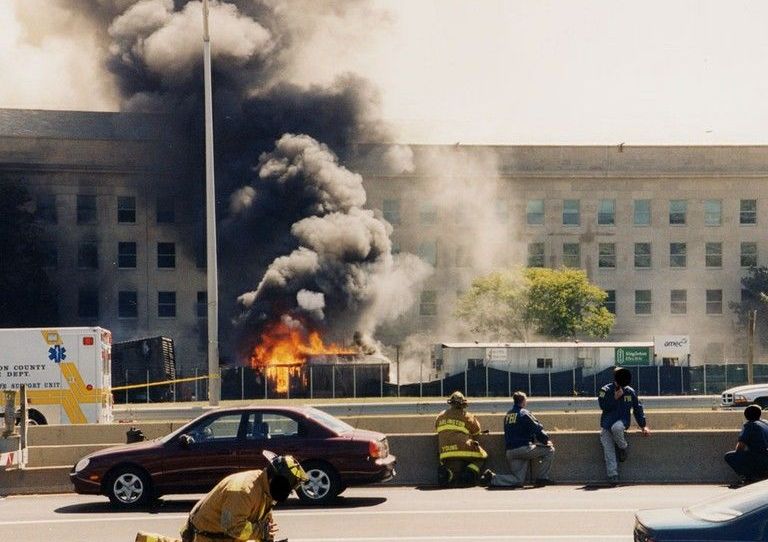 In this handout provided by the FBI, first responders respond to the attack at the Pentagon on September 11, 2001, in Arlington, Virginia. (Photo by Federal Bureau of Investigation via Getty Images)
The September 11 attacks continue to loom large in America's collective memory. More than two decades later, the anniversary prompts a period of reflection on the tragedy and the legacy of the thousands who died that day. Unfortunately, this remembrance is also often accompanied by the perpetuation of conspiracy theories that seem almost inexplicably resistant to rebuttal.
This year a number of disproven claims related to the attack on the Pentagon are circulating widely online. Unlike the widely recorded attacks on the World Trade Center, the Pentagon attack was not captured clearly on film by any of its many witnesses, making it ripe for ongoing theorizing by 9/11 truthers.
One post, for example, purports to show suppressed footage of an explosion from a parking lot camera at the Pentagon. "They claimed a Plane struck the Pentagon," the caption reads, "This Exposes their bold faced lies." The video, however, shows precisely what the post claims to debunk—a Boeing 757 carrying 53 passengers, six crew, and five hijackers striking the west side of the Pentagon complex.
In 2006 the Department of Defense released footage from two security cameras outside the building in response to a Freedom of Information Act request filed by Judicial Watch, which the Associated Press reported at the time. Though the footage is low resolution, when viewed frame-by-frame it shows American Airlines flight 77 striking the base of the building.
Similar claims have also reappeared asserting that no debris consistent with airplane wreckage was found at the Pentagon, but this is also false. The FBI has released a number of photographs from the site showing parts of the plane and specific debris with airline markings.
Though this physical evidence clearly confirms the details of The 9/11 commission report, eyewitness accounts are similarly potent. "It was absolutely a plane, and I'll tell you why," Allyn Kilsheimer, the first structural engineer to arrive at the Pentagon, told Popular Mechanics last year. "I saw the marks of the plane wing on the face of the building. I picked up parts of the plane with the airline markings on them. I held in my hand the tail section of the plane, and I found the black box."
If you have a claim you would like to see us fact check, please send us an email at factcheck@thedispatch.com. If you would like to suggest a correction to this piece or any other Dispatch article, please email corrections@thedispatch.com.