International Forces Fan the Crisis in Sudan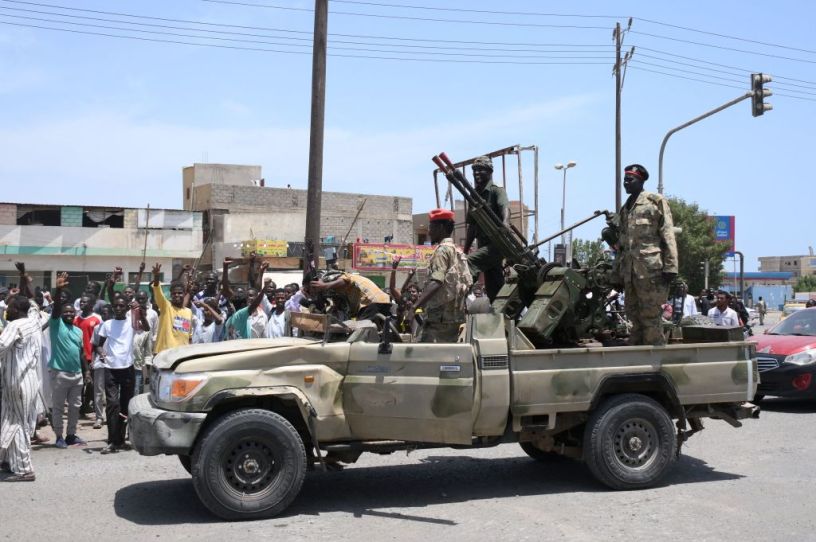 Sudanese citizens greet army soldiers, loyal to army chief Abdel Fattah al-Burhan, in the Red Sea city of Port Sudan on April 16, 2023. (Photo by AFP) (Photo by -/AFP via Getty Images)
Sudan's rocky path to democracy took a detour this weekend when long-simmering tensions between the country's top generals erupted into violence. Now onlooking countries are quietly jockeying for economic and political influence in a conflict that shows no signs of stopping.
The violence began Saturday in Sudan's capital city of Khartoum and quickly spread nationwide, from Darfur in the west to Port Sudan in the east. By Wednesday, the clashes had left at least 270 people dead and thousands more injured. Civilians across the country of more than 45 million people are sheltering in place as international negotiators try to broker a temporary ceasefire to allow for evacuations. Hospitals, government buildings, and Khartoum International Airport have all come under fire.
The warring groups are led by Sudan's two de facto leaders: Gen. Abdel Fattah al-Burhan, who commands the Sudanese Armed Forces (SAF), and Mohamed Hamdan "Hemedti" Dagalo, leader of the powerful Rapid Support Forces (RSF) paramilitary group. The two have teamed up in the past, first in the fight to overthrow deposed Sudanese President Omar al-Bashir's Islamist, autocratic rule and later in their resistance to civilian leadership. But as domestic and international pressure to follow through with Sudan's democratic transition mounted, the military leaders turned on one another.
"It was entirely expected and pretty predictable," said Cameron Hudson, former chief of staff to the U.S. special envoy for Sudan and now a senior associate at the Center for Strategic and International Studies. "You can't have two competing national armies in the same country."