More Like 'Dr. Strange in the Multiverse of Badness'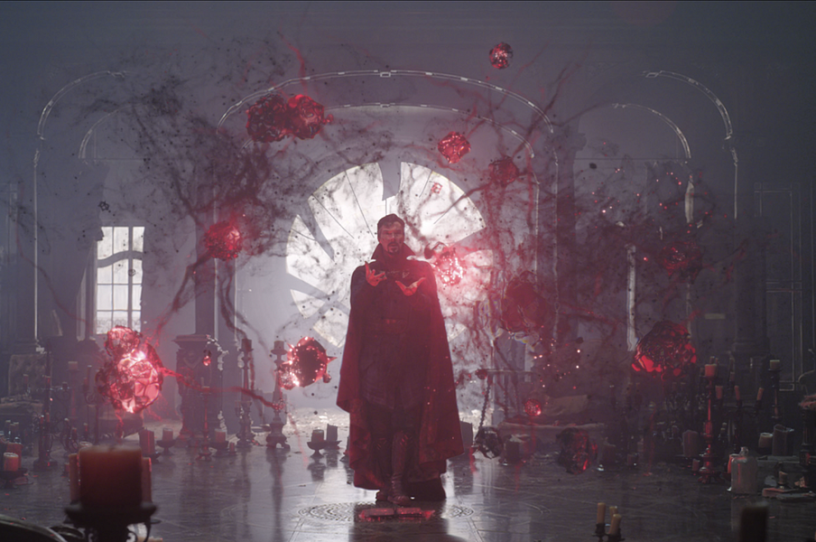 Dr. Strange in the Multiverse of Madness promises audiences a trippy, horror-inspired spectacle, with Benedict Cumberbatch at the center as the titular sorcerer. It delivers Benedict Cumberbatch as the titular sorcerer. Rather than trippy or dark or interesting, everything else around him that we were promised seems … boring? Unoriginal? Cliché?
Cumberbatch capes up once again as Dr. Strange, the magical Avenger and most powerful sorcerer in the world, in his second solo outing. The object, once more: saving this universe. Or this time, saving all of the universes, Marvel's new M.O. as it seeks to differentiate itself from its previous "phases"—as it so self-aggrandizingly calls its movie arcs—where only one universe was constantly under threat. Strange meets America Chavez (Xochitl Gomez), a universe-jumping superhero who is unable to control her power to traverse the multiverse and who is being chased by demons who seek to sap her of her power, a process that would kill her. Strange learns the demons are under the control of another magical being, and works to protect Chavez. Universe hopping and hijinks ensue.
The movie suffers somewhat from being released so shortly after Everything, Everywhere All at Once, a multiverse film that is truly brilliant and creative. As a result, the parts of Dr. Strange in the Multiverse of Madness that are supposed to be fun and mind-blowing come off derivative. Dr. Strange travels through a universe where he's a streak of paint? Pretty similar to Evelyn Wong going to a universe where she's a rock in Everything, Everywhere All at Once. Dr. Strange goes to a universe where everyone is made of cubes? Evelyn Wong went to a universe where everyone had hot dog fingers (it's exactly what it sounds like). Everything, Everywhere All at Once leaned into the idea that the multiverse contains universes where everything and anything are possible, showcasing a variety of weird and wacky divergent timelines. Dr. Strange in the Multiverse of Madness shows, like, four, and then calls it a day. After a brief scene in which Strange and Chavez travel through a few weird universes, every one they visit thereafter is fairly conventional. Every universe has human life that looks exactly like ours in cities that resemble (or used to) our ideas of what cities are or could be. Every universe even has a Dr. Strange! And every Dr. Strange happens to look like Benedict Cumberbatch.
That the main conceit of having a multiverse movie is played off so underwhelmingly would be issue enough for the film, but it suffers from superhero films' typical ailments as well. Weightless CGI monster fights. A third act moment where a superhero who doesn't understand her powers can suddenly control them when they're needed most by trusting herself. A huge threat that's handled by only one hero even though there's an established team of heroes that exists precisely for occasions like this.