Niger's Coup Threatens to Spark Wider Violence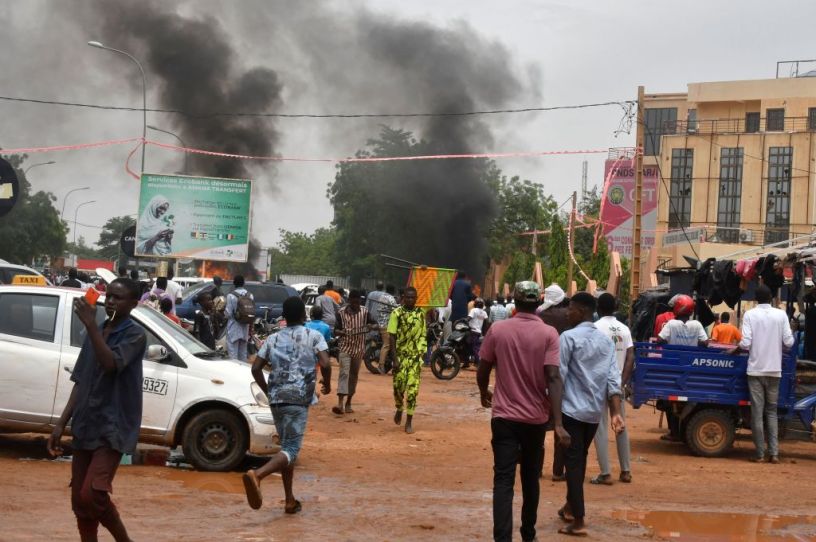 Smoke billows as supporters of the Nigerien coup attack the headquarters of the Nigerien Party for Democracy and Socialism (PNDS), the party of overthrown President Mohamed Bazoum, on July 27, 2023. (Photo by AFP) (Photo by -/AFP via Getty Images)
The deadline a bloc of West African countries had set for a junta to end its takeover of Niger passed without military action last weekend. But concern is growing that the latest regime to come to power in Africa's "coup belt"—this time overthrowing a key U.S. ally—will hurl the region into wider conflict and fuel jihadist violence.
The coup began in late July when Niger's military, led by presidential guard head Gen. Omar Tchiani, announced it had overtaken the government to "put an end to the regime that you know due to the deteriorating security situation and bad governance." The ousted President Mohamed Bazoum remained under house arrest with his family as of Sunday afternoon, reportedly without electricity, water, or cellular connection.
The coup's architects, drawing on the legacy of French colonialism in Niger, have used anti-Western sentiment to galvanize public opinion in their favor. At a pro-coup rally in the capital city of Niamey on Sunday, hundreds of Nigeriens packed a busy stadium to yell anti-French slogans and wave Nigerien—and Russian—flags.
"The junta has taken advantage of this general resentment toward France," says Kabir Adamu, founder of Beacon Consulting, a security consulting firm based in neighboring Nigeria. "The more it shows opposition toward France, the more the populace kind of rallies around it."