Pakistan's Political Crisis, Explained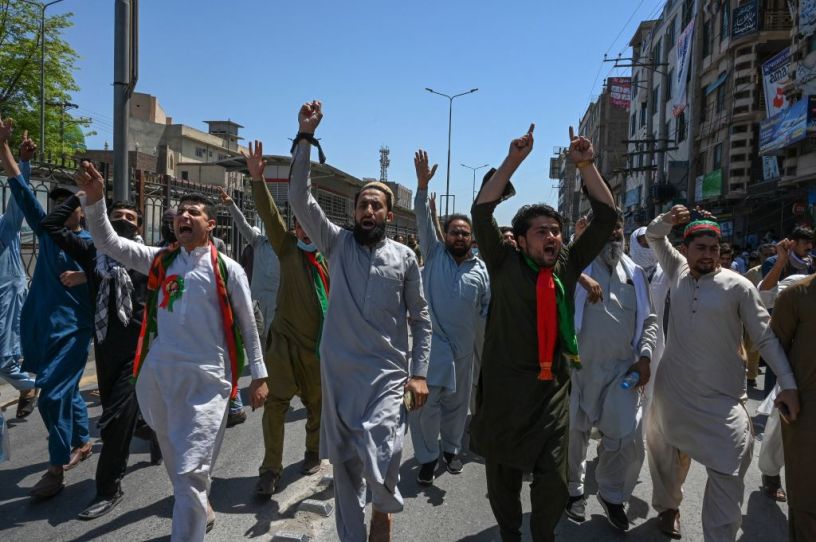 Pakistan Tehreek-e-Insaf (PTI) party activists and supporters of former Pakistani Prime Minister Imran Khan shout slogans during a protest against the arrest of their leader, in Peshawar on May 10, 2023. (Photo by ABDUL MAJEED/AFP via Getty Images)
Simmering political tensions risk boiling over into a full-blown governmental collapse in nuclear-armed Pakistan. At the heart of the brewing crisis is Imran Khan—a popular former athlete and recently ousted prime minister.
On May 9 a local paramilitary group dragged Khan from an Islamabad courtroom and placed him under arrest. He was released later that week after spurring his supporters on in a wave of political violence, including attacks on military installations and government buildings. Pakistan's streets have remained quiet since the initial violence, but many of his supporters are still behind bars, and droves of high-ranking officials with Khan's Pakistan Tehreek-e-Insaf (PTI) political party have severed ties with the group and its leader in recent weeks. There's even discussion of banning the party from participating in Pakistan's upcoming elections. 
How concerning is the popular leader's ability to foment political instability in the world's fifth most populous country? When were the seeds of this looming constitutional crisis sown? Is Khan a victim of Pakistan's overzealous military leadership, or a populist demagogue frustrated that the political system he helped create has turned against him?
Who is Imran Khan?