Russia, Iran Escalate in Syria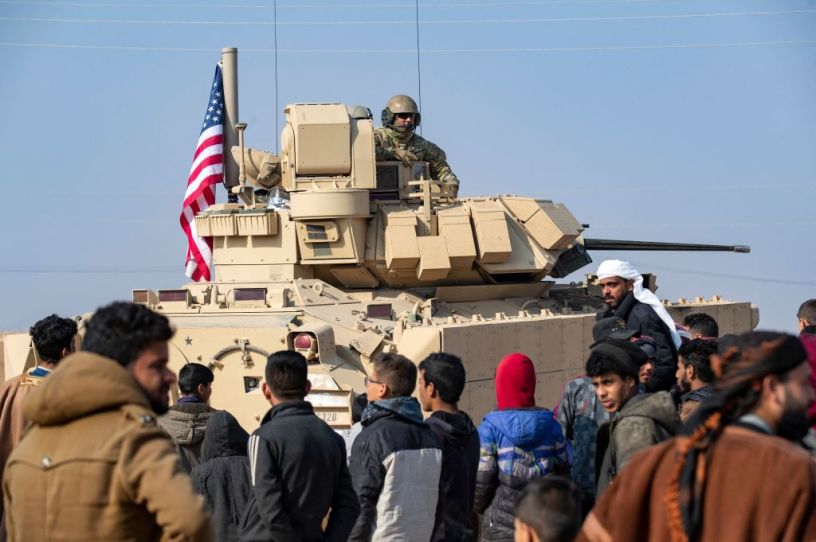 Residents surround an armored personnel carrier as a U.S. convoy patrols the area near Tal Hamis in northeast Syria. (Photo by DELIL SOULEIMAN/AFP via Getty Images)
As the Biden administration tries to avoid being drawn into the conflict in Ukraine, Russia's reliance on Iran for assistance in its invasion has given the Islamic Republic bargaining power over Moscow and increases the danger of head-to-head conflict in an entirely different theater: Syria.
A recent tranche of documents from the Discord leaks—classified material shared online by a 21-year-old Massachusetts Air National Guard airman this year—outline a coordinated plan by Russia, Iran, and Syria to rid the country of its U.S. military presence.
The U.S. first intervened to fight the Islamic State at the height of the Syrian civil war and now retains a military footprint of some 900 troops—along with hundreds of contractors and advanced weapons systems—to prevent the terrorist group from regrouping. In 2019, for example, Islamic State leader Abu Bakr al-Baghdadi died during a U.S. raid of a compound in northwestern Syria. But the continued American troop presence has another goal: countering Iranian and Russian influence in the country and keeping in line their ally, Syrian President Bashar al-Assad.
According to the leaked reports, first reported by the Washington Post, Iran has been arming and training local fighters to use powerful roadside explosives against American armored vehicles on the ground. The remotely detonated bombs, reportedly capable of piercing even tanks, could result in mounting American casualties and lead to inadvertent escalation.