The Culture War Comes to Michigan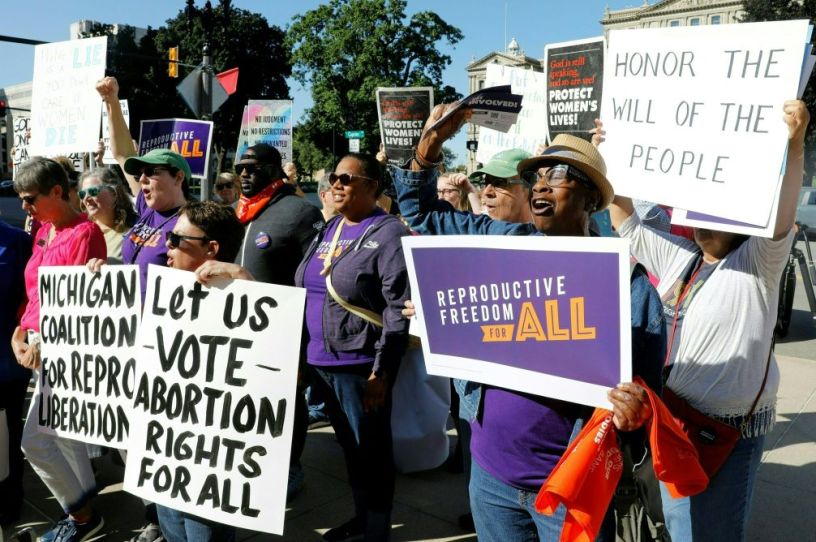 Pro choice supporters gather outside the Michigan State Capitol during a "Restore Roe" rally. (Photo by JEFF KOWALSKY / AFP) (Photo by JEFF KOWALSKY/AFP via Getty Images)
GRAND RAPIDS, Mich.—After 13 years away my family and I returned to Michigan in 2021, hoping to escape some of the divisions that have racked the American polity since 2016. We had been mostly successful in that endeavor. But a few weeks ago two young women rang our doorbell—and reminded us that we had not simply moved into a leafy retreat along the shores of Lake Michigan. We were now on the frontline of America's ongoing culture war.
"Are you aware of Proposal 3, the proposed amendment to make abortion a right under the Michigan constitution?" I recall one of the women asking. Before I answered, I was already filled with dread. Yet I was pleasantly surprised by the conversation that followed.
Proposal 3 would make Michigan's among the most radical abortion laws in the world, one of the women said. It would allow for abortion through all nine months of pregnancy, the other added. It would undo those safeguards against abortion that had been put in place even under the Roe v. Wade regime. They handed me a pamphlet that quoted and explained the amendment.
I thanked them—not for the pamphlet, but for their bravery. A few days before, miles from my home, an 84-year-old woman had been shot in the back while campaigning against Proposal 3. Seeing these two young women, I was moved by the risk they were taking to go door-to-door and bear witness against the injustice of abortion. As I explained some of this, one of the women replied that she was doing only what conscience bound her to do.