The Divergent Fortunes of Dr. Fauci and Dr. Birx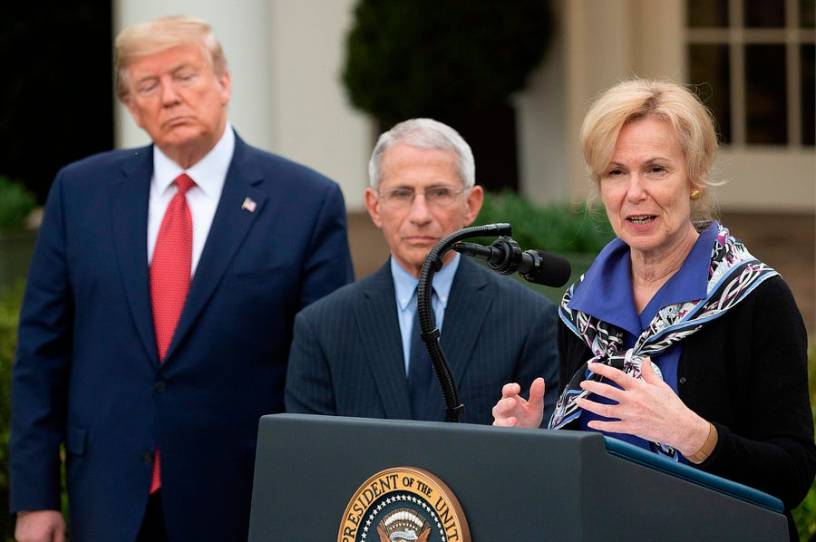 As the coronavirus pandemic took hold in the United States this spring, no two Americans jumped more quickly from relative obscurity to national fame than did Dr. Anthony Fauci and Dr. Deborah Birx. As the science-side face of the White House's COVID response team, the two public health experts helped reassure countless Americans terrified of what the future might hold that the national strategy was being overseen by capable minds. In recent weeks, however, their fortunes have diverged sharply.
A onetime fixture of the White House's daily coronavirus briefings, Fauci's public appearances as a mouthpiece of the administration are much diminished. The White House has moved to limit his media appearances, and when he does speak publicly these days, it's usually with the air of a disinterested subject-matter expert rather than one with the authority of the federal government behind him: He has reportedly not briefed the president since early June.
In recent weeks, this chilly treatment has morphed increasingly into open hostility. President Trump has repeatedly called Fauci out over both his past and present assessments of the virus, even as he insists their relationship remains strong. Last week, he publicly disputed Fauci's claim that the nation was still "knee-deep" in the virus, then took an extra potshot: "Dr. Fauci said don't wear masks and now he says wear them. And he said numerous things. Don't close off China. … We would have been in much worse shape." He told Sean Hannity that Fauci "is a nice man, but he's made a lot of mistakes." He has retweeted posts associating Fauci with the Democrats and suggesting that public health authorities have been lying about the virus.
Others at the White House got in on the action over the weekend. One administration official released what amounted to an oppo file on Fauci to the Washington Post, saying that "several White House officials are concerned about the number of times Dr. Fauci has been wrong on things" with an attached list of comments Fauci made in the early days of the pandemic. And top White House aide Dan Scavino posted a comic from alt-right cartoonist Ben Garrison on Facebook that disparagingly depicted "Dr. Faucet" leaking and pouring cold water on America's economy.