The Irrepressible Freshness of Robert Frost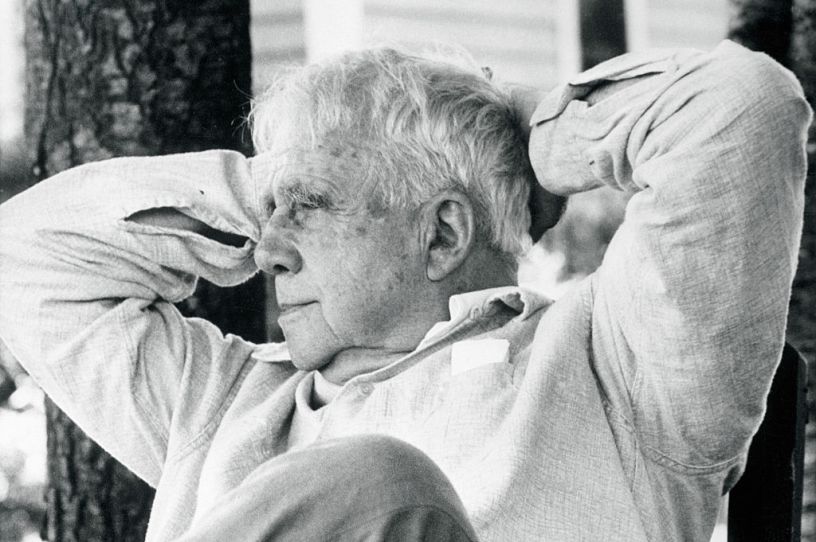 Robert Frost. (Picture via Getty Images)
When readers think of modernist poetry, chances are that T.S. Eliot's masterpiece "The Waste Land" comes to mind. That poem—which celebrated its centenary last year—intentionally defies easy comprehension, yet in the decades since its publication it has escaped the poet's notions of high culture and infiltrated pop music, graphic novels, and movies alike. "The Waste Land" is darkly alive, fitting Ezra Pound's definition of a classic: containing a "certain eternal and irrepressible freshness."
A smaller but no less important celebration is taking place this year for another modernist classic, Robert Frost's New Hampshire. Eliot understood Frost and regarded him highly; Frost returned the favor by dismissing Eliot (as he dismissed most contemporaries not named Robert Frost). New Hampshire, however, is worth revisiting as much as "The Waste Land." It complicates notions of modernism by being deliberately popular, but it is arguably just as dark, just as skeptical and strange as Eliot's poem.
Published in October 1923, New Hampshire was Frost's fourth collection of poems, and won him the first of his four Pulitzer Prizes—a still unbroken record for a writer in any genre. The success of this book would lead to lucrative publishing contracts, as well as sinecures at the University of Michigan and Amherst. He was at 49 a fully established poet, as popular and successful as it was possible for a pre-internet poet to be.
Frost's popularity and success, however, contrasted with the many personal sorrows in his life. By the time of New Hampshire's publication, he and his wife Elinor had lost two of their six kids: their first-born son to cholera and their youngest daughter just one day after her birth. In 1920, Frost's sister, Jeanie, was committed to an asylum. More tragedy ensued in the decades that followed, including the deaths of his daughter Marjorie, his son Carol, and Elinor herself. Some of Frost's poems, early and late, indirectly reflect these griefs, but he was rarely openly confessional. Our greatest writer of verse narrative, he often wrote of loss and grief through the lives of rural characters, a modern response to Virgil's Georgics.
You're out of free articles
Create an account to unlock 1 more articles