The Man Behind the Fox News Decision Desk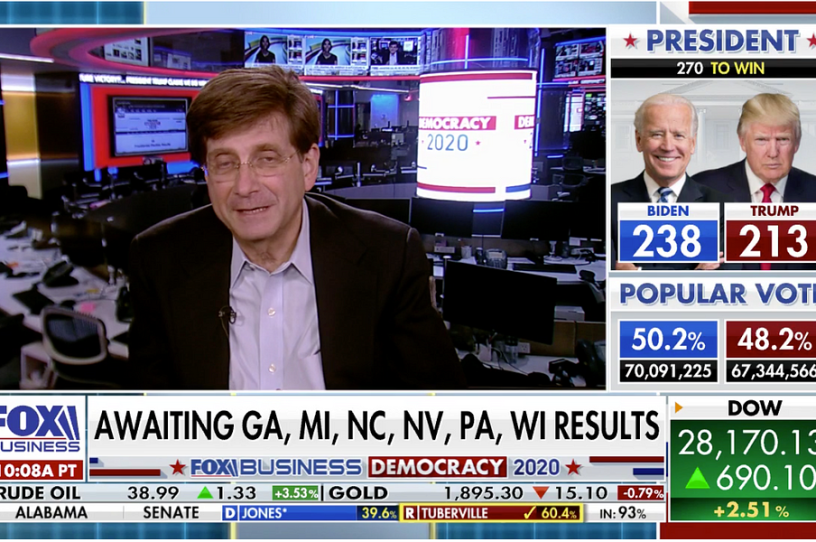 Fox News's decision to declare Joe Biden the winner in Arizona at 11:20 p.m. Tuesday prompted a swift response from the Trump camp. Campaign adviser Jason Miller said that night on Twitter that the network was "a complete outlier in calling Arizona," and that Fox News was trying to "invalidate" the 1 million outstanding votes in the battleground state Trump won in 2016.
Republican Gov. Doug Ducey also pushed back on the network's early decision to throw Arizona into Biden's column. "It's far too early to call the election in Arizona," Ducey said on Twitter late Tuesday night. "Election Day votes are not fully reported, and we haven't even started to count early ballots dropped off at the polls. In AZ, we protected Election Day. Let's count the votes—all the votes—before making declarations."
But Arnon Mishkin, the Fox News Decision Desk director, stood by his election team's call. "I'm sorry, the president is not going to be able to take over and win enough votes," Mishkin told his Fox News hosts on air shortly after the announcement. "We're not wrong in this particular case." Mishkin plays a crucial role every election cycle by calling winners and losers for the most-watched cable TV network in America. But he's a strange creature in the Fox News universe. A 65-year-old registered Democrat—who told the New York Times in late September that he voted for Hillary Clinton in 2016—Mishkin has been contracted as a paid consultant rather than a full-time employee for the network since 2008.
Since Election Night, the race in Arizona has tightened and all the other outlets that call winner—aside from the Associated Press, which called Arizona for Biden at 2:50 a.m. Wednesday—have left the state uncalled. As of late Thursday night, Biden leads Trump by 46,000 or so votes with 90 percent reporting, a lead of 50.1 percent to 48.5 percent.
Keep reading with a free account
Create a free Dispatch account to keep reading
Get Started
ALREADY HAVE AN ACCOUNT? SIGN IN