The McConnell-Thiel Standoff Over Blake Masters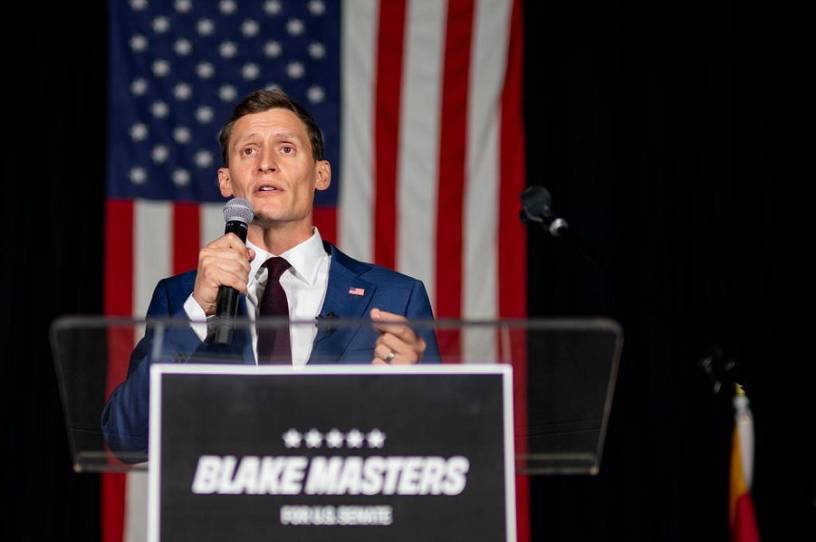 Over the next week, both Senate Minority Leader Mitch McConnell and billionaire Peter Thiel will hold fundraisers for Blake Masters, the Republican newcomer challenging Democratic Sen. Mike Kelly in Arizona this November. Attendees may want to ask the two men why they aren't putting their own money where their mouths are.
Thiel, a personal mentor of Masters whose $15 million in super PAC support helped put him over the top in last month's primary, has balked at continuing to spend on Masters in the general. And McConnell's affiliated PAC, the Senate Leadership Fund, announced late last month it was canceling half of the $16 million it had committed to the race. On Tuesday the PAC went further—it announced it would pull out of the contest altogether, opting instead to focus on Georgia, New Hampshire, and Nevada.
"We're glad to see Republican outside forces showing up in a big way in Arizona, with millions in new spending pledged to take down Mark Kelly in the final stretch," SLF President Steven Law said in a statement. "This allows us to pursue offensive opportunities, maximize our investment in existing commitments, and concentrate our efforts to win the Senate majority. We remain optimistic that the issue environment is in our favor, we have multiple pathways to obtain the majority, and we are spending heavily and strategically to achieve that goal."
It's true that other groups, including a PAC affiliated with Heritage Action for America, have hopped into Arizona in support of Masters in recent weeks. But these buys—roughly $7.5 million in all—don't cover the amount the SLF pulled in late August; arguing they remove the need for SLF spending altogether is bizarre.