Trump Has a Chance to Unite Americans on Coronavirus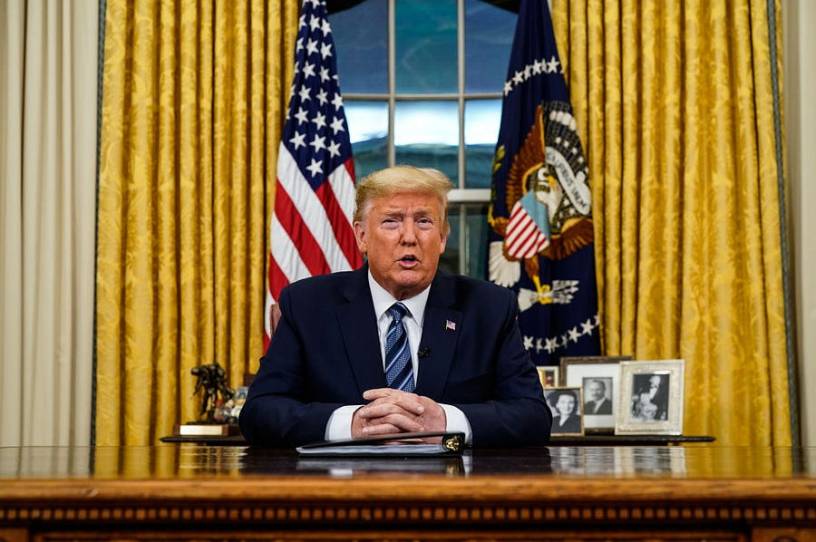 Wednesday was an undeniable inflection point in America's fight against coronavirus. The number of confirmed patients in the U.S. surged past 1,000, while Dr. Anthony Fauci, who heads the National Institute of Allergy and Infectious Diseases, warned Congress that "it's going to get worse." The World Health Organization declared the outbreak a "global pandemic." News broke of the first celebrities to get the virus: actors Tom Hanks and Rita Wilson and Utah Jazz center Rudy Gobert. The NBA suspended its season until further notice. And the stock market, which had been bouncing around uncertainly for days, seemed finally to settle on pessimism: A 1,000-point drop put the U.S. into a bear market for the first time in more than 11 years.
It appears finally to have been enough for Donald Trump. The president, who in recent weeks has frequently downplayed the severity of the coronavirus, addressed the nation about the crisis Wednesday night. In his primetime speech, the president offered a slew of policy changes and proposals to combat the virus and mitigate its effects on the economy. And perhaps more important, he urged the viewing public to take the threat of the coronavirus calmly, but seriously, and to follow expert recommendations designed to slow the disease's spread.
"For the vast majority of Americans, the risk is very, very low," Trump said. "Young and healthy people can expect to recover fully and quickly if they should get the virus. The highest risk is for elderly population with underlying health conditions. The elderly population must be very, very careful. In particular, we are strongly advising that nursing homes for the elderly suspend all medically unnecessary visits. In general, older Americans should also avoid nonessential travel in crowded areas.
"We have issued guidance on school closures, social distancing, and reducing large gatherings. Smart action today will prevent the spread of the virus tomorrow. Every community faces different risks, and it is critical for you to follow the guidelines of your local officials who are working closely with our federal health experts—and they are the best. For all Americans, it is essential that everyone take extra precautions and practice good hygiene. Each of us has a role to play in defeating this virus. Wash your hands, clean often-used surfaces, cover your mouth if you sneeze or cough, and most of all, if you are sick or not feeling well, stay home."