Will Voters Buy What Vivek Ramaswamy Is Selling?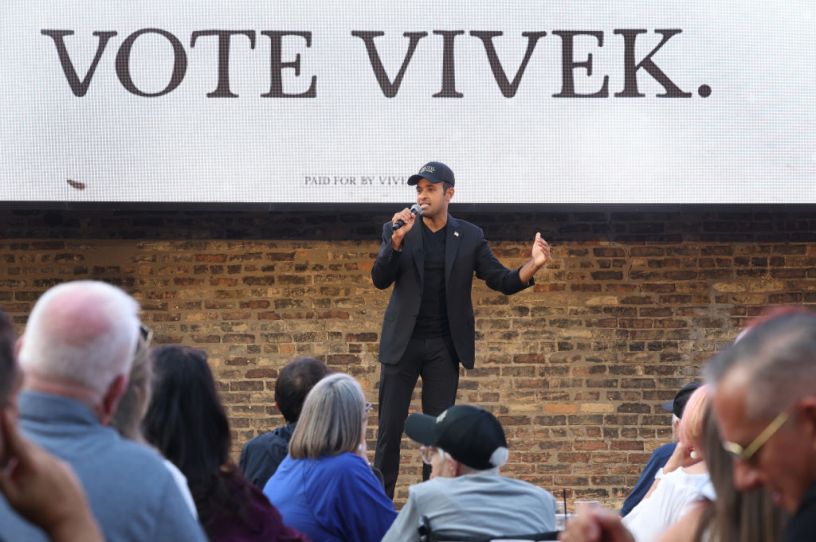 Republican presidential candidate businessman Vivek Ramaswamy speaks at a small rally near the Fiserv Forum on August 22, 2023 in Milwaukee, Wisconsin, before the first 2024 Republican presidential primary debate. (Photo by Scott Olson/Getty Images)
DUBLIN, New Hampshire—Vivek Ramaswamy's post-debate media surge has given him a major confidence boost on the campaign trail, even as he continues to hover in the single digits in most GOP primary polls. The question now is whether his candidacy can withstand the scrutiny that comes with national attention.
Since launching his bid for the Republican presidential nomination back in February, the ex-pharmaceutical executive has crisscrossed the country trying to sell voters on his 10-point presidential manifesto: 
"God is real. There are two genders. Human flourishing requires fossil fuels. Reverse racism is racism. An open border is no border. Parents determine the education of their children. The nuclear family is the greatest form of governance known to mankind. Capitalism lifts people up from poverty. There are three branches of the U.S. government, not four. The U.S. constitution is the strongest guarantor of freedoms in history."
At just 38 years old, Ramaswamy is the youngest candidate in the field, and the biotech entrepreneur—worth hundreds of millions dollars—has embraced his time in the spotlight. He recites those 10 principles with an almost robotic precision at just about every campaign stop, and isn't shy about sharing his "America First" policy agenda with voters. If elected, for example, he pledges to abolish the FBI, deploy military force against Mexican drug cartels, and cut off U.S. support for the Ukrainian war effort.
You're out of free articles
Create an account to unlock 1 more articles