Walker Goes Down to Warnock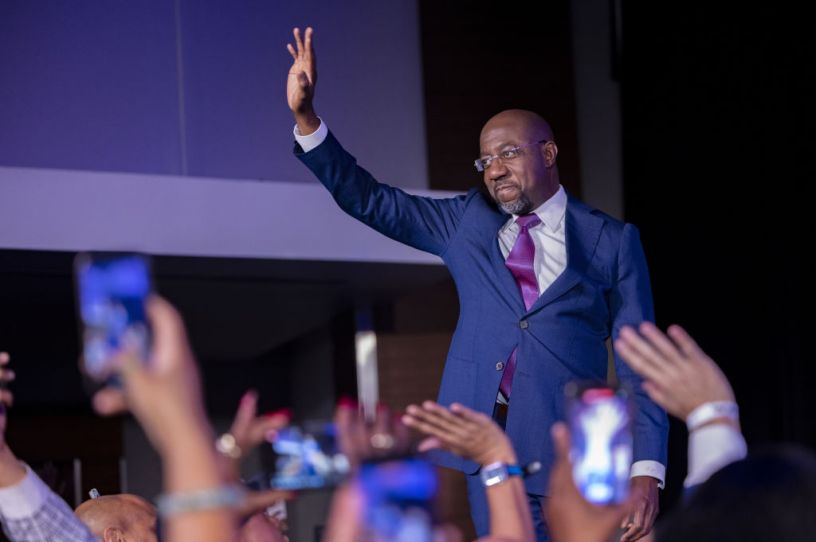 Sen. Raphael Warnock arrives to deliver a victory speech at his election night party in Atlanta Tuesday after defeating Republican challenger Herschel Walker. (Photo by Nathan Posner/Anadolu Agency via Getty Images)
So that's that; the midterms are over. On Tuesday, Democratic Sen. Raphael Warnock dashed Republicans' hopes of maintaining a 50-50 Senate by defeating Republican Herschel Walker. By early Wednesday morning and with 95 percent of ballots counted, Warnock had 51.4 percent of the vote to Walker's 48.6 percent.
"After a hard-fought campaign—or should I say campaigns—it is my honor to utter the four most powerful words ever spoken in a democracy," Warnock told the crowd at his election party after the race was called. "The people have spoken."
Warnock's victory put an exclamation point on one of the central storylines of the 2022 midterms: the underperformance of former President Donald Trump's handpicked Senate candidates in swing states. These candidates were supposed to help Trump reassert his grip over the party ahead of his third presidential bid in 2024. Instead, the slate floundered. One candidate, North Carolina's Ted Budd, notched a respectable win; another, J.D. Vance, limped to a modest victory in red Ohio (while polling nearly 10 points behind Republican governor Mike DeWine). The rest were losses ranging from close to embarrassing, in Nevada, Pennsylvania, Arizona, New Hampshire, and—now—Georgia.
But this narrative, which drove much media coverage ahead of the runoff, doesn't fully capture what happened in Georgia, which in some ways felt more like a post-Trump election.