What We Know and Don't Know About Hamas' Alleged Atrocities in Israel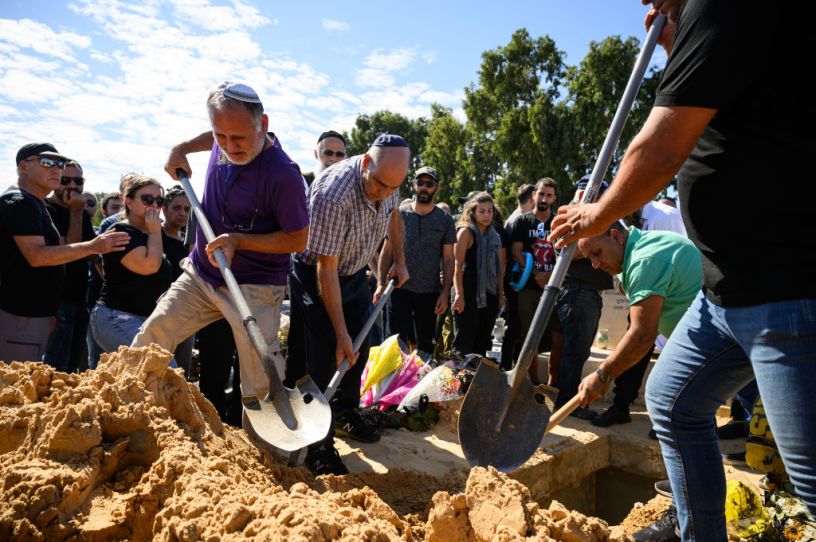 The father of Shiraz Tamam, who was killed by Hamas during the attack at the Nova music festival, is shown at left helping to fill in the grave at Holon cemetery on October 17, 2023 in Holon, Israel. (Photo by Leon Neal/Getty Images)
Editor's note: This piece links in some instances to articles or videos containing graphic images.
As the fallout from Hamas' October 7 attack on Israeli civilian and military targets enters its second week, journalists, government officials, and other observers are revisiting a number prominent claims from the conflict's early days. In one viral Instagram video with more than 52,000 likes, a narrator assuming the role of fact-checker claims that there is no evidence to support three widespread accusations: that 40 babies were beheaded by Hamas terrorists, that women were raped during the attacks, and that attendees of the Tribe of Nova festival were massacred.
The original video has since been deleted, but it continues to be spread across social media by commentators such as Jimmy Dore, host of the progressive The Jimmy Dore Show. "I'm glad we can debunk that," Dore says, watching the video. "They were't beheading little babies, they aren't raping." Some of these claims are not yet fully verifiable, but the assertions in the video are grossly misleading and at times outright false.
Beheaded Babies
The first assertion is that there is no evidence to support claims broadcast on Israeli and American television that Hamas terrorists had beheaded babies. "Number one, 40 babies were beheaded," the narrator begins. "This is completely false, no evidence has been provided for this." There is some eyewitness testimony that babies were beheaded, but a lack of independently verifiable evidence and conflicting official statements have muddied the issue.
Allegations that Hamas terrorists had killed and beheaded babies initially arose after Nicole Zedick of i24NEWS—an Israel-based international media network—spoke to soldiers during a press tour of Kfar Aza, one of the kibbutzim targeted in the attacks. "One of the commanders here said that at least 40 babies were killed. Some of them, their heads cut off," Zedeck said in the broadcast. "He said he's never seen acts of brutality like this."
These reports were later corroborated by French journalist Margot Haddad, who tweeted that she viewed and cross-checked photographs of the atrocities in Kfar Aza herself. (Clicking on the tweet will allow for translation into English.)
However, conflicting statements by Israeli officials caused widespread confusion about the veracity of the accusations. "Toddlers, other babies, some of them with their heads cut off. This is what we are hearing from soldiers on the ground who dealt with the bodies," Tal Heinrich, a spokesperson for the Israeli Prime Minister's office, told British news site LBC on October 11. Later that day, IDF spokesperson Jonathan Conricus also seemed to confirm the allegations during a situational update broadcast on Twitter, citing a statement made to CBS by Yossi Landau, the head of operations for the volunteer civilian emergency response organization Zaka. "I think we can now say with relative confidence that this [infant beheadings] is unfortunately what happened in Be'eri," Conricus said. The next day, however, CNN was told by an unnamed Israeli official that the specific claim that babies had been beheaded could not be confirmed. "There have been cases of Hamas militants carrying out beheadings and other ISIS-style atrocities," the official told CNN. "However, we cannot confirm if the victims were men or women, soldiers or civilians, adults or children."
President Joe Biden created further confusion when, during a roundtable with Jewish community leaders, he suggested that he had seen photos of the atrocities. "I never really thought that I would see and have confirmed pictures of terrorists beheading children," Biden remarked. However, the administration later clarified that Biden was referring to media reports and Israeli statements and had not seen photographic evidence himself.
No evidence of the beheading of babies has yet been made public beyond the existing eye witness statements, and the Israeli government has said that it will not seek out further evidence or confirm the total number of babies killed and by what methods.
The video's assertion that there is no evidence supporting claims that 40 babies were decapitated is overbroad. It is not yet possible to independently verify the accusation, and the report that 40 babies were killed was clearly conflated with claims about babies being among victims who were beheaded. But there is evidence that young children and infants were killed, and multiple eyewitness statements indicate that some were found beheaded.
Sexual Assaults
The second allegation claims there is no evidence that women were raped during the attacks. "Number two, people were raped," the narrator says. "Also false, there is no evidence of this whatsoever." This claim is overstated.
Allegations of rape have spread widely since October 7, starting with an article in Tablet. "Women have been raped at the area of the rave next to their friends bodies, dead bodies," an attendee of the Tribe of Nova festival told the publication. Additionally, two short videos circulating online reportedly show captured Hamas militants admitting to raping women, though the veracity of these videos cannot be independently confirmed.
On Saturday, Israeli officials told Reuters that they had found multiple signs of rape as well as torture and other atrocities during the forensic testing of deceased Israeli victims, though Reuters also notes that it did not review the forensic evidence itself. According to the report, about 1,300 bodies thus far have been transported to a military base in central Israel to undergo examination and identification.
Festival Massacre
The video's final claim is that there is no evidence that people were murdered at the Tribe of Nova music festival. "Number three, 250 people were killed at a concert," the narrator says. "False, the only videos we have seen are people running away from the concert. There isn't a single video or photo suggesting that 250 people were killed at a concert or that a mass shooting took place." This assertion is false. There is abundant evidence that Hamas terrorists killed civilians at the event.
Multiple eyewitnesses from the festival reported that Hamas terrorists fired indiscriminately at the thousands of attendees of the festival, and video footage (warning: graphic images) has been released showing both the devastation at the site and terrorists actively killing civilians. "We heard shots. There were cars with corpses on top of them that blocked the road," Gal Raz told the Washington Post. "I can't even explain the energy they (the militants) had. It was so clear they didn't see us as human beings," Maya Alper told ABC News. "They looked at us with pure, pure hate."
Photos of the aftermath were also released by Israeli first responders via the Telegram channel South First Responders (warning: graphic images). Multiple pictures show dozens of bodies riddled with bullet holes and civilians murdered in their cars. Additional footage obtained from a body camera recovered from a Hamas terrorist also shows a number of attackers firing at toilets where festival goers had hidden.
While accusations about the beheading of babies and sexual assaults cannot be independently verified, there are multiple eyewitness accounts and public statements from Israeli officials substantiating both claims. Denial of the mass killings perpetrated at the Tribe of Nova festival, however, is baseless, and significant verifiable evidence shows in detail the attacks against civilians that took place.
If you have a claim you would like to see us fact check, please send us an email at factcheck@thedispatch.com. If you would like to suggest a correction to this piece or any other Dispatch article, please email corrections@thedispatch.com.