How Joe Biden Plans to Use MAGA Against Republicans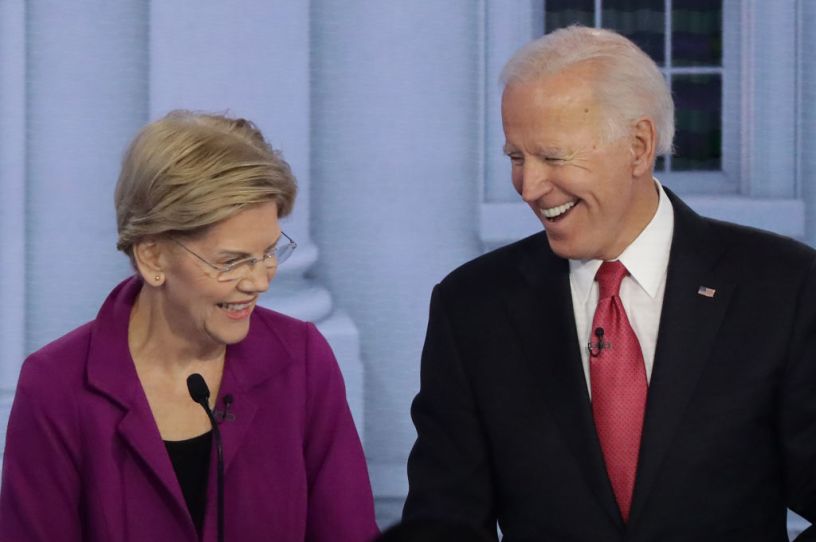 Sen. Elizabeth Warren and President Joe Biden on November 20, 2019, in Atlanta, Georgia. (Photo by Alex Wong/Getty Images)
Happy Monday! Andrew's back from paternity leave today. He's thankful to his bosses for company policies that prioritize family, his newsletter colleagues for picking up the slack while he was out, and Senate Majority Leader Chuck Schumer for axing the Senate's longstanding dress code over the weekend to permit gym shorts and hoodies in the chamber. It's important to ease back into these things gradually.
Up to Speed
Biden's 'MAGA' Messaging
President Joe Biden can speak off the cuff in public remarks and occasionally wander off course, which at times muddles his message and upstages his intended headline.
So it was instructive Friday to hear two prominent members of the Biden campaign's national advisory board—Sen. Elizabeth Warren of Massachusetts and Rep. Jennifer McClellan of Virginia—frame the president's reelection pitch in crisp, carefully scripted political prose. Warren spoke first during a morning video conference call with reporters, focusing on the economy. Next came McClellan, talking about abortion rights. Both Democrats had one thing in common: Each cast the 2024 contest as a battle between "MAGA extremism" and the good old fashioned American values of freedom and fairness.
"The contrast is sharp. MAGAnomics is about policies that cut taxes for the rich and pass along costs to working Americans, while Bidenomics is all about fighting to rebuild the economy from the bottom up and the middle out," Warren said. "That's Bidenomics in action, building an economy that works, not just for the wealthy and well-connected, but an economy that works for everyone. That's the progress the Republican presidential hopefuls are trying to reverse with MAGAnomics."
You're out of free articles
Create an account to unlock 1 more articles