Why Iowa Still Matters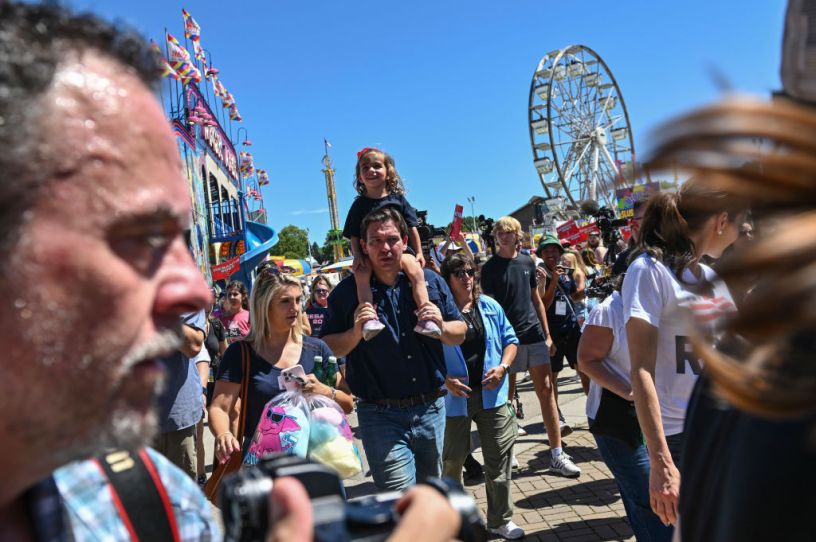 Florida Gov. Ron DeSantis makes his way through the Iowa State Fair on August 12, 2023 in Des Moines, Iowa. (Photo by Ricky Carioti/The Washington Post via Getty Images)
Happy Monday! Politico reported that, according to three people who were at a bar in downtown Des Moines, Iowa, over the weekend, "officials with the DeSantis-allied super PAC, Never Back Down, got into a shouting match with a Trump backer not affiliated with the campaign wearing Trump garb. The exact nature of what was said is disputed, though each side agreed that it centered on the Trump hats some of the patrons were sporting." A former Fox News host once said that wearing a bow tie is like having "a middle finger protruding from your neck," and apparently MAGA gear can have a similar effect on some folks.
Up to Speed
Attorney General Merrick Garland announced Friday that he is elevating U.S. Attorney David Weiss to serve as special counsel in his long-running investigation into President Joe Biden's son. The news follows the collapse of a plea deal negotiated by Weiss and Hunter Biden's attorneys involving misdemeanor tax violations and a felony gun offense. "This move by Attorney General Garland is part of the Justice Department's efforts to attempt a Biden family coverup in light of the House Oversight Committee's mounting evidence of President Joe Biden's role in his family's schemes selling 'the brand' for millions of dollars to foreign nationals," House Oversight Chairman James Comer responded in a statement.
Fulton County prosecutors reportedly have text messages and emails linking Donald Trump's lawyers to a voter machine breach in Coffey County, Georgia, that occurred in January 2021, CNN reported Sunday. The news comes as District Attorney Fani Willis is expected to present evidence to a grand jury this week from her yearslong investigation into the former president's efforts to overturn the 2020 election results.
Robert F. Kennedy Jr.'s campaign reversed course after the Democratic presidential candidate told NBC News on Sunday that he would support a federal abortion ban after three months in a woman's pregnancy. "Once a child is viable, outside the womb, I think then the state has an interest in protecting the child," Kennedy said in his initial answer to NBC News. But his campaign spokesperson later walked back that answer, telling reporters in a statement that RFK Jr. misunderstood the question, always supports a "woman's right to choose," and "does not support legislation banning abortion."
Banking on Iowa
Mike Huckabee in 2008. Rick Santorum in 2012. Ted Cruz in 2016. For all the hype that comes with its "first-in-the-nation GOP caucus state" title, Iowa doesn't have the greatest track record for picking Republican presidential nominees.
Try telling that to Iowa GOP Chairman Jeff Kaufmann. "We're not supposed to" pick winners, Kaufmann tells The Dispatch in an interview. "Iowa's supposed to kick the tires. Iowa's supposed to ask the key questions. Iowa is basically testing the waters for the rest of the country."
Kaufmann is giddy that Republican presidential candidates are descending on his home state this week for the Iowa State Fair, a must-attend event for GOP presidential candidates ahead of the state's caucuses in January. And he argues that his state's unique nominating process is key to hardening candidates for the rigors of a national campaign.