The Diabolical Logic of Nuclear Blackmail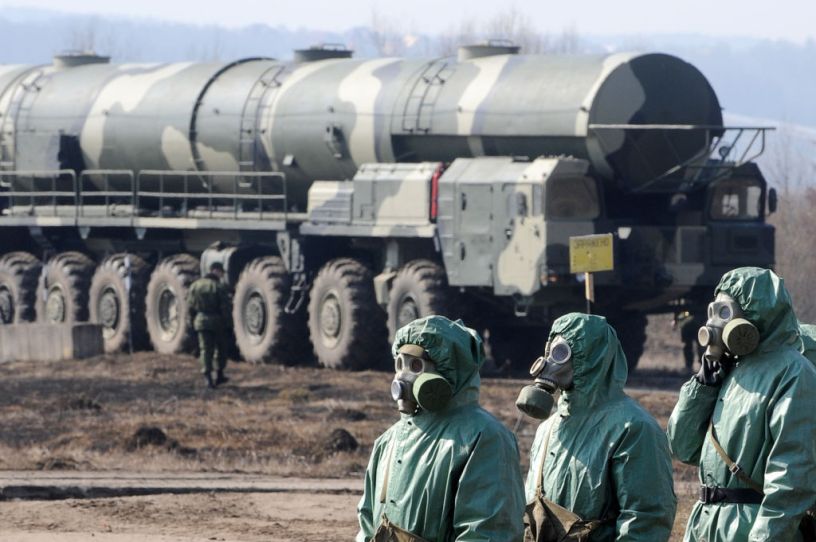 Russian soldiers next to a military fueler at the Serpukhov's military missile forces research institute some 100km outside Moscow. (Photo by Natalia Kolesnikova / AFP via Getty Images.)
The most important story in the world remains the war in Ukraine, and the most important aspect of that story is Russia's fake "warnings" to the West that Ukraine is plotting to detonate a "dirty bomb." The ploy is obvious—to provide a pretext for actual escalation or for threats of escalation that could accomplish Putin's purposes without the monumental peril of a nuclear strike.
To explain the nature of Putin's threat and to understand Putin's reasoning, let me first turn to my friend Tom Nichols, writing in The Atlantic. First, what is a dirty bomb?
A dirty bomb isn't actually a nuclear bomb. It is, to use the clunky term professionals apply to it, a radiological dispersal device, which is just another way of saying that it is a conventional explosive wrapped around a lot of dangerous radioactive material. When the bomb explodes, it is not a nuclear detonation, but only the normal explosion of something like TNT or other munitions. The difference is that this conventional explosion spreads around a lot of radioactive material, poisoning anyone nearby and rendering the area highly dangerous—perhaps even impassable. The gunk inside a dirty bomb could be anything that is highly radioactive: nuclear reactor waste, the leftover pieces of a nuclear weapon, even radiological materials from a hospital.
Second, what is Putin's potential strategy?