Nigerian Protests Call Attention to a Culture of Corruption and Abuse
Can they effect sweeping change?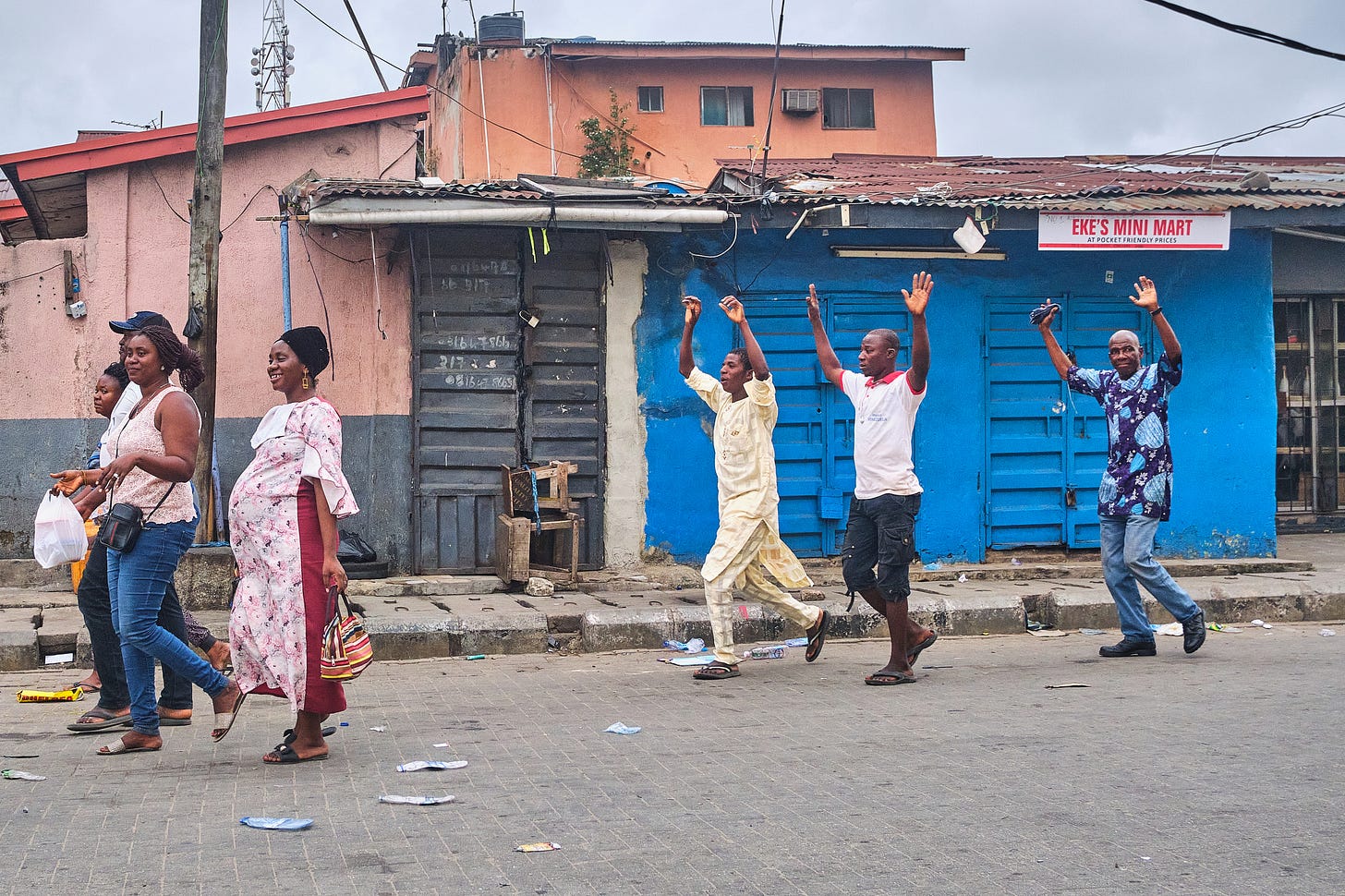 Sixty years ago to the month, Nigeria broke free from the United Kingdom after 160 years of imperial rule. But the legacy of wealth and resource extraction by the British political elite lingered in the several waves of governance that followed. Now—more than 20 years after Nigeria set about establishing a multiparty democracy—widespread protests, and the sitting government's brutal crackdown in response, expose how very far there is still to go. 
Protests against police brutality erupted after social media circulated reports of an unarmed youth shot and killed by a police officer. The officer was with the Special Anti-Robbery Squad (SARS), a force that stokes terror among Nigeria's civilian population through torture and extrajudicial killings. The protests, which began in Lagos, have expanded to a nationwide call to end the country's governmental corruption and mismanagement, crippling economic stratification, and rampant human rights abuses. When Nigerian soldiers opened fire on peaceful protesters at Lekki Toll Gate on October 20, the international community also joined the movement.
Though estimates vary dramatically, Amnesty International reports that at least 12 individuals were killed during the Lekki massacre. The government still refuses to admit its role in the shootings. Rihanna took to Instagram and Twitter the following day to share her support and condolences for the victims. Beyoncé also spoke out: "I am heartbroken to see the senseless brutality taking place in Nigeria. There has to be an end to SARS." Actress Gabrielle Union shared a protester's Instagram livestream of the night's events, using the now-viral hashtag—which was first used in late 2017—#EndSARS. 
Although this rallying cry has garnered unprecedented attention over the course of October, police brutality is not new to Nigerians. John Campbell, a former U.S. ambassador to Nigeria, explained how the harsh tactics used in Nigerian policing have their roots in British colonialism. "The Nigerian police service, like the Nigerian army, was established under the British. They were both designed to control the population, not to protect the population. This dates back to long before independence," Campbell said. "Independence, essentially, brought no change. And whether the government is military or civilian—the army, police, and other security services are primarily concerned with protecting the regime in power."
Even after the establishment of what is—at least on its face and in its foundational language—a republican system, autocratic practices persisted. "Between 1999 and 2007, under President Obasanjo, there were several incidents of police brutality," Ayo Sogunro, a prominent Nigerian author and human rights lawyer, told The Dispatch. "There were several incidents of police shooting into crowds and there were at least two major incidents of the army bombing villages and wiping out everybody in brutal massacres. Nobody was punished or held accountable for these incidents."
According to an Amnesty International report from June 2020, detainees in the custody of SARS "have been subjected to a variety of methods of torture including hanging, mock execution, beating, punching and kicking, burning with cigarettes, waterboarding, near-asphyxiation with plastic bags, forcing detainees to assume stressful bodily positions and sexual violence." The report also notes that, to date, none of the perpetrators of these acts of violence have been held responsible by the Nigerian government.
Desperation is now yielding an increasingly chaotic situation, as large crowds of people in Nigeria's capital Abuja ransack government-owned food warehouses. The mere existence of these large stores, which up until now have been inaccessible to the general public, presents problems. Nigerian officials are now facing accusations of hoarding food supplies, which would be consistent with the government's historic practices of reserving the country's resources and wealth for the political elite and their favored groups.
"In absolute numbers, those living in extreme poverty in Nigeria is the largest in the world. In other words, more Nigerians live in extreme poverty than in India, which has six times the population of Nigeria. So a subtext of what we are seeing is the extreme impoverishment of a large population," said Ambassador Campbell. "More than 90 percent of government revenue comes from the Nigerian National Petroleum Corporation, which in partnership with private oil companies owns all of the country's oil, so that all the oil revenue belongs to the state."
Although the movement as a whole has yet to make explicit calls for regime change, reforms to address Nigeria's structural issues of governance are long overdue. President Muhammadu Buhari promised to dissolve SARS earlier this month, but to most Nigerians, his words amount to nothing more than empty promises after making similar statements in the past. "The disbanding of SARS is only the first step in our commitment to extensive police reforms," Buhari said in a televised statement at the protests' outset. "We will also ensure that all those responsible for misconduct are brought to justice."
"It's not just about the Buhari administration, it's more about Nigeria's existing constitutional political structure. The Buhari administration itself hasn't behaved any differently from previous administrations on this issue," said Sogunro. "People want some kind of systemic reform that would not just address police brutality in the present, but would also ensure that it is possible in the future."
Photograph by Anadolu Agency/Getty Images.