Sanders, Buttigieg, and Klobuchar Shine in New Hampshire
Meanwhile, Bloomberg looms while Warren and Biden flail.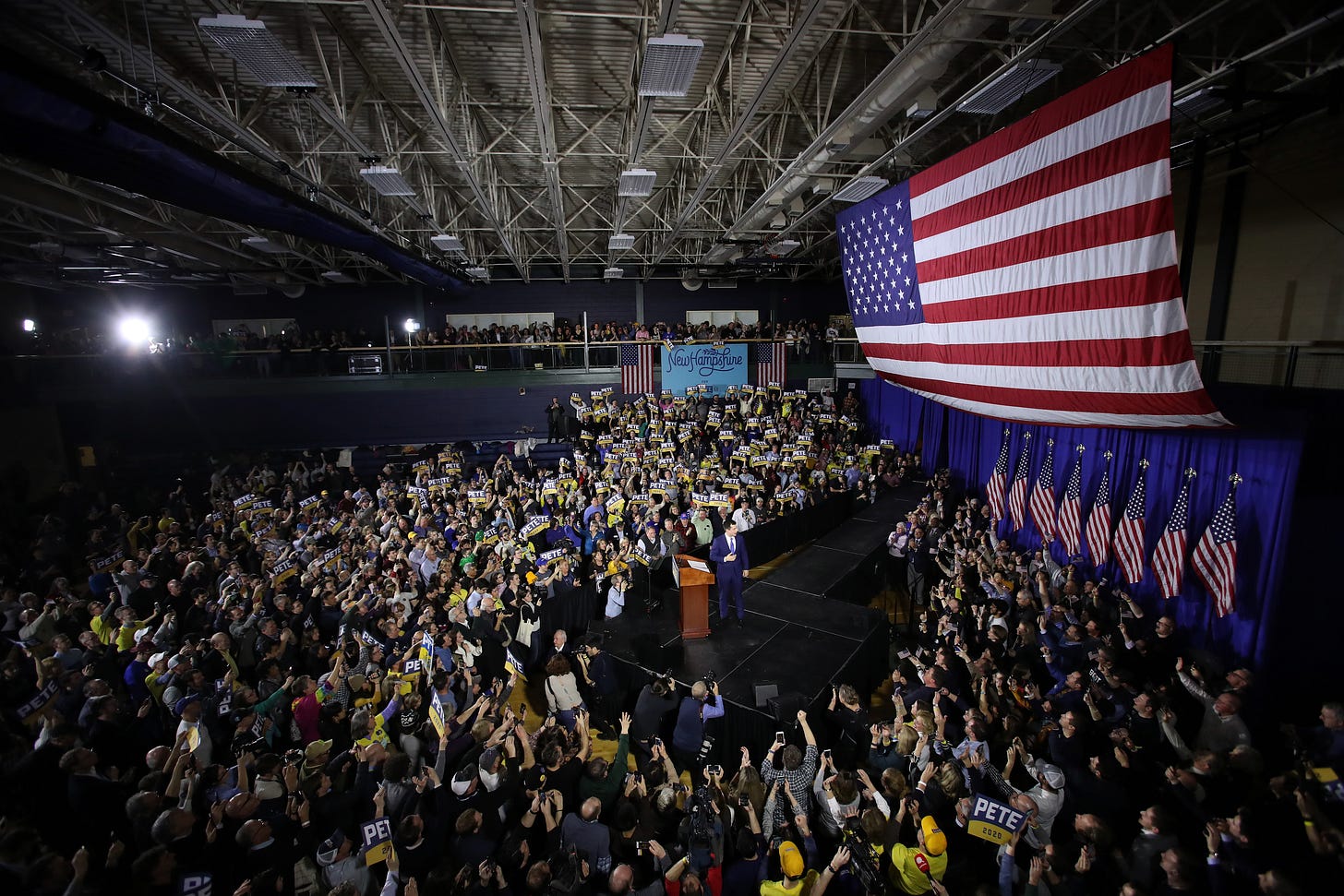 NASHUA, New Hampshire—Pete Buttigieg focused first on Senator Bernie Sanders. "I respect him greatly to this day, and I congratulate him on his strong showing today," Buttigieg said to 1,200 supporters packed into a steamy gymnasium on Tuesday night. Then he shifted to his own success. "Thanks to you, a campaign that some said shouldn't be here at all, has shown that we are here to stay."
Buttigieg's acknowledgment of Sanders' triumph—25.9 percent to the former South Bend mayor's 24.2 with 90 percent of the vote counted—mirrored that of many in the political world last night, in that he quickly moved away from it. Yes, Sanders' margin of victory—at just under 1.5 points—was significantly tighter than the 7 or 8 percentage points that polls had projected for the senator whose home state of Vermont is next door to New Hampshire's first-in-the-nation primary. Yes, 25.7 percent is the worst showing ever for a New Hampshire primary winner and less than half the 60 percent of votes Sanders received in 2016. But the field is much bigger this time around, and with popular vote victories in each of the first two states, plenty of money in the bank, and strong national polling, it's hard to look at Sanders as anything other than the frontrunner.
But he's a weak one, with a high floor of (very passionate) support and—so far—a ceiling that would prevent him from amassing the necessary delegates once the field winnows further. With their impressive performances on Tuesday, Buttigieg and Senator Amy Klobuchar of Minnesota seem best positioned to convert the abstract campaign currency—momentum—into vote totals that could rival Sanders' base. But Nevada and South Carolina—with large Latino and black populations—will prove rockier terrain than Iowa and New Hampshire.
After pulling in 26.2 percent and 24.6 percent of the vote in Iowa and New Hampshire, respectively, Buttigieg will now bring his version of hope and change to states where he is currently polling in the mid-single digits. The campaign has proved more than capable of elevating the 38-year-old's profile thus far, but it has primarily had to appeal only to white voters, and college-educated white voters at that.
Klobuchar, for her part, made the most of her surprisingly strong 20 percent third-place showing. The first female to be elected senator from Minnesota opened her "victory" speech—broadcast live on some cable television networks nationwide—with an introduction for voters who might not yet be familiar with her.* "Hello America! I'm Amy Klobuchar, and I will beat Donald Trump," she began before diving into her stump speech, tweaked a bit to place additional emphasis on unity and electability. "We know that we win by bringing people with us instead of shutting them out. Donald Trump's worst nightmare is that the people in the middle, the people who have had enough of the name-calling and the mudslinging, have someone to vote for in November."
Klobuchar's charge now? Building out the campaign infrastructure necessary to harness all this newfound energy. The campaign says it already has 50 staffers on the ground and ads ready to go in Nevada (which caucuses on February 22), but her South Carolina (February 29) operation is thin. The campaign will be deploying additional personnel to Super Tuesday (March 3) states by Saturday. The $2.5 million she raised in hours after polls closed will certainly help.
New Hampshire proved capable of doing something Iowa couldn't (and not just counting the votes in a timely and accurate manner): winnow the field. The Granite State produced four casualties on Tuesday—but only two of them were savvy enough to admit it.
Andrew Yang, an entrepreneur-turned-universal-basic-income-advocate, formally ended his campaign after receiving just 2.8 percent of the vote, and Senator Michael Bennet of Colorado, an undying advocate for political norms and decorum, officially dropped out as well.
But former Vice President Joe Biden and Senator Elizabeth Warren are still in the race despite neither achieving double digit support. The underperformance in New Hampshire is particularly embarrassing for Warren who, as a senator from Massachusetts, was playing with a home-field advantage of sorts. (Boston is the largest television market in the state.) She spoke to her supporters early in the evening, once it was clear she would not be earning any delegates in the night's contest. 
"We might be headed for another one of those long primary fights," Warren said in a winding speech that generated the loudest applause when it was praising Klobuchar's night. "But if we're going to beat Donald Trump in November, we're going to need huge turnout within our party. And to get that turnout, we will need a nominee that the broadest coalition of our party feels like they can get behind."
After spending the better part of a decade building her brand as a progressive firebrand and fighter, Warren has in recent weeks tried to embrace the role of uniter. It's a clunky fit.
Biden, for his part, was so resigned to disaster in New Hampshire that he skipped town in the middle of the day to head to South Carolina, whose primary has quickly become an absolute must-win for him. "We just heard from the first two of 50 states," Biden said. "Not the whole nation, not half the nation, not a quarter of the nation, not 10 percent, two."
"Up 'til now, we haven't heard from the most committed constituency of the Democratic party, the African-American community, and the fastest growing segment of society, the Latino community," Biden told his diverse audience. "99.9 percent: That's the percentage of African American voters who have not yet had a chance to vote in America!"
Biden's camp is working overtime to argue he never had a shot in the Granite State, but that's malarkey—something to which Biden purports to be firmly opposed. There's no legitimate reason the former vice president, with near 100 percent name recognition, cannot connect with white voters. He was leading in New Hampshire polls as recently as last month. He's just seen the floor fall out from under him since. If Biden does exceedingly well in South Carolina, maybe he can turn things around. But if your pitch to voters is electability, coming in fourth and fifth in the first two nominating contests does not inspire much confidence.
The race now leaves New England, and it will remain narrowly focused on the Silver and Palmetto States for a few weeks before nationalizing on Super Tuesday. Bernie is in the driver's seat; like Donald Trump in 2016, Sanders' opposition, while a majority of the party, remains too fragmented to defeat him outright. Former New York Mayor Mike Bloomberg—after forgoing the retail politics of Iowa and New Hampshire—awaits, prepared to spend hundreds of millions of his own dollars to build his already growing slice of the electorate. A contested convention in Milwaukee remains a distinct possibility. New Hampshire delivered some answers on Tuesday, but plenty of questions remain.
Photograph of Pete Buttigieg speaking at an election night event at Nashua Community College February 11, 2020, by Win McNamee/Getty Images.
Correction, February 12, 2020: The article originally referred to Amy Klobuchar as the first female senator from Minnesota. She's the first to be elected. Muriel Humphrey was appointed to serve in her husband's seat after Hubert Humphrey passed away in 1978.