The Democrats' HEROES Act Could Extend Our Economic Distress
Continuing to fund additional unemployment benefits will deter workers from returning as the economy tries to reopen.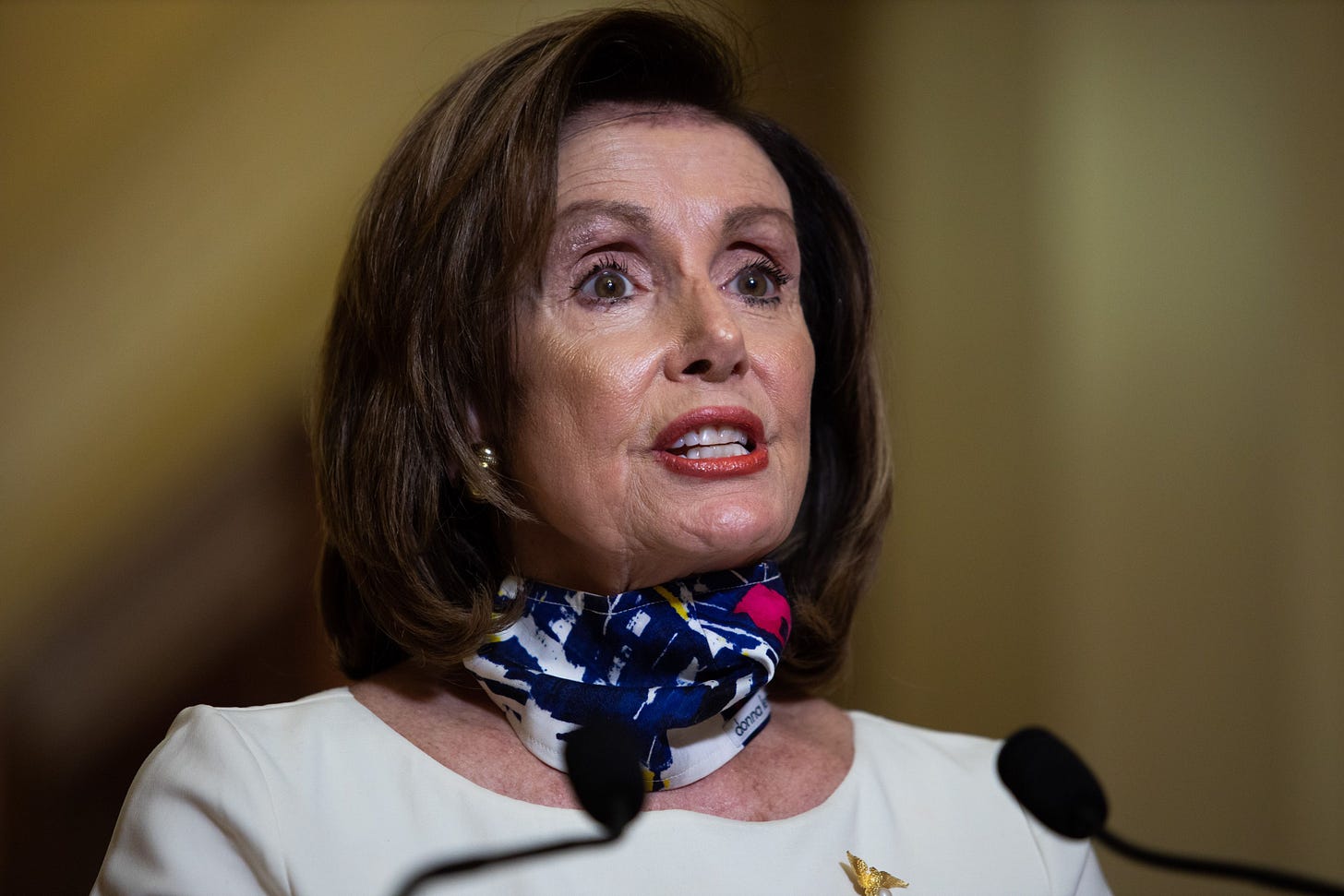 Thanks to the economic relief packages that have already been implemented, the U.S. is set to run a $3.8 trillion deficit this year. But Speaker of the House Nancy Pelosi and her fellow House Democrats have proposed yet another round of spending—the $3 trillion "HEROES Act."
The bill includes a federal bailout for financially struggling states and localities and additional broad-based $1,200 relief checks for individuals. But the most significant provision could be its extension of enhanced unemployment benefits through January 2021. Critics warn this could undermine states' efforts to reopen and put a drag on our economic recovery through 2021. 
Here's why.
The original $2 trillion CARES Act, passed in March, expanded eligibility for state-level unemployment benefits, and it gave workers an additional $600 weekly in federally funded benefits. This made it more profitable for some workers to stay home than return to work. 
Originally, that was exactly the point. Working for many was deemed dangerous at the onset of the coronavirus outbreak, so the idea behind the expansion was that with an extra $600 a week, the federal government was making it financially feasible for non-essential workers to stay home. 
But some Republicans, such as Sens. Lindsey Graham, Ben Sasse, and Tim Scott, warned at the time that making unemployment pay more than work through July 31—as the CARES Act did for many—was a mistake because it would hobble economic recovery just when we need it the most. They were ridiculed, and their amendment to the CARES Act failed.
Yet it wasn't long before their fears proved true, as Declan Garvey reported for The Dispatch previously. The unemployment rate has skyrocketed to an eye-popping 15 percent and counting, and over the last eight weeks laid off, furloughed, or otherwise out-of-work laborers have filed a whopping 33.3 million unemployment claims. For a majority of workers, staying on unemployment insurance now pays more than working. 
According to the conservative-leaning Heritage Foundation, "The median full-time worker in America (who earns $933 per week, or $48,500 per year) would earn about 15 percent more from unemployment insurance … than if he had remained employed." This becomes even more pronounced at lower levels of income. In New York, for example, a worker who normally earns $36,000 annually can now collect benefits roughly equivalent to a $49,000 salary. 
Employers are now struggling to rehire workers, who, understandably, have no real financial incentive to go back to work. Many perplexed entrepreneurs now find themselves in the odd situation where they want to hire their employees back—but their workers say no.
In one glaring example reported by CNBC, Jamie Black-Lewis, a Washington small business owner, was shocked to receive backlash, not gratitude, when she tried to bring her laid-off employees back onto payroll after securing a government loan.
Black-Lewis received a "firestorm of hatred" from "employees who'd determined they'd make more money by collecting unemployment benefits than their normal paychecks."
"I couldn't believe it," Black-Lewis marveled. "On what planet am I competing with unemployment?"
This is happening across a wide variety of industries.  
"When we asked our employees to come back, almost all said, 'No thanks,'" restaurateur Kurt Huffman wrote in the Wall Street Journal. "If they return to work, they'll have to take a pay cut."
But we don't have to rely on anecdotal evidence to see the economic harm wrought by this well-intended expansion of government benefits. The Heritage Foundation's Drew Gonshorowski and Rachel Greszler published a report examining the economic impact of the CARES Act's original unemployment expansion, and the results are jarring.
The two economists project it will result in almost 14 million additional workers going on unemployment, and lead to a $1 to $1.5 trillion drop in the size of the economy. They conclude that "[The size of the economy] will decline by more than twice as much as it would absent the additional $600 benefit."
Experts warn that extending the benefits through 2021, as Democrats now seek, would have even more severe ramifications. 
"Extending the $600 unemployment benefit through January 2021—even March 2021—as proposed would cripple small businesses as they try to get back up on their feet," Greszler told me in a follow-up interview. "It could incentivize currently employed workers into unemployment."
Cato Institute economist Chris Edwards warns: "This creates a damaging incentive for companies to lay off workers and workers not to want to go back to work until the bonus benefits run out," which wouldn't be for almost nine months under the HEROES Act. 
"Targeted, temporary unemployment benefits during a government imposed shut-down makes sense, but it's incredibly unfair, and wholly un-American, to pay unemployed workers more than the hard-working Americans who continue to work each day," Greszler concurred. "Policymakers should cap unemployment benefits at 100 percent of workers' previous earnings." 
She pointed out that Republican Reps. Ted Budd and Ken Buck have proposed a simple bill that would do this. This legislative debate will come to a head on Friday, with the HEROES Act coming up for a vote in the Democratic-controlled House. 
From California to Georgia, both red and blue states across the country are trying to partially reopen their economies, and patience with the coronavirus lockdown is waning rapidly among the public. Few can truly fathom keeping society fully shut down through January. 
Helping out-of-work Americans during challenging times is absolutely necessary, but at some point the same aid that helps individuals will have a harmful effect on our economy and society at large. The HEROES Act could delay any meaningful rebound in our economy until at least 2021.
Brad Polumbo (@Brad_Polumbo) is a libertarian-conservative journalist and fellow at the Washington Examiner. 
Photograph of Nancy Pelosi by Graeme Jennings/POOL/AFP/Getty Images.