The Latest Polls Bear Bad News for Trump
Voters endorse their governors' handling of the pandemic over the president's, and Biden leads in key states.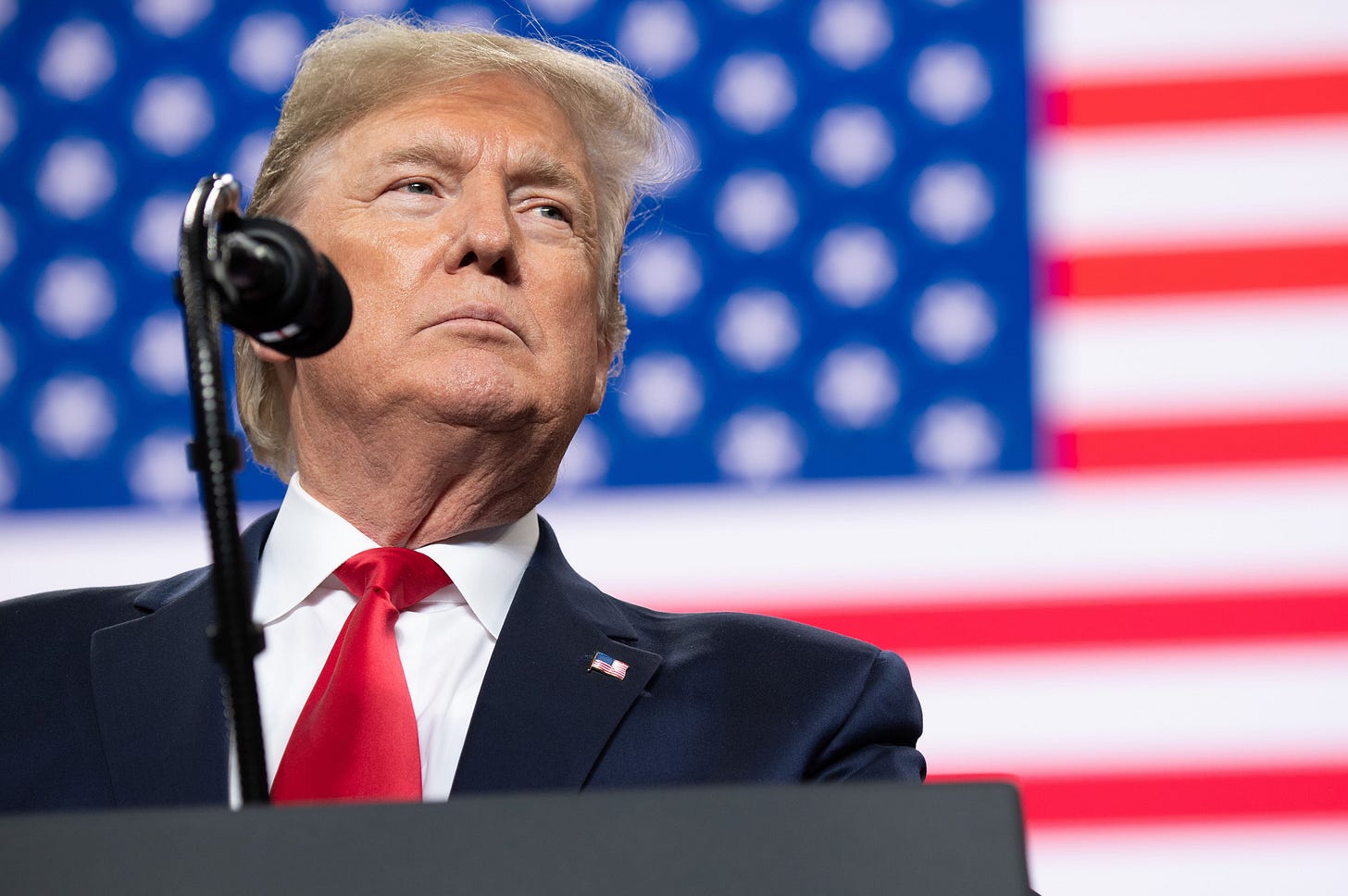 A flurry of polls came out this week looking at both the government's response to coronavirus and the 2020 presidential election, and there was very little good news for President Trump as he looks ahead to the November election.
Less than a quarter of Americans "say they have high levels of trust in what the president is telling the public" about the virus, according to an Associated Press-NORC poll released this week. 
And in this week's CBS News poll, seven in 10 Americans "think their state and local officials are doing a good job." But when asked about Trump, "fewer than half think the same." Gallup found that 68 percent of Americans "say they have 'a great deal' or a 'fair amount' of confidence in their state's governor to make the right economic recommendations" but fewer than half said the same for the president.
When you drill down to the states most pivotal to Trump's re-election, the numbers don't look better. A recent Public Policy Polling survey of voters in Michigan, Pennsylvania, Wisconsin, and North Carolina found that, on average, "the Democratic governors of those four battleground states have a net approval rating for their job on handling the coronavirus crisis that is 32 points higher than Trump's."
And while former Vice President Joe Biden may be having trouble competing with Trump for attention during the pandemic, voters say they prefer him anyway. 
Less than 200 days from Election Day, every national poll released this week showed Biden in the lead—averaging 7 points ahead of Trump for the general election. In less than a month, the number of undecided voters has tripled, with Trump losing altitude. 
In 2016, Pennsylvania voted for a Republican president for the first time since 1988. Those 44,000 votes solidified Trump's victory that night, but the margin—less than a single percentage point—guaranteed Pennsylvania would be a state to watch in 2020. Current polling averages have Biden ahead there by more than 6 points. In a state where nearly one in four workers has filed for unemployment in the last few weeks—far outpacing the national average of 16 percent—voters are more likely to disapprove than approve of Trump's handling of the virus to date.
In Florida, Trump is trailing Biden by 3.5 points this month. And even in his strongest demographic groups where he is still ahead, his lead is down double digits: white voters (-14), whites without a college degree (-12), and conservatives (-21).
But one demographic group in particular may spell doom if Trump can't turn things around. In 2016, Trump won seniors by 7 points, but he trails Biden in a head-to-head matchup by 9 points in the latest NBC News poll. And the change may be directly related to his handling of the coronavirus outbreak, which has disproportionately affected the elderly. 
While the president's approval numbers have stayed remarkably steady since mid-March, senior citizens have had a dramatic change of opinion. When shutdown measures began in earnest on March 16, Morning Consult polling showed Trump with a net +19 point approval advantage with older Americans—higher than any other age cohort—but in just a month, that number has dropped a head-turning 20 points. 
It doesn't get better with older voters for Trump in the swing states. In the latest Fox News poll in Pennsylvania, Biden is ahead with seniors by 7 points. In Florida—a state where Trump won seniors by a whopping 17 points in 2016—Biden is now winning those 65 and over by 10 points, according to this week's Quinnipiac University Poll. That's nearly a 30 point reversal in a state where older voters make up a fifth of the population.
One academic study took a novel approach to the virus' impact on the political landscape this fall. Three professors at Texas A&M University-Corpus Christi found that the death toll in states that Trump won narrowly in 2016 could disproportionately affect Republicans in 2020. In states like Michigan and North Carolina, they "projected that even with shelter-in-place orders remaining in effect, about 11,000 more Republicans than Democrats who are 65 and older could die before the election." Pennsylvania, they found, could "lose over 13,000 more Republican than Democratic voters in that age category."
On the other end of the age spectrum, Harvard's Institute of Politics released its latest polling which found "that former Vice President Joe Biden significantly leads President Donald Trump all young Americans (+23)," but perhaps more surprisingly it also found that Biden's "advantage among likely voters (+30) is comparable to what Senator Bernie Sanders would have enjoyed at the top of the Democratic ticket." It's worth noting, however, Hillary Clinton "had an even larger lead among young voters against Trump at this point, 61%-25%, but she ended up with just a 55%-36% advantage among young people in the election over Trump, according to exit polls."
What does all this mean for the two campaigns? Despite the president's daily briefing ratings, any Republican operative will tell you that the Trump campaign knows it needs to stop the bleeding in the swing states—politically if not economically—to have any shot in November. The Biden team, on the other hand, may find that keeping a low profile is a winning strategy to ensure that 2020 is a referendum on Trump's handling of the crisis. And in that case, look for a 'first, do no harm' strategy moving forward when it comes to campaign tactics and policy pronouncements, including a safe pick for a running mate.
Photograph of Donald Trump by Saul Loeb/AFP via Getty Images.