The Strange Case of Guo Wengui
The Chinese billionaire and Bannon associate behind the latest Hunter Biden leaks has been alternately praised as a CCP dissident and accused of being their agent.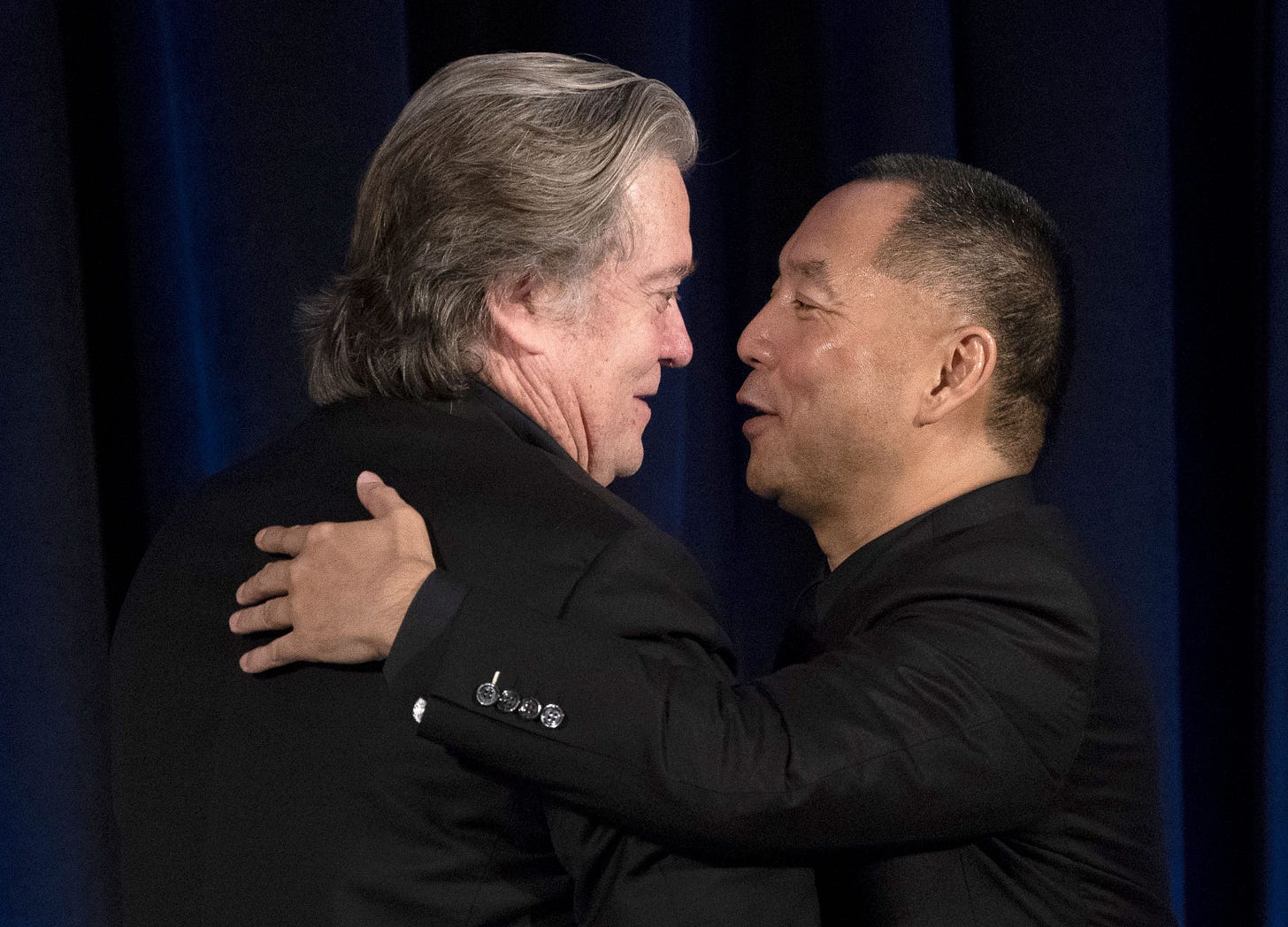 With the November election now just days away, the Trump campaign's closing political play—trying to portray Joe Biden as corrupt by releasing reams of damaging information about his son Hunter—is in full swing. Earlier this month, Trump's former advisor Steve Bannon and personal attorney Rudy Giuliani produced a laptop hard drive they claimed belonged to the younger Biden, and have been rolling out embarrassing content purportedly from it ever since. Last week, it was emails meant to show Hunter trading on his family name in foreign business deals. Then, over the weekend, sexually explicit videos and photos—ostensibly from the same hard drive, and seemingly including Hunter and various women—were published as well.
But unlike the first round of allegations, which were published in the New York Post, these videos were not leaked to traditional Trump-friendly media outlets. Instead, they were published online by a company few Americans had ever heard of: GTV Media Group, co-founded this year by Bannon and a Chinese expat billionaire, Guo Wengui.
Astute observers linked Guo to the bombshell story weeks ago, after associated Twitter and YouTube accounts leaked its contents ahead of the New York Post. In late September, almost a full three weeks before the Post released its story, a YouTube channel associated with Guo foreshadowed the upcoming release of the hard disks. Three days later, Himalaya Global (an advocacy group linked to Guo) sent a tweet with a similar message: "Bombshell… 3 hard disk drives of videos and dossier of Hunter Biden's connections with the Chinese Communist Party (CCP) have been sent to Nancy Pelosi and DOJ.  Big money and sex scandal!". A few days before the New York Post story dropped, a Twitter account shared a picture of Guo and Rudy Giuliani smoking cigars together. 
Formerly one of China's richest businessmen, Guo fled the country in 2014 in anticipation of charges of corruption, fraud, blackmail, and bribery—charges he insists are trumped-up and political. Since then, he has marketed himself to Western audiences and politicians as an outspoken critic of the Chinese Communist Party and whistleblower on the practices of its officials. But his activities in the United States raise red flags about the authenticity of his self-assigned dissident status. First, Guo—who also goes by several other names, including Miles Guo and Miles Kwok—is currently under investigation for charges of rape, defamation, and fraud in the United States. Another oddity: Guo regularly attacks Chinese human rights activists online, levelling conspiratorial accusations against some of the CCP's most prominent critics.
One of his targets is Pastor Bob Fu, who found himself in the crosshairs of the Chinese government for his clandestine evangelizing in Beijing during the 1990s. "Because of our underground church leadership, we were thrown into prison for two months. After that, I was fired from the party school and we were still under house arrest," Fu told The Dispatch earlier this month. "My wife was pregnant … under the family planning system, especially if you're working in the government sector, you have to get a pregnancy permit. If she was captured, there would definitely be a forced abortion. So we escaped from Beijing."
After moving to America, Fu founded ChinaAid, an organization devoted to providing legal aid to Christians in China; he remains a prominent critic of China's totalitarian practices to this day.
This year, however, Guo has made Fu a special project, publishing a series of rambling posts "exposing" Fu as a "fake pastor" and "CCP spy" involved in "human trafficking" on his media platform G News. These posts are typically accompanied by pictures of Fu and his family, Fu's work address, and tax documents from ChinaAid.
"As we're talking, mobs are gathering in front of my house again right now. This is the thirteenth day," Fu told me on Oct. 17. Demonstrations against the pastor and his family began in earnest on Oct. 5, less than a week after Guo released a video vowing to "send at least 100 to 200 comrades" to Fu's home. "Once our comrades get to your house tomorrow, we will never retreat. We will not start another campaign until we are done with you," he said. Police in Midland, Texas, believe the protesters, most of whom are Chinese nationals, are either followers of Guo or on his payroll.
Guo himself has faced accusations of espionage from a U.S.-based research firm. Representatives of Guo hired Washington-based Strategic Vision ostensibly to expose Chinese nationals he claimed to be acting on behalf of the Chinese Communist Party, but in a lawsuit against Guo, the firm alleged that he was actually seeking to unearth Chinese individuals working for the United States government. In Guo Wengui v. Strategic Visions US, LLC, the firm maintains that Guo is "'not the dissident he claimed to be' but rather that he was a 'dissident-hunter, propagandist, and agent in the service of [China] and [the CCP].'" The case was later dismissed.
In another high-profile lawsuit, former Trump aide Sam Nunberg took on Guo for defamation after a public falling out between the two. "Utilizing his world-wide publicity, high profile, social media accounts, and seemingly endless financial means, Defendant Guo regularly uses his public platform and power to defame and harass his enemies," Nunberg's suit says. "In this case, Guo set his sights on destroying Plaintiff Samuel Nunberg's reputation and livelihood by filing baseless litigation against him and slandering Nunberg with malicious, false lies which discredit Nunberg both personally and professionally."
The Wall Street Journal reported in April that GTV Media Group was under investigation by the Federal Bureau of Investigation, the New York state Attorney General, and the Securities and Exchange Commission for suspected illegal activity during a $300 million private offering. And over the summer, the Mercer Island Police Department in Washington initiated a probe into Guo after an unnamed victim filed an incident report alleging that GTV Media Group had promised shares in the company in order to defraud him or her of $500,000. 
"Anything associated with [Guo] automatically loses credibility. If the Communist party wanted to interfere in the U.S. election, he's the best person to do it," Fu said, though he conceded that authentic information can come from compromised sources. "Rudy Giuliani has a lot to explain. What's his relationship to Miles Kwok's group? Did he get any money from him?"
Photo by Don Emmert/AFP via Getty Images.