What Voting Was Like in The Last Pandemic
Lessons from the 1918 midterms.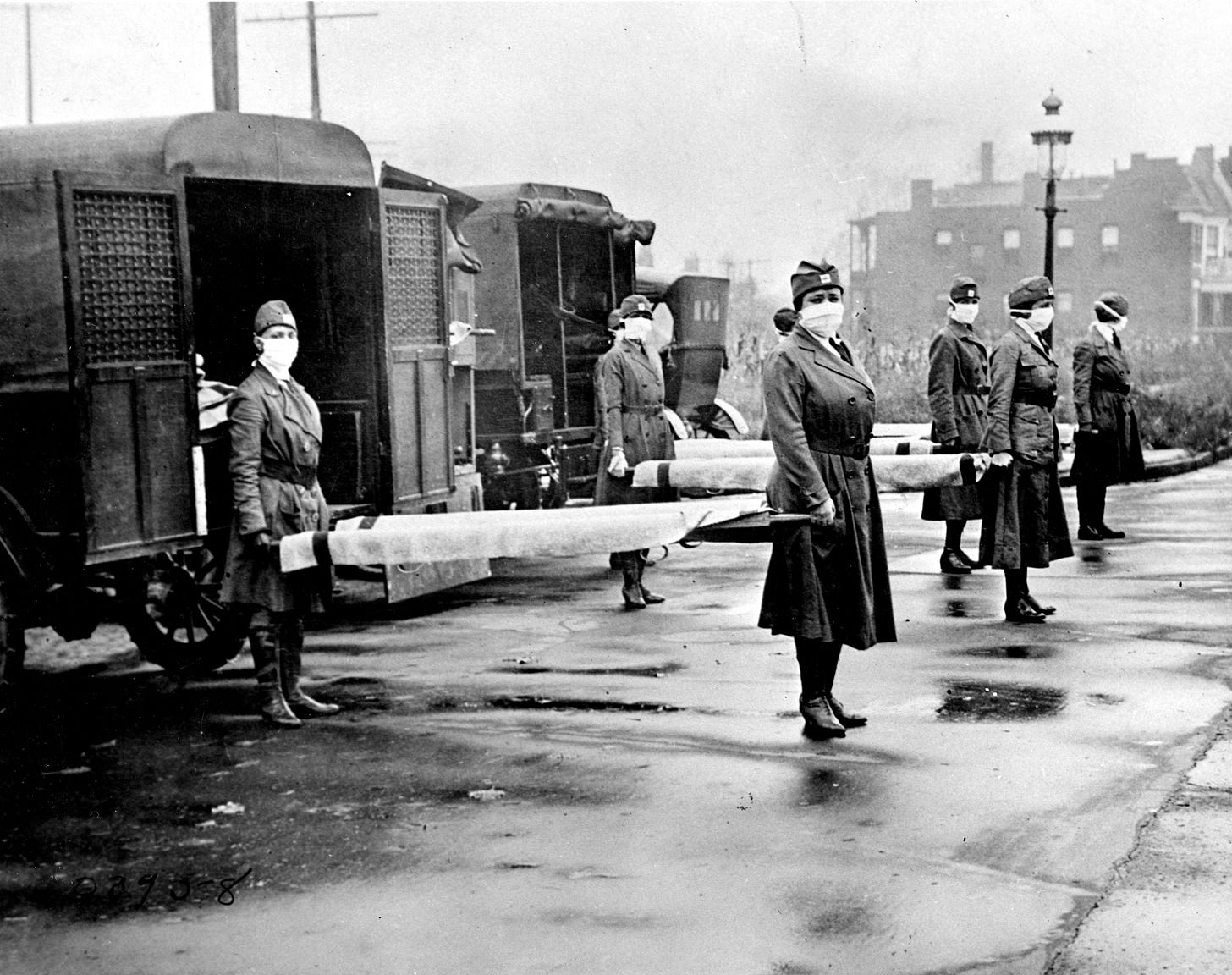 On November 5, 1918, the body of 62-year old retired farmer Charles Simmons was found in his rural Wisconsin home. Simmons had cut his own throat rather than suffer through any more of the influenza that had infected him. A razor blade lay next to the body.
Simmons was found on Election Day, as 332,000 Wisconsinites headed to the polls at the same time the state battled the Spanish flu epidemic that continued to ravage America. 
In an eerie parallel to the political and legal drama that ended in the Wisconsin Democratic primary and other statewide elections going forward on Tuesday, the election went on despite municipalities around the state being under a patchwork of emergency quarantines. On October 5, Madison's Capital Times newspaper bragged that the city had no identified cases of the Spanish flu; five days later, the city shut down all public gatherings following the news that 1,000 cases in the city had been identified. 
By the time of the election, an estimated 3,000 Wisconsin residents had died. The disease would eventually kill 675,000 Americans.
Voters around the country went to the polls while makeshift wooden coffins piled up on street corners, holding victims of the flu that couldn't yet be buried. The political issues facing voters were historic: The nation was in the throes of World War I, some women were voting for the first time, and "dry" candidates were making a hard push for alcohol prohibition.
Barely a century later, states are once again struggling with how to hold in-person elections as a highly communicable disease jumps from human to human. Unlike Wisconsin, 15 states have postponed their spring primary election, including four that were scheduled to be held this week. Some will be accepting only mail-in ballots. 
But in 1918, states forged ahead with voting, even though turnout would drop by 40 percent over the previous midterm elections. Hamline University Law School assistant professor Jason Marisam explained to Euronews that there was little debate about postponing the elections due to "fervent civic pride engendered by the U.S.'s presence in WW1."
But that civic pride ran counter to practical considerations and health concerns, which led to diminished turnout. Marisam suggested the Spanish flu pandemic prevented hundreds of thousands of people from actually voting, even though in some states like New York, Michigan, Oklahoma, and others, the number of eligible voters doubled as women voted for the first time. (A Rochester newspaper headline expressed surprise that women were able to work the voting machines.)
In some smaller towns, polls were shut down completely. The Morning Union newspaper in Grass Valley, California, reported that the village's precincts were closed because "there were not enough citizens who were well enough and willing to serve on the election board during the influenza epidemic."
In tiny Ingot, California, only one of the six members of the election board showed up and the election was canceled. 
Even before voters showed up at the polls, campaigns had been effectively dormant for weeks. According to the New York Times, Democratic gubernatorial candidate Al Smith had written a dozen "broadsides" to be given all over the state, but as he traveled from town to town, local officials banned each of his speeches 
The dyspeptic Smith grumbled that, uncoincidentally, most of these local officials were Republicans, calling the actions a "Republican quarantine against Democratic campaign speeches." (Smith narrowly won anyway.)
A newspaper in Wausau, Wisconsin, noted that the state campaigns had been the "tamest" in years, as candidates were barred from holding rallies. Politicians instead relied on mailed literature to educate voters, with some newspapers allocating space for candidates to speak with voters through written speeches. At state campaign conventions held September 17, candidates agreed to forgo raising any campaign funds, as the Liberty Loan bond campaign to fund WWI was underway.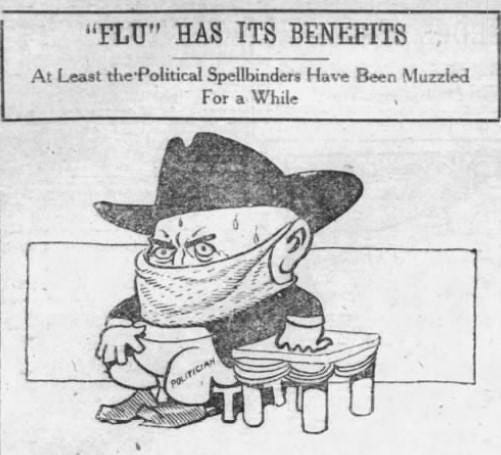 "Defeated candidates will probably blame the epidemic for their defeat," wrote the Wisconsin State Journal, noting "There is apparently little interest in the coming election."
It is understandable if people had things other than politics on their minds. By November, death was ubiquitous—daily papers were crammed with the names of those either killed in the war or who had succumbed to the flu.
As the bodies piled up, social structure began to break down. People began taking their own lives and the lives of others to avoid death by influenza. A Chicago woman grieving over the death of her husband to the flu turned the gas on in her home, killing herself and her two children. Another Chicago man used a knife to kill his wife and four children, all of whom were sick with the flu. "I'll cure them my own way," he reportedly said. 
As Election Day drew close, many of the quarantine orders around America were lifted. Polls in large cities remained open, with the provision that voters were to wear masks as they made their way to vote. Two days before the election, Mayor Frederick Thomas Woodman of Los Angeles issued a public letter urging people to get out and vote, pandemic be damned. 
"The foundation upon which the fabric of this great Government rests is the right of the people in all walks of life to determine who the officials that represent them in public life should be," wrote Woodman. "There will be at the polling places in this city no large assemblages. The voting booths will be kept sanitary and carefully supervised. The danger of influenza contagion will be brought to the minimum," Woodman wrote.
In many places, wearing masks was compulsory. A cartoon in the Sacramento Bee days before the election urged voters to "Wear Your Mask and Take Your Pencil to the Polls."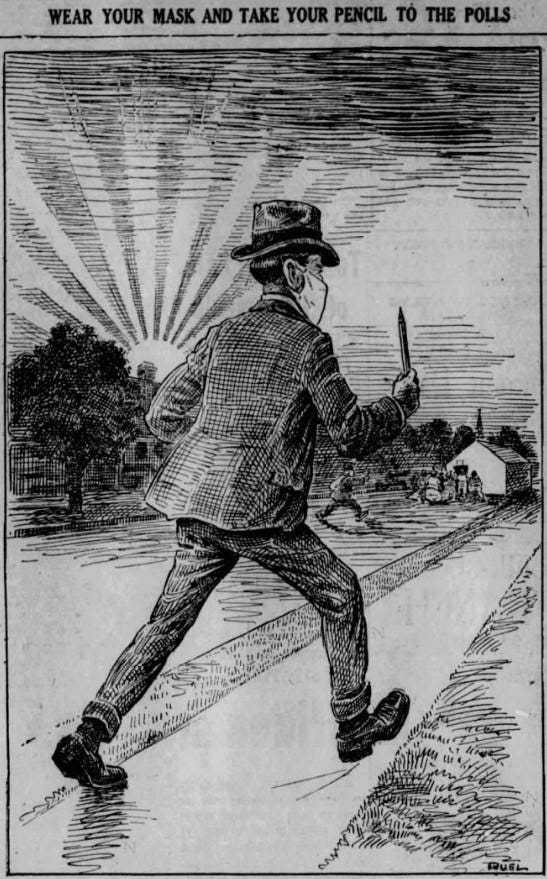 In Stockton, California, police officers roamed polling places to verify voters had their faces covered. In San Francisco, even before Election Day citizens were forced to wear masks any time they left the house. Hundreds of citizens were arrested on a daily basis for being "mask slackers" and not covering their faces outdoors. 
The orders were enforced seriously. A week before the election, three San Francisco residents were shot when a city health inspector opened fire on a blacksmith who refused to wear a gauze flu mask. In Placerville, California, the attorney who drew up the city's mask ordinance was arrested for disobeying the very regulation he wrote. 
Those who did get to the polls voted to throw the existing government out of office. Republicans gained control of both the U.S. Senate (picking up six seats, including two in special elections) and the House of Representatives (picking up 25 seats).
The election was seen as a direct rebuke of Democratic President Woodrow Wilson, who had committed the U.S. to war just a year before. Wilson had been elected twice with less than 50 percent of the popular vote.
As the 1918 midterm election took place, the Spanish flu was in decline. With the presidential election on the docket in 2020, dozens of primary elections are slated to take place over the spring, summer, and fall, when COVID-19 virus might still be reaching its peak, at least in some states. 
If current best-case scenarios hold true, America will have witnessed—and may still be witnessing—tens of thousands of deaths of its citizens as these elections take place. In-person voting could lead to breakouts that keep everyone indoors even longer. But if the country remains confined to its living rooms for much longer, the economic suffering will be even worse.
Throughout history, American citizens have died for the right to vote. This year, governments have to decide whether that's an invitation to give people the opportunity to do so.
Photograph of Red Cross nurses by Library of Congress/Interim Archives/Getty Images.