A Brewing Crisis in Mexico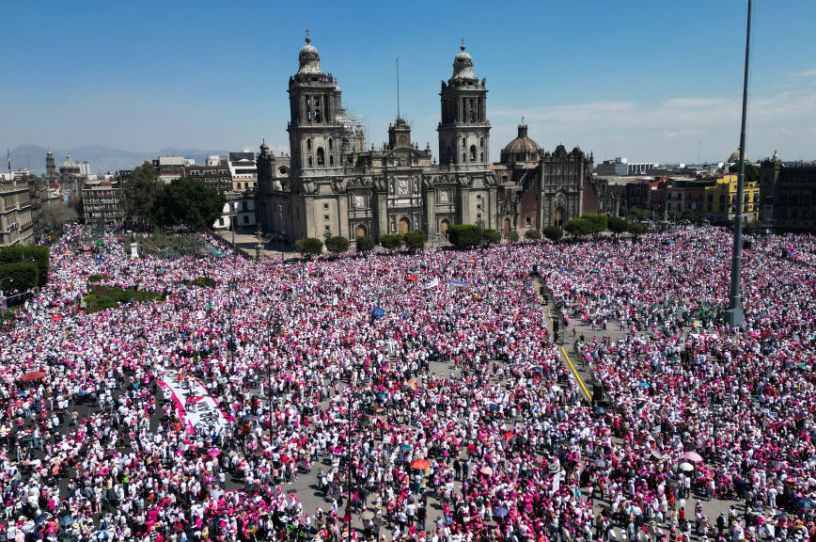 Thousands of demonstrators gather in Mexico City to protest against President Andres Manuel Lopez Obrador's plan to reform the electoral authority. (Photo by Daniel Cardenas/Anadolu Agency/Getty Images)
Mexican President Andrés Manuel López Obrador and his MORENA party have passed serious budget cuts and restrictions for the National Electoral Institute (INE), which oversees all elections in the country. This is bad news for Mexican democracy, and ultimately, for the United States as well. Already, large-scale protests have erupted across the country, and if nothing is done, risk eventually spiraling into civil war.
To understand the danger López Obrador is putting Mexico in, one has to understand the country's history. Mexico was a one-party state, governed by the Institutional Revolutionary Party (PRI), for most of the 20th century. The PRI won every presidential and senatorial race from 1929 to 1997 and held a supermajority in the Chamber of Deputies (Mexico's House of Representatives) every year from 1934 until 1988. While other countries, including Japan and Sweden, have seen parties democratically elected and re-elected for decades in a row, Mexico lacked an independent election agency until the year 1990. Before that, election officials were directly appointed by the president and the ruling party. It is not a coincidence that it was only after this change that the PRI began to every so often lose elections.
López Obrador, who also goes by his initials AMLO, learned from PRI's mistakes: If he wants to remain in power or have the ability to appoint a compliant successor, he can't let anyone else be in charge of counting the votes. His proposed cuts to the INE's budget will make it impossible for it to effectively supervise the next election, and the institute's ability to punish rule-breaking politicians will also be greatly limited. 
AMLO has had beef with the INE since he first ran for president in 2006. He tried to claim victory despite official results showing that right-wing Felipe Calderon had won. And his current rhetoric on election integrity bears a lot of similarities to Donald Trump's. He claims that the INE cannot be trusted to be unbiased (unlike the lackeys he would appoint in its place) and that the institute is bloated with its $1 billion annual budget. If that sounds familiar, it's not a coincidence: Without Trump, it is highly unlikely that Mexico would ever have elected AMLO. As a far-left candidate, he rode on a wave of reinvigorated anti-Americanism caused largely by Trump's rhetoric toward Mexico and its people. Two years after the U.S. elected Trump, Mexico retaliated by electing its own Trump, one with a base of supporters who would physically fight for him and who reject the "deep state" propaganda about how objective election supervision is, actually, you know, a good thing.
Keep reading with a free account
Create a free Dispatch account to keep reading
Get Started
ALREADY HAVE AN ACCOUNT? SIGN IN