Are Teachers Unions Overplaying Their Hands?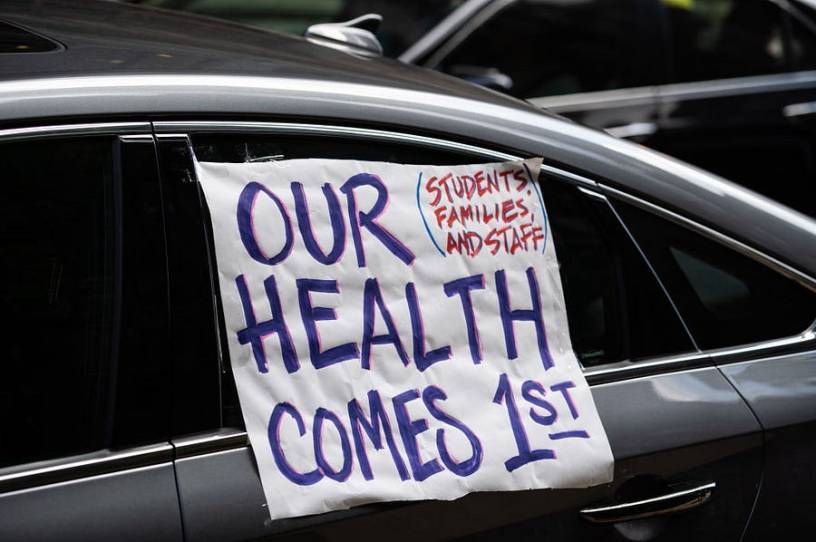 Earlier this week, American Federation of Teachers President Randi Weingarten declared that the union is prepared to halt school reopenings by any means necessary "until we get the virus under control." Weingarten thundered that "nothing is off the table—not advocacy or protests, negotiations, grievances, or lawsuits" or teacher walkouts (dubbed "safety strikes"). In short, Weingarten doubled down on what teacher union leaders have been saying since spring.
The school reopening picture is an undeniable mess. The urgent need to get kids back into schools and the equally compelling dictates of public health have yielded a politicized quagmire where the right decisions depend on local health conditions, unsettled science, school operations, and more. In all of this, the teacher unions are in a powerful but precarious place. Union leaders offer themselves up as protectors, guarding students and staff against rash, open-schools-now politicians. But just beneath the surface one can discern an alternative portrait, one of unions with priorities other than getting students back to school.   
Keep in mind that teachers enjoy a remarkable degree of goodwill, with 61 percent of respondents telling pollsters that they trust and have confidence in public school teachers. Through the pandemic, amid all the frustrations, public approval has actually increased—with the public giving their local schools glowing marks. And the unions are blessed with a straw man of a foil in President Trump, who has personified reckless disregard of safety in his rhetoric championing a full-bore reopening.
So, the unions are well-positioned to play the adults in the room, the trusted professionals standing up for what's right. Weingarten is clearly right about the need to prioritize the safety of students and staff; and parents are themselves split on whether schools should reopen.