Are the COVID Vaccines Experimental? Did They Skip Animal Trials?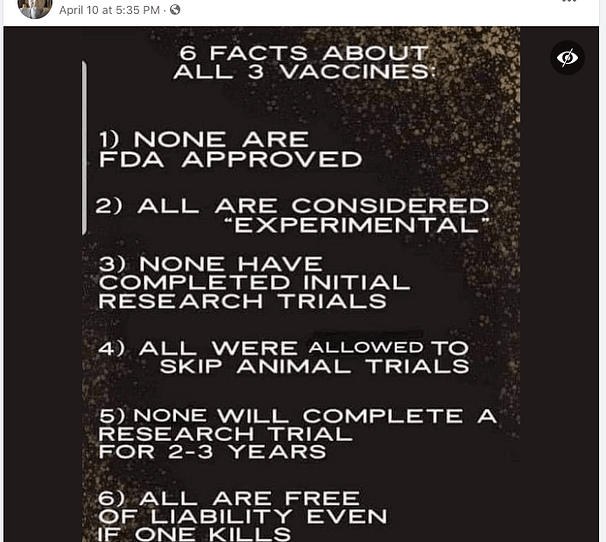 A viral Facebook post lists "6 facts" about the three COVID-19 vaccines currently in use in the United States. These "facts" are listed as follows: "none are FDA approved, all are considered 'experimental,' none have completed initial research trials, all were allowed to skip animal trials, none will complete a research trial for 2-3 years, all are free of liability even if one kills you."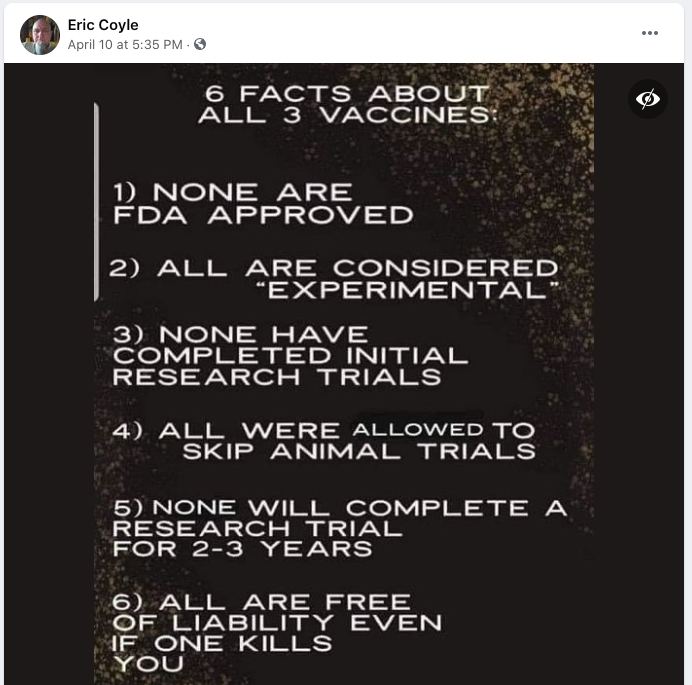 Some of these claims are false or missing context. 
First, let's start with the claim that "none are FDA approved." While it's true that no single vaccine has been granted FDA approval, all three vaccines have been given an emergency use authorization by the FDA. Both Moderna and Pfizer are on track to apply for full FDA approval based on the results of their Phase III clinical trials. However, it's worth mentioning that on April 13 the CDC and FDA released a joint statement recommending a "pause" in the distribution of the Johnson & Johnson COVID-19 vaccine to look into six reported cases of "a rare and severe type of blood clot."
According to the FDA: "Emergency Use Authorization (EUA) is a mechanism to facilitate the availability and use of medical countermeasures, including vaccines, during public health emergencies." The FDA notes on its website that an EUA permits the use of "unapproved medical products, or unapproved uses of approved medical products in an emergency to diagnose, treat, or prevent serious or life-threatening diseases or conditions when certain statutory criteria have been met, including that there are no adequate, approved, and available alternatives."