David Perdue Banks on a Trump Bump in Georgia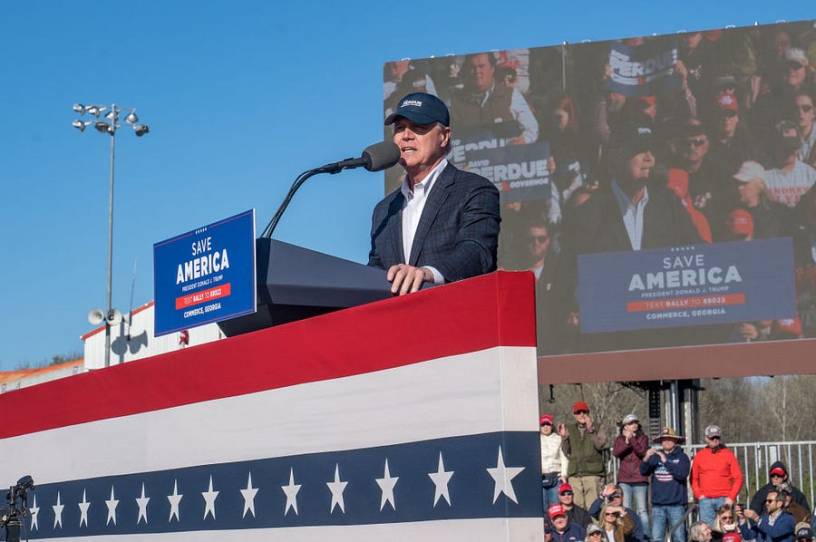 COMMERCE, Ga.—All this time later, there's still really nothing like a Trump rally. It's like attending a county fair, or the world's oddest rock concert. It's acres of lawn parking at the Banks County Dragway, where the cars and trucks are dotted here and there with TRUMP WON bumper stickers or hand-lettered with the QAnon slogan WWG1WGA. It's funnel cake and donut stands, and pop-up stall after pop-up stall of Trump-themed merch. There is in fact a critical mass of merch. Not everyone's wearing a LET'S GO BRANDON hoodie or a Mike Lindell badge or an IF YOU DON'T LIKE TRUMP, YOU WON'T LIKE ME shirt, but everyone who owns one is, in concentrations roughly the same as you'd expect at any sporting event. Show up only six hours early—more than seven hours, it turns out, before Donald Trump will actually take the stage—and you're out of luck: No more seating, standing room only.
It can feel like a silly game for pundits and political junkies—trying to suss out to what degree Trump's once-commanding grip on the Republican electorate has slipped. But it's anything but a theoretical question here in Georgia, where former senator David Perdue is banking on Trump's ongoing star power to carry him to victory in his primary challenge against GOP Gov. Brian Kemp this May.
For Trump, the 2022 midterms are about one thing: punishing Republicans who failed to support his claims of a stolen election when he lost to Joe Biden in 2020. And Kemp—who despite Trump's 2018 endorsement declined to involve himself in Trump's efforts to overturn Biden's win in Georgia—may be enemy number one.
Trump has therefore selected Perdue as his instrument of vengeance, and in return Perdue has lashed himself more completely than ever to Trump's stolen-election lies. In the immediate aftermath of the 2020 election, when Perdue was forced into a runoff election he would ultimately lose to Democrat Jon Ossoff, he drew scattered boos at a November rally with then-Vice President Mike Pence when he referenced something "President Biden" would do—before an audience that was anything but convinced Biden would be inaugurated president at all. In the face of a "Stop the steal!" chant, Perdue uncomfortably suggested that "what we have to do right now is hold the line."
You're out of free articles
Create an account to unlock 1 more articles