Debunking the 'True History' Canard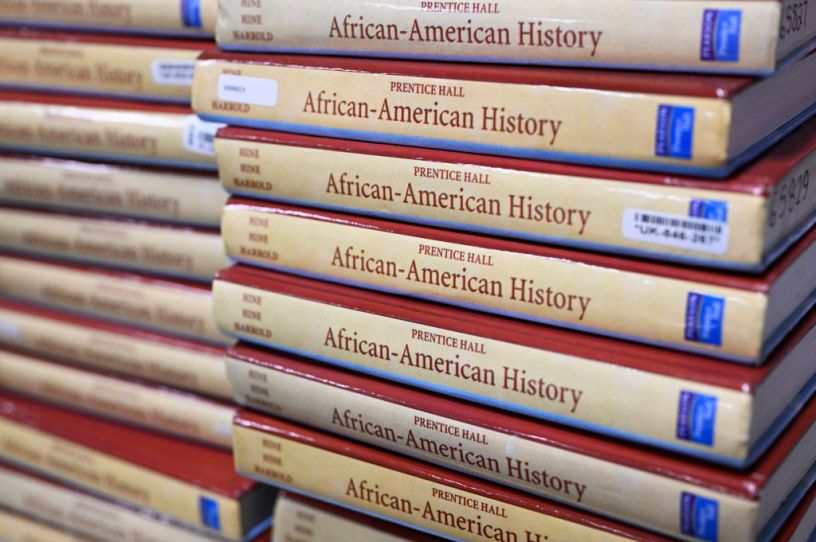 Books piled up in a classroom for students taking AP African-American Studies at Overland High School on November 1, 2022 in Aurora, Colorado. (Photo by RJ Sangosti/MediaNews Group/Denver Post/Getty Images)
In the latest battle in the K-12 education culture wars, over the College Board's new AP African American Studies course, progressive activists and teachers union officials are furiously insisting that they're merely defending "true history" against right-wing censors. American Federation of Teachers President Randi Weingarten said Republicans "are trying to gag" teachers to stymie "honest history." National Education Association president Becky Pringle argued that Republicans oppose "a full and honest curriculum." The Washington Post's Jennifer Rubin accused Florida Gov. Ron DeSantis of mounting a "full-blown white supremacist" attack on "fact-based history."
Such talk can resonate with moderates, who tend to recoil from any intimation that they're siding with racist, populist know-nothings. And, as someone who's trained social studies teachers, penned books on social studies and civics education, and once taught high school history, I get it. That's why I had my high schoolers read Marx, Lao-tse, and Frantz Fanon, as well as Adam Smith and the Federalist Papers. Students should encounter the fullness of history, with all its complications and in all its dimensions.
But the supposed opposition to "fact-based history" is a strawman. American slavery, Jim Crow, and the civil rights movement are, quite appropriately, among the most extensively covered topics in American history classes today. There's broad bipartisan support for this state of affairs. For good or ill, issues of race and diversity dominate much teacher training and most education convenings. In fact, the talk of "true history" is a venal canard, wielded by activists, academics, and pundits who are far less invested in history that is true than that which they think feels true.
Mistaking academic fashion for history.
You're out of free articles
Create an account to unlock 1 more articles