Democrats Are Right to Worry About Biden in 2024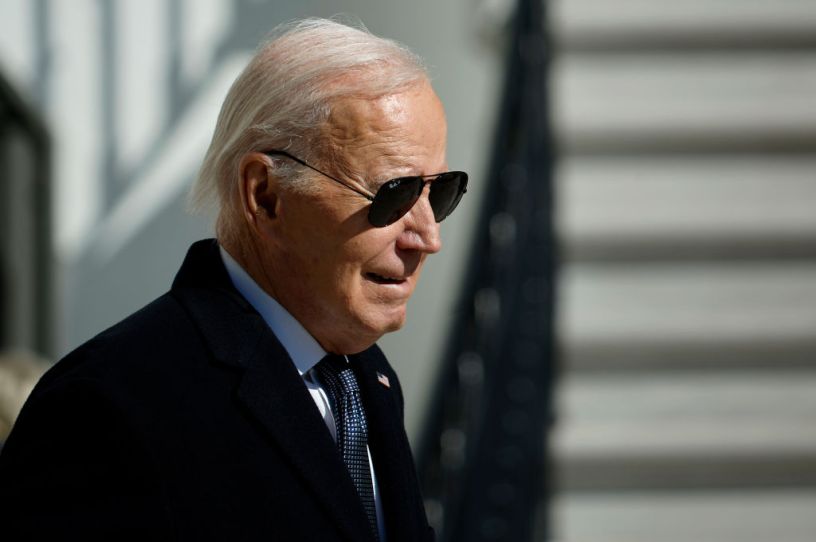 President Joe Biden walks across the South Lawn before boarding Marine One and departing the White House on November 3, 2023, in Washington, D.C. (Photo by Chip Somodevilla/Getty Images)
One of Joe Biden's favorite campaign lines is, "Don't compare me to the Almighty, compare me to the alternative." In the wake of a series of polls earlier this month, Democrats were thrown into a panic because voters in key battleground states did exactly that and chose Donald Trump as their preferred candidate.
The public freakout abated a bit after last week's off-year elections in which Democrats scored some wins in Virginia, Kentucky, and—most importantly—Ohio. But in private, Democrats remain very worried. And they should be. If the election were held today, Biden would almost surely lose.
The good news for Biden is that the "if the election were held today" framing isn't a particularly fruitful way of thinking about an election a year out. If Trump is the GOP nominee—still an "if," but not that big of one—a tsunami of negative ads and negative coverage will quickly follow.
But will it work? It's not like Trump coverage has been all that positive until now. Amy Walter of the Cook Political Report notes that Trump's support in most battleground states is almost exactly his share of the vote in 2020. Trump hasn't gained a lot of supporters, but he hasn't lost many either. It's Biden who has lost voters across the board. In 2020, Biden won the Electoral College thanks to a mere 43,000 votes across Wisconsin, Arizona, and Georgia. Trump now leads in all three of those states.
You're out of free articles
Create an account to unlock 1 more articles