DeSantis, Scott, and the Allure of 'Someone Else'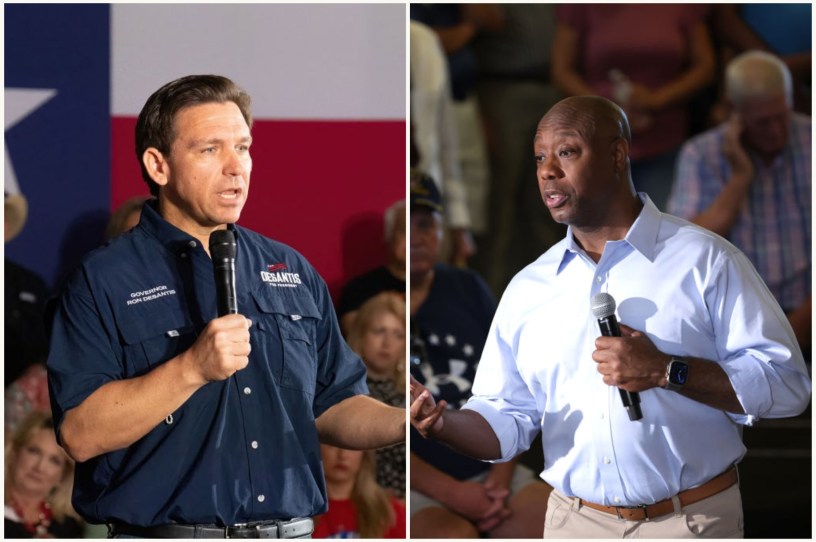 Florida Gov. Ron DeSantis and South Carolina Sen. Tim Scott. (Photos via Getty Images)
A new poll out of Virginia is warming the hearts of that plucky clutch of Republicans who still dare to dream two things without much evidence: 1) That their party is particularly interested in an alternative to nominating former President Donald Trump a third time, and 2) That small-government, traditional conservatism, and good character still have places of prominence in the GOP.
The survey from Virginia Commonwealth University shows Gov. Glenn Youngkin trouncing President Joe Biden in a hypothetical presidential matchup for Virginia's 13 electoral votes. Youngkin's 7-point lead compares favorably to Trump, who trails Biden by 3 points, and to Florida Gov. Ron DeSantis, who was tied with Biden.
Youngkin has put off talk about a possible presidential run until after this year's November 7 statewide elections that will serve as a referendum on his leadership after two years in office. And like with Georgia Gov. Brian Kemp, the appeal of a late entry by a popular, conservative governor continues to tantalize members of a party still hoping for more choices.
The poll lands as the traditional wing of the GOP is coming to grips with the depth of its predicament. It's not just that Trump is crushing the competition nationally and in key states, or the ways in which the former president's ever-deepening legal woes simultaneously hurt his chances in a general election and help his standing with primary voters.