Doug Mastriano Bucks the GOP Establishment in Pennsylvania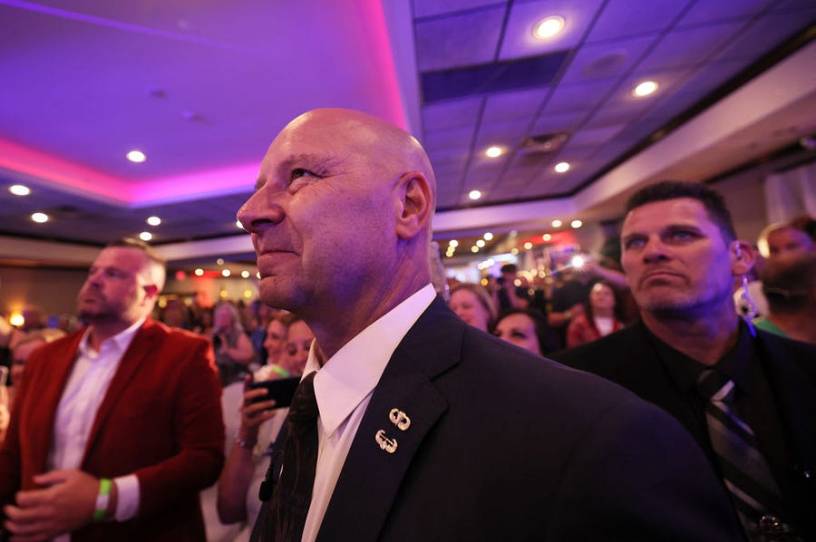 CHAMBERSBURG, Pa.—The energy was high and Christian worship music loud at Tuesday evening's election night party for retired Army colonel and state Sen. Doug Mastriano in Chambersburg. The Trump-endorsed Republican candidate for governor sailed to victory with 44 percent of the primary vote in the race to succeed outgoing Democratic Gov. Tom Wolfe.
His party—featuring a smoke machine, free T-shirts, and former Donald Trump lawyer Jenna Ellis—crystalized the  upcoming match-up between Mastriano and Josh Shapiro, Pennsylvania's current attorney general who ran uncontested in Tuesday's Democratic primary for governor.
Moments after clinching the Republican nomination after spending hardly any money on advertising during the primary, Mastriano employed jolting rhetoric, telling the crowd during his election night speech that the future for Pennsylvania under Shapiro would be "an oppressive regime not unlike East Germany" where "freedoms will be snatched away." 
But winning the general election will be no cakewalk for Mastriano in a state that skews more purple than red. An ardent Trump supporter, Mastriano attended the "Save America" march that preceded the storming of the U.S. Capitol last year, and was subpoenaed by the House Select Committee investigating the events of January 6 for his efforts to overturn the results of the 2020 presidential election. Both Sabato's Crystal Ball and the Cook Political Report had initially rated the general election race a tossup but changed the race to "leans Democrat" after Mastriano's primary victory.