Exotic Fish and Russian Missiles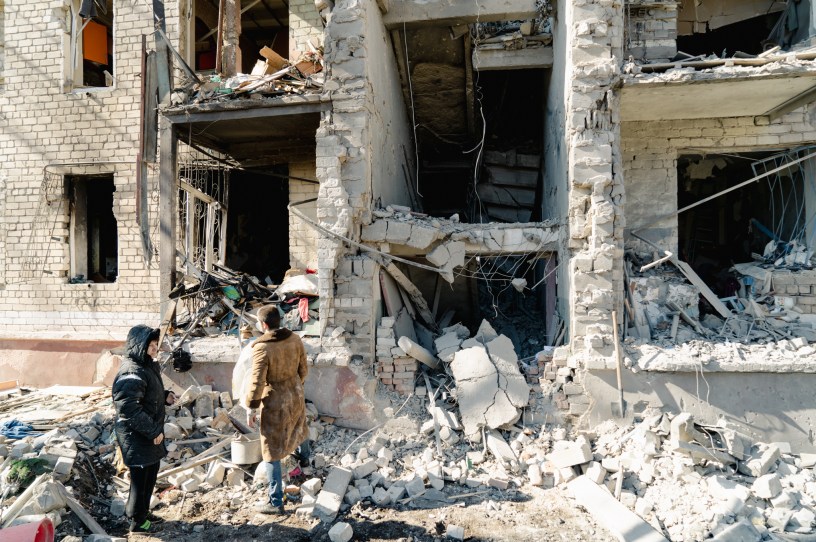 (The remains of a bombed apartment in Kramatorsk, March 14. Credit: Bennett Murray.)
KRAMATORSK, Ukraine—After yet another missile struck Kramatorsk's city center on Tuesday morning, residents of a shattered apartment bloc went to work clearing the rubble. The attack, which killed one person and injured at least seven others, had completely blown a wall off one of the three-story building's main stairwells, as well as its surrounding units. Elsewhere, the force of the explosion had shattered windows and ejected possessions onto the courtyard below.
"We are tired of this," said Lyudmila, a pensioner who was staying at her daughter's apartment in the building after her own home had been similarly hit. "It's time to take pity on the wives, the children, the old people, the orphans."
Amid this daily drama, many residents cling to whatever sense of normalcy they can. For Irina Artemova, that means caring for hundreds of tropical fish at her family-owned aquarium—less than a mile from the site of the recent missile strike.
Her immense collection, around half of which belongs to Ukrainians who have fled town, ranges from colorful sea fish to a tank full of piranhas. There is even an Amazonian stingray. ("It digs into the skin like a hook," Artemova noted. "It is very dangerous for humans.")