Fact Check: A Viral Tweet About Early Retirement Is Satire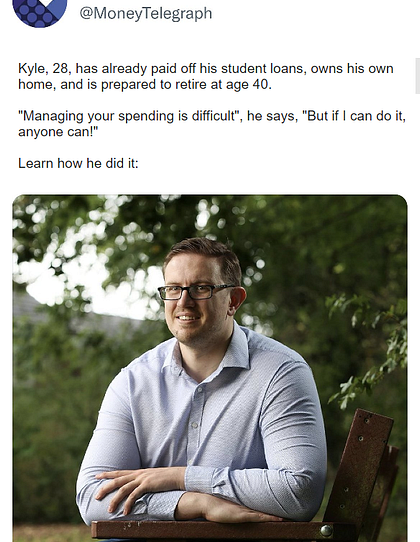 A viral tweet claims to show screenshots from a Telegraph article about a man who achieved financial independence and retired in his 40s, by getting a high-paying job, living in his grandfather's vacation home, and accepting a $500,000 gift from an uncle.
The tweet appears to be some very good satire—and the Twitter user behind it admitted as much in later tweets—mocking stories of self-proclaimed, self-made wealthy individuals who relied on their wealthy families. But given the prevalence of such stories and the subtlety of the joke, many Twitter users thought it was real. 
The screenshot of the Telegraph Money tweet is digitally altered—it uses a real picture from a Telegraph article, but all other details are different. The real subject of the article was a 30-year-old named Nick, who was aiming to retire by 47, not a 28-year-old named Kyle who was planning to retire at 40. 
Likewise, the specifics of Nick's story are different from those in the viral tweet. Nick had a £75,000 annual salary—about $95,000 in U.S. dollars currently—and according to the article "is not relying on an inheritance."
If you have a claim you would like to see us fact check, please send us an email at factcheck@thedispatch.com. If you would like to suggest a correction to this piece or any other Dispatch article, please email corrections@thedispatch.com.