Fact Checking Claims That the Texas School Shooting Was a 'False Flag' Operation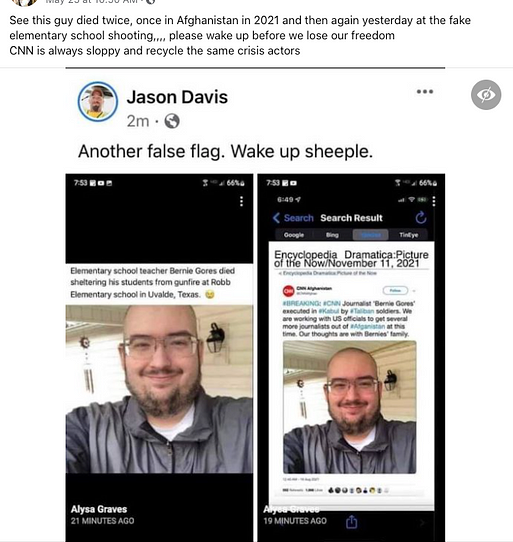 After a deadly shooting in Uvalde,Texas, at Robb Elementary School on Tuesday, misinformation about the tragedy began spreading on social media. 
One viral Facebook post claims that CNN has reported the same man's death in both Afghanistan and now again in the tragedy in Texas. It has been shared more than 300 times.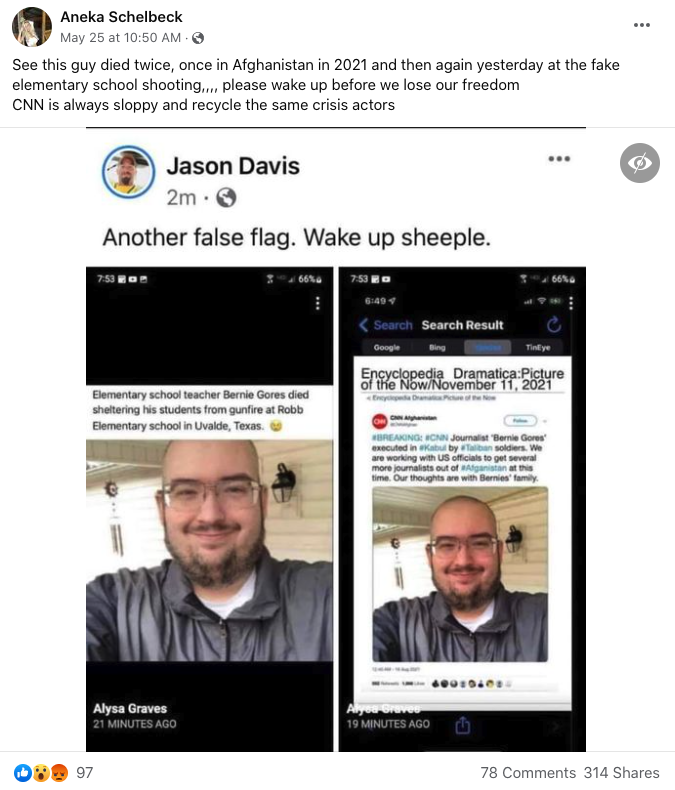 The image in the post claims that CNN reported the death of elementary school teacher "Bernie Gores" in Uvalde, Texas. The picture is featured alongside an image of the same man, "Bernie Gores" with a caption that reads: "CNN journalist 'Bernie Gores' executed in #Kabul by Taliban soldiers."
The claim that a man named "Bernie Gores" supposedly "died sheltering his students from gunfire at Robb Elementary" has been going viral on Twitter as well, having been retweeted or quote-tweeted more than 700 times.
 The Facebook post specifically accuses CNN of using "crisis actors" and describes the recent tragedy as "fake," calling CNN's alleged reporting on the Texas tragedy as "another false flag."
Sydney Baldwin, a spokesperson for CNN, confirmed to The Dispatch Fact Check via email that "the post is completely fabricated and is not affiliated with CNN in any way."
The victims in Tuesday's shooting include 19 children and two teachers, Eva Mireles and Irma Garcia. 
This is not the first time a rumor like this has gone viral. 
This same Facebook user has also questioned the authenticity of the deadly Sandy Hook Elementary school shooting.
USA Today also fact checked the false claim that CNN reported the death of a fictitious person named "Bernie Gores" in both Afghanistan and then Ukraine. As USA Today points out an image of "Bernie Gores" can be found in a Wikitubia entry, where he is described as a gamer and YouTuber who goes by the name Jordie McCraty Jordan.
 If you have a claim you would like to see us fact check, please send us an email at factcheck@thedispatch.com. If you would like to suggest a correction to this piece or any other Dispatch article, please email corrections@thedispatch.com.