Is Belarus Blinking?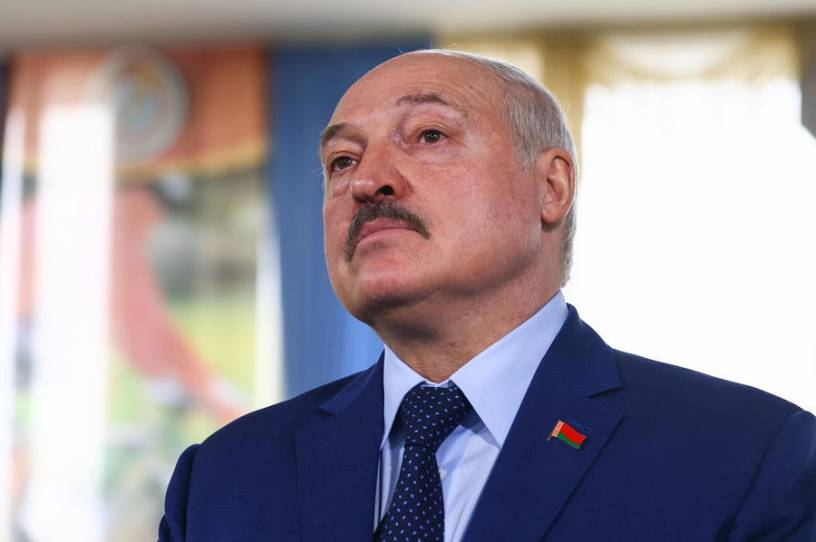 A large part of Putin's expanded invasion of Ukraine is based out of Belarus, the Russian-aligned dictatorship just north of Ukraine. Russia launched offensives against Kyiv and against the northern Ukrainian city of Chernihiv from Belarus, and Russian aircraft that are bombing Ukrainians are operating out of Belarusian air bases. After Putin's lightning invasion plans were derailed and his invasion forces in northern Ukraine got bogged down, there was some discussion about the imminent full entry of Belarus into the war. Photos and dash-cam videos from Belarus recorded columns of troop transports and armored vehicles with red squares painted on them, a possible tactical marking to distinguish them from Ukrainian troops. (Russian forces have used different tactical markings in Ukraine, most famously a large white "Z".)
However, there are signs that Belarus is blinking, and might not fully enter the war after all.

On Friday, Belarusian dictator Alexander Lukashenko gave a speech celebrating the results of a "constitutional referendum" he had ordered, which among other things granted any former president of Belarus permanent immunity from prosecution. During the speech he seemed to balk at invasion in a very Soviet manner. He stated that unspecified "forces" were trying "to draw us into hostilities on the territory of Ukraine." However, he emphasized that while Belarusian forces were protecting the border with Ukraine, "The Belarusian army did not take any part in the special operation [Putin's invasion of Ukraine] and does not intend to take part. There is simply no need for it." He said that if Belarus joined the fight in Ukraine it would be a "gift" to those forces that were already waging war against Belarus. (Meaning, the evil Western conspiracy that he believes is trying to overthrow his rule.) 
These statements are the best evidence we have that the Belarus leadership has opted against sending its troops into Ukraine, but this could change. If Putin decides he really needs the extra support, he surely has enough leverage over Lukashenko to force him to send in troops. Lukashenko's speech might be a kind of fake protest against fighting right before "Ukrainian nationalist provocation forces" him to take part in the war. 
Here is a bit of background for those unfamiliar with the intricacies of Eastern European politics: Belarus is the most Soviet state in Europe. Unlike Ukraine or even Russia, it has not significantly reformed its economy or political structure since the collapse of communism, and it is still dominated by highly centralized state-run enterprises. There are still collective farms in Belarus, with the occasional accompanying forced labor, something that has all but disappeared even in Russia. Lukashenko was the head of a collective farm during Soviet times, and this might partially explain why this incredibly inefficient and oppressive institution has survived there. Belarus' secret police force is still called the KGB! Even in Russia it was split in two and given different acronyms: the FSB and the SVR.
Get every newsletter and all of The Dispatch. Support quality, fact-based journalism.
Get Started
ALREADY HAVE AN ACCOUNT? SIGN IN