Knights, Ladies, and 'Customary Protestations'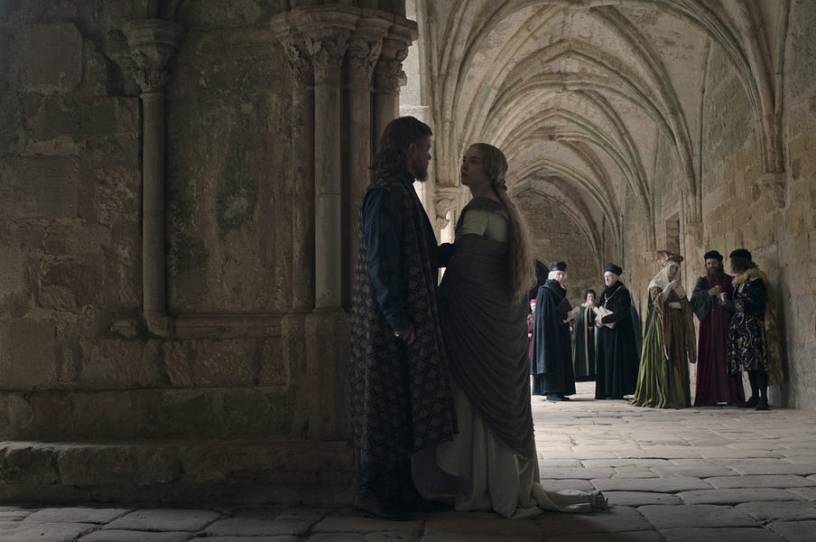 Note: The following review includes spoilers and discusses key plot points.
The Last Duel is a curious mixture of a film. It is part medieval war movie, part courtroom drama, and part exploration of the horrors of sexual assault. It is also (mostly) all true. While Ben Affleck, Matt Damon, and Nicole Holofcener may have taken some creative liberties in writing up the tale of the last judicial duel allowed in France, the resulting film stays close to the basics of the case.
Damon does double duty, also starring in the film as Jean de Carrouges, a French knight married to Marguerite de Carrouges (Jodie Comer), who in the year 1386 AD accused her husband's former friend Jacques Le Gris (Adam Driver) of rape. The film is split into three chapters, each one dedicated to one of the characters' version of the truth. Jean de Carrouges' portion shows him as a valiant warrior and a caring husband, a total (in internet parlance) wife guy, who just wants to avenge his wife; Le Gris' chapter shows him as a lovable rogue, to whom women inevitably fall after the "customary protests" (as ladies must do to not seem easy, he claims at one point); and Marguerite de Carrouges' shows her to be a clever and kind woman used in some capacity by all the men in her life. Jean de Carrouges may not be a rapist, but he is still controlling, abusive, and self-centered, viewing Marguerite as his property to the point that after she informs him of her assault he requires her to have sex with him so Le Gris isn't the last man whom she was with. So obsessed with Jean with his honor that he proposes a duel to settle the case, despite the fact that his loss would mean Marguerite being put to a painful death.
The first two chapters bear some resemblance to the world of medieval Europe we're accustomed to seeing in cinema; with fierce battles, brave knights, and courtly intrigue. Marguerite's chapter shows how disgusting and patriarchal the time really was. While in real life the case remains unresolved due to lack of evidence (although it seems pretty likely that Le Gris raped Marguerite), The Last Duel has no such ambiguity: In the film, the assault took place. What follows is an examination of a judicial system prejudiced against women, one that shows how difficult it was to get justice at the time, and how some of those attitudes remain in how we view sexual assault cases today. (The rhetoric used in questioning Marguerite will certainly sound familiar to modern audiences. Jean essentially asks his wife if she was "asking for it" after she tells him of the rape.)