Life Is Too Short For Hating Harry & Meghan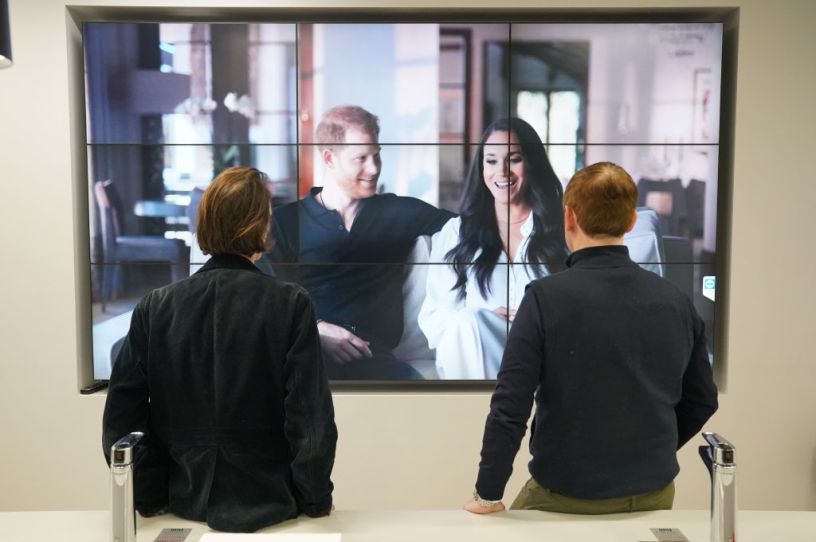 Office workers watch Harry & Meghan. (Photo by Jonathan Brady/PA Images/Getty Images.)
Is it worse to profit by hating Meghan Markle and Harry Winsdor than it is for Markle and Windsor to profit by sharing their own seemingly bottomless reservoir of antipathies?
Despising the duke and duchess of Sussex has become a subgenre of mostly right-of-center news and media; the yin to the yang of endless, breathless, Oprah-riffic coverage of the second son and daughter-in-law of King Charles III. Together, it's got all the markers of the trashy, personality-driven news coverage that consumes so much of our attention: scandal, allegations of racism, counterallegations of reverse racism, palace intrigues (literally, in this case), celebrity, and, of course, Donald Trump.
Whenever one tires of his or her hypocritical worship or denunciations of Elon Musk, the renegade royals are always there as culture war avatars to show one's group membership and aim bad juju at the other side. And lots of clicks and gross ratings points gather around these totems, some to adore, some to discern sacred attributes, some to gawk, some to ogle, and many others to heap scorn.
For themselves, Windsor and Markle seem to be making a pretty swish life out of complaining about the swish-yet-restrictive lives they led before. But at least the gossip and ill will they are selling is their own. It seems worse—more lurid, more pitiful, more of an invitation to envy and contempt—to make a living out of publicly obsessing over the ill will and gossip of others. And as creepy and exploitative as it is to professionally fixate on individuals one professes to support or admire, what wretched souls would want to earn their bread by performatively despising strangers? Strangers who have no effect on life for anyone outside of their small orbits. There's got to be a better, less harmful way to make a buck than vituperating people who are very, very easily ignored.
You're out of free articles
Create an account to unlock 1 more articles