Marilyn Monroe, Cary Grant, and Aging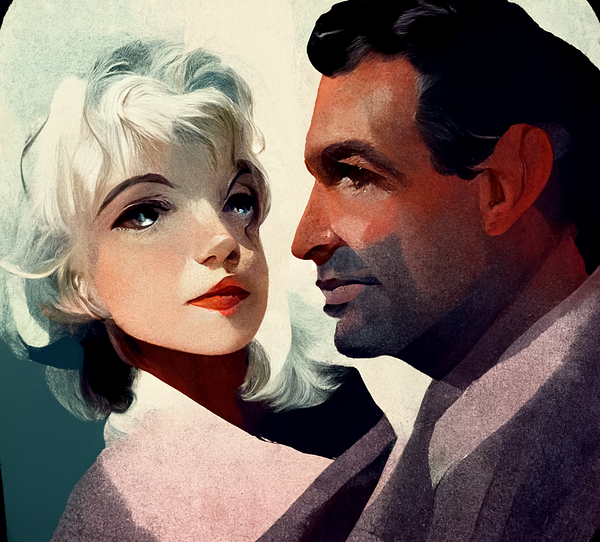 The world's obsession with Marilyn Monroe will never die. For the latest evidence of this fact, look no further than the much-anticipated Monroe biopic Blonde, which received a 14-minute standing ovation when it debuted at the Venice Film Festival this week. It's easy to become fascinated with Monroe for all the wrong reasons, to learn the wrong lessons from her life, ideas that motivated Joyce Carol Oates to write the novel on which Blonde is based. Oates sought to look past the superficial persona that enraptured the world and examine how Monroe wasn't the person everyone tried to make her out to be.
Monroe's death at the age of 36 granted her a special status in pop culture: She would forever be young, beautiful and sensual. Blonde grapples, by all accounts darkly, with the destructive behavior that led to Monroe's premature death and America's unhealthy fixation with her, but there's another—radically different—film that also deals with the youth- and beauty-obsessed culture that turned Monroe into a goddess.
This week marks the 70th anniversary of the release of Monkey Business, a screwball comedy in which Monroe played a supporting role the year before her star-making turns in Gentlemen Prefer Blondes and How to Marry a Millionaire.
The film follows forty-something Dr. Barnaby Fulton (Cary Grant) as he tries to create an elixir of youth for his elderly employer, Oliver Oxley (Charles Coburn). An accident at the chemical company leads to the genuine product being created without Fulton and Oxley's knowledge, and the watercooler gets tainted with a drug that makes those who take it feel younger. Fulton and his wife Edwina (Ginger Rogers) accidentally ingest the elixir and hijinks ensue. Barnaby, feeling like a 20-year-old, gets his hair cut far too short, buys loud clothes, drives a flashy car, and hits on Oxley's secretary, Lois Laurel (Monroe). With a teenaged-mentality, Edwina is alternately shy, angry, and mischievous.
Keep reading with a free account
Create a free Dispatch account to keep reading
Get Started
ALREADY HAVE AN ACCOUNT? SIGN IN