Mike Pence Plots His Presidential Bid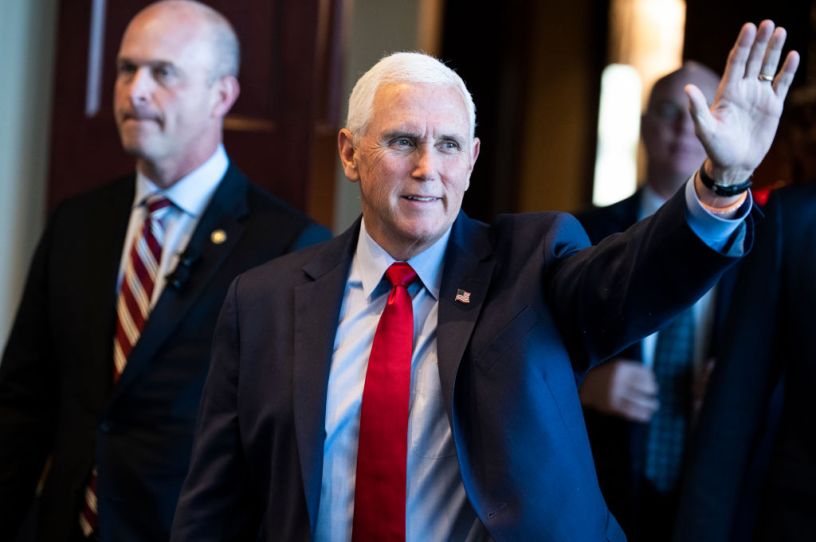 Former Vice President Mike Pence at a Heritage Foundation event in October 2022. (Tom Williams/CQ-Roll Call, Inc via Getty Images)
Sometime on or before June 30, Mike Pence will likely launch a White House bid in his home state of Indiana. The former vice president would then immediately travel to Iowa to compete for the support of Republican caucus-goers, who have the first say in the GOP's 2024 nominating contests.
Pence plans to campaign as the traditional conservative he is, eschewing momentary cultural flashpoints that inflame passions and attract eyeballs on cable television and social media, such as the uproar over Bud Light's marketing partnership with transgender TikTok star Dylan Mulvaney. The former vice president will instead focus on wonky topics fraught with political peril, like how to address the ballooning federal debt and reforming popular programs like Social Security and Medicare. 
On abortion, Pence is eager to highlight his opposition—and his commitment to signing federal legislation limiting the procedure.
In doing so, sources say, Pence would aim fire directly at former President Donald Trump. The strategy, which Pence hinted at during an April 14 speech to Republican National Committee donors, is to cast his old boss as a backward, grievance-fueled populist who cannot defeat President Joe Biden while touting his own agenda as positive, future-oriented, and the antidote to what ails a GOP that has faltered in three consecutive national elections.