Missouri Senate Primary: Semi-Normal vs. Just Plain Weird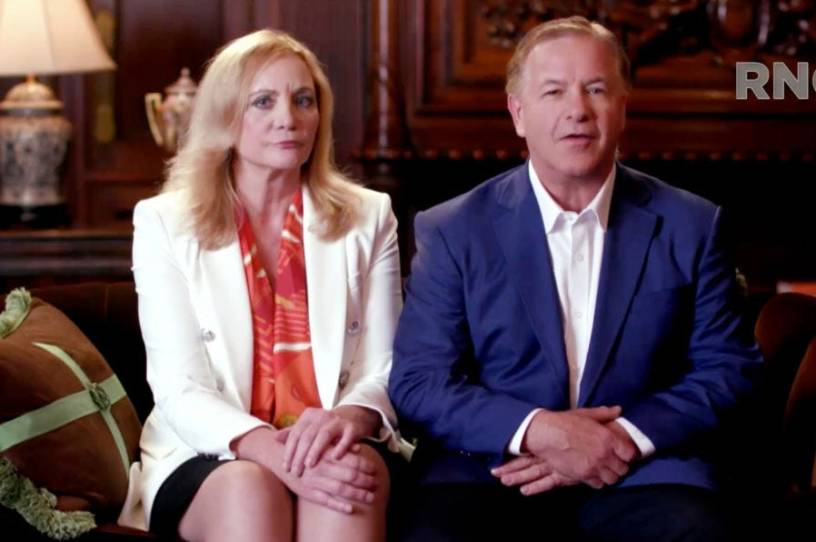 ST. LOUIS—If you want to know how it's going in Missouri's Republican primary to replace retiring Sen. Roy Blunt, think of it this way: A recent pardon from the state's governor for one candidate's guilty plea to a firearms charge is seen here as merely leveling the playing field.
Gov. Mike Parsons' pardon of fellow Republican Mark McCloskey for waving an AR-15 at Black Lives Matter protesters marching past his home last summer only evens things up on the criminal front with the frontrunner, former Gov. Eric Greitens. Greitens had the foresight to make sure his deal with prosecutors surrounding a an absolutely bonkers sex scandal included no actual admission of guilt. Greitens now falsely claims that he was "fully exonerated." But McCloskey doesn't really want even a fake exoneration since his crime is the basis of his candidacy. McCloskey not only pleaded guilty to the brandishing charge but says he would do it again—and promptly went to court to sue for his guns back.
McCloskey is a good fit for the new-look GOP, which is a lot like the old John Edwards' version of the Democratic Party: constant class warfare, lots of anxiety about the plight of blue-collar whites, and great enthusiasm for litigation. McCloskey is a plaintiff's lawyer who advertises big payouts for clients and whose web site features an animated panel highlighting big payouts. They pop up like keno numbers "$2,100,000.00 Medical malpractice- unnecessary surgeries… $4,168,000.00 Products liability—defective bathtub spout." If your bathtub spout is looking sketchy, don't worry; you can call "24/7 to talk to a lawyer."
The website does not mention how much McCloskey kept for his work against Big Spout, but we can assume it was a fat lot of cash. The house in front of which he and his wife stood like an Idiocracy version of Grant Wood's American Gothic is probably worth millions after their exhaustive renovations. Their home is on one of the swishy, historic private parks in St. Louis' Central West End, the original gated communities. But fat-cat plaintiff's lawyers in refurbished Italianate palazzi are getting to be just as much a part of the new "populist regatta" Republican Party as they were in the Clinton-era Democratic Party of Edwards' "two Americas." Republican attorneys general have gotten hip to the advantages of using their offices to catch cases for tort lawyers who show their appreciation in the form of campaign contributions. Republican-backed legislation on matters like internet content moderation now tend to favor opening huge new vistas for the "24/7" legal types to sue, sue, sue.