'Pray for the Peace of Jerusalem'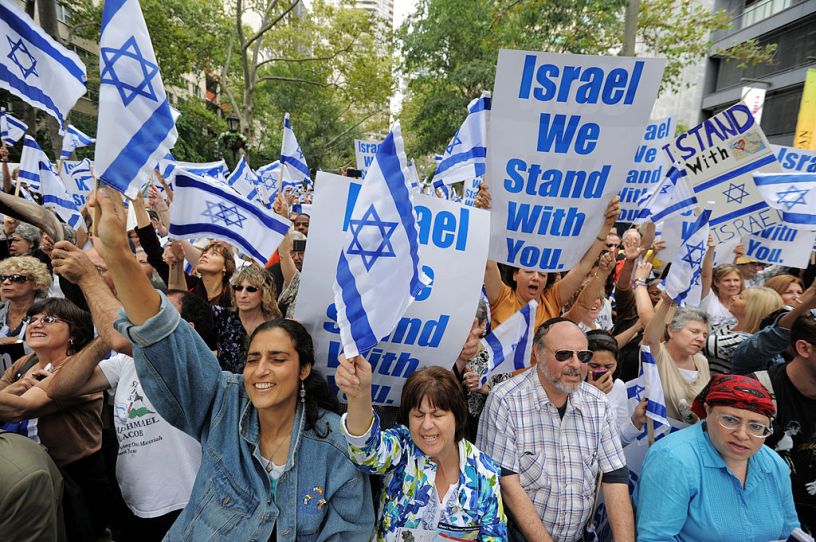 Jewish and Christian religious groups demonstrate in support of Israel near the United Nations headquarters on September 21, 2011, in New York. (Photo by STAN HONDA/AFP via Getty Images)
American reactions to Hamas' attack on Israel on October 7 have spanned a wide spectrum. American college campuses serve as havens of some of the most entrenched anti-Israel sentiment, with radical pro-Palestinian activists seemingly unmoved even by the torture and dismemberment of some Jewish victims. Among the most stalwart pro-Israel voices in America are, as usual, evangelical Christians. To cite one example, the Ethics and Religious Liberty Commission (ERLC) of the Southern Baptist Convention (SBC) issued an "Evangelical Statement in Support of Israel," with signatures from major leaders in the SBC as well as other top evangelical figures. The statement condemned "the violence against the vulnerable" and affirmed "Israel's right and duty to defend itself against further attack."
This declaration was no surprise. Indeed, it would have been surprising if leading American evangelicals did not register unequivocal support for Israel in such a crisis. At first glance, however, evangelical support for a largely secular Jewish nation could seem confusing. "Evangelical" Christians are defined by the belief that eternal salvation depends on putting one's faith in Jesus Christ. Adherents of other religions, or of no religion, are not "saved," according to most evangelicals. So why would evangelicals show steadfast support for the ethnic Jews of Israel, where a plurality of citizens still identifies as secular?
Certain scholars and religion journalists persistently attribute evangelical support for Israel to "end times" beliefs, including the rise of an evil antisemitic Antichrist and the return of Jesus to earth. The October 7 attack has, predictably, renewed dramatic-sounding accounts about evangelical eschatology (theology of the last days) and the modern nation of Israel. But many Christians support Israel and Jews for reasons that have little to do with end-times scenarios. The ERLC notes that the signers' "theological perspectives on Israel and the Church" vary. Some evangelicals certainly believe that the modern nation of Israel will play a central role in the fulfillment of biblical prophecy. Others do not. Yet American evangelicals are overwhelmingly supportive of Israel and the Jewish people, regardless of convictions about the last days.
One basic reason for this support is that Christianity is, at root, a messianic religion born out of Judaism. Jesus and the disciples were Jews. Once it began to spread widely among "Gentiles," or non-Jews, the religion took on an identity separate from its Jewish origins. Of course, most Jews throughout history have not accepted Jesus as the Messiah. Nevertheless, the Christian gospel went to the "Jew first," and then to the rest of the world, as the Apostle Paul put it in his letter to the Romans. Similarly, the Christian faith has deep, permanent connections to the land of Israel, where both Judaism and Christianity originated. Pilgrimage to Israel is not obligatory for Christians, but many across denominations do make the trip to Israel to have their faith invigorated as they tour the sites of the Holy Land.
You're out of free articles
Create an account to unlock 1 more articles